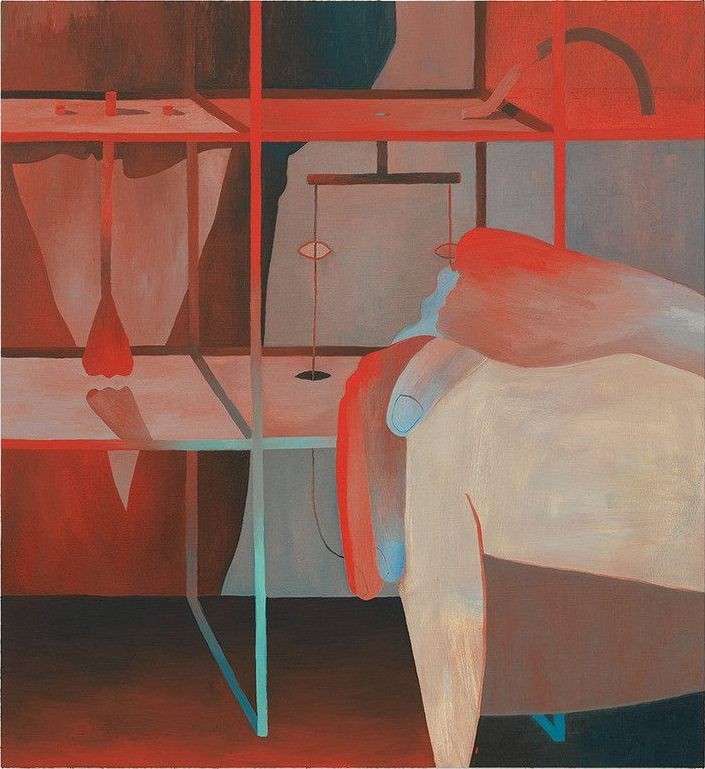 By
Jules Joanne Gleeson
Artwork: © Zoe Avery Nelson, used with permission.
2018 brought the question of "recognition" to the foreground for British trans people, as the Gender Recognition Act (known amongst the clued-in as the GRA) came up for review. Much of the country's transfeminist movement mobilised to urge people to fill out an online consultation form. The results of these energies were a grand non-commitment from the government, with government officials first in Edinburgh and then London announcing that no substantive changes would be made until yet another round of "consultation."
I've no interest in recapping the mayhem that surrounded this prolonged ordeal, or spitting the bile I was left boiling in as this "national discussion" became an anti- climactic exercise in haters attaining a national platform.
It will suffice to say that trans politics seems to have been left in a traumatised state ever since, with attacks by the media and a determined band of activists becoming a truly everyday experience.
It's in the nature of trauma not only to toughen the skin, but narrow horizons.
We need now to remember what a victory would look like on our own terms, not those which have been foisted on us by the phobic onslaught.
The continual attack of press media smears, social media harassment, and gatekeeping legislation can threaten to eclipse frank discussion of our conditions, and the very process of transition which defines our lives.
To push back against being treated as suspect, an account which seems sturdy and "bulletproof" can appeal even to activists usually otherwise immersed in developing critical outlooks on social oppression. We have to overcome this urge, as easily defensible as it can appear for tactical reasons.
When responding to phobia, we have to accept that there will be no final, definitive, scientific proof which will validate us through refuting our foes forever. It is not in the nature of the conflict we are too often forcibly immersed in to see a good faith resolution. So our focus should instead be on a collective survival that refuses the terms of debate offered to us by our enemies at every turn.
In previous essays, I have argued that transition is empowered by community-led "social reproduction" (to use the Marxist-Feminist jargon), which transphobes will very rarely even attempt to understand in their own terms. Able to see us only as confused and deluded victims of "ideology," the day-in-day-out work of cultural fabrication and mutual support that allows for trans life is a matter which our enemies are unable to grasp. They fail to even realise what they're missing.
I still believe this: reactionaries (from churchmen to career feminists) can't appreciate why it is that transition appears a worthwhile project for an increasing number of people. They are not a threat to us at the point where transition is most crucially fostered; they are not even attempting to disrupt the enculturation of new trans people where it would be most harmful.
However, this isn't to say that the slog of opposing transphobia's resurgence in public life will not have its own exhausting effect on those committed to attempting to stem or reverse this tide. We should worry not only about the psychological impact of this work, but also a certain conceptual damage.
A kind of determinate negation is risked by continual engagement with phobes: transphobic feminism can't be defeated through responding to each of its claims in turn. We have to actively resist this closure of our thinking, and work to keep open channels of solidarity, and communication across contexts, in order to retain the kind of collective power required to weather the global storm of the political right's ascendancy.
What we need, at this point, is a means of thinking that moves beyond mere refutation, into one that thinks through the existing damage to us, and asks how to embark on a collective process of recovery.
But we also need to consider the underlying question of recognition that has been opened up by this affair.
Recognition by the state will always be fraught, and provided unreliably.
The case of Orashia Edwards shows this plainly. A bisexual man, Edwards faced harsh scepticism from the Home Office for his relationships with women. Even in the face of Jamaica's local newspapers reporting on the case, Edwards was scheduled for deportation, only being released and allowed to remain after a sustained solidarity campaign.
It strains belief that the Home Office could truly have been oblivious as to bisexuals existing. Instead, this episode shows the limits of the "recognition" the state affords us. In the context of the "hostile
environment," the same logic of expulsion has been extended against many more heterosexuals.
The state offers recognition only ever partially, attempting to secure itself docile subjects, with easily digestible and reliably governable conduct. We should be wary of this.
Slogans such as "trans women are women, trans men are men" in this context carry a double edge. With ignorance about the realities of trans lives so pervasive and widespread, it can be tempting to provide a straightforward line around which a serious number of people can be expected to rally.
But there is a risk in providing a "simple answer to a complex question", especially as a defensive move in the context of battling phobias. Do we really want to boil our lives down into a form that makes them appealing to, and appreciable by, the state?
A better approach, at least in polite and non-phobic company, is to bring the full complexity of our lives back into view.
One way of achieving this (which I'm personally invested in) is reclaiming the "transsexual" from its current association with a medicalist and conservative view of transition as pursuing management of a hard-wired brain disorder.
The number of self-declared "transsexuals" has not diminished all that much during the current "Tipping Point" era, during which cultural production and media attention means mass understanding of transition has become much more widespread (for better, and often worse). Self-identified transsexuals have often enough written collective letters and begun relatively popular YouTube channels professing their worldviews.
Elsewhere, I have called this tendency "trans realism".1 Trans realism is characterised by a dogged belief in a fixed and immutable bodily sex. (I suspect that the proponents of this view would not find being classed as "realists" any kind of condemnation). They refuse all the lessons of phenomenology, and scoff at any deconstructive move towards physical forms that presents them as pliant, or plastic.
This form of "transsexual" is usually hostile towards non-binary identified trans people, and views categories used by the medical profession much less critically, often vesting hope in the work of cisgendered "experts." Considered justified due to the irreducible differences in brain composition, "old-school transsexuals" generally oppose transphobia as being unscientific. While themselves generally undergoing extensive efforts to reshape their physiques, all the while they accept the claims of the bio-medical model that transsexuality is fundamentally a disorder.
Self-described "transsexuals" of this kind use the term as one of distinction: they are those who will follow through a linear pathway of transition, overseen by a fully medicalised procession of best practices, and often consider "trenders" who transition in a fashion not according to these strictures as a far graver threat than the blossoming movements peddling outright transphobia.
Has the term "transsexual" become forever tarnished and outmoded by this minoritarian tendency? Should we abandon the word and let them have it? I don't think so. Another view of sexuation, and therefore of transition, is possible.
What if we took a view of transsexuality which was entirely at odds with this one? What if we used the concept as an expansive one, intended to capture a whole host of experiences, defined solely by their serving to resexuate us? What if we reclaimed the term "transsexual" to describe all those resisting predominant processes of sexuation?
Sexuation here means not exclusively some physical, physiological, or bio-chemical shift: taking cross-sex HRT is an equally transsexual act to changing your name from "Ben" to "Holly" (or vice versa). Sexuation is not an anatomical process, but the meeting place of our physical forms and social ideals (which are never truly separated).
While many of us do undergo radical bodily transformations in response to our transsexual impulses (be they surgical, endocrinological, or whatever combination of the two), it's an error to draw a strict line between, say, the racing heart caused by leaving the house in our chosen gender's appropriate attire for the first time, and years later, preparing for top surgery to improve our everyday quality of living. Transsexuality as I define it describes every point of experience resistant to the sexuation originally imposed on us, and which we participated in under conditions of coercion.
The "true transsexual" is anyone who has felt an urge to abandon the gender position they were expected to occupy. In certain circumstances these impulses can be lived out fully (and our agitation ensures this is true for more and more people). In other cases, transsexuality is forcibly hidden, sublimated, pursued out-of-view.
It's to be expected that for any one transsexual, these circumstances are prone to radical change: perhaps we cannot express ourselves as we are living with a parent who we expect would disown or murder us, or an employer who would fire us, or the practices we find fulfilment in are still outlawed. Those repressed in this way are no less transsexual, and still live in circumstances defined by our frustrated impulses.
This view of the transsexual would be even more inclusive than the current usage of the word "transgender," which is an umbrella term into which people can self identify. Transsexuality, by contrast, would fully include those who are still years or longer away from being able to declare themselves anything of the kind, those who never will, or those who once did — but have now chosen not to offer any clear, explicit account of themselves.
An expanded view of transsexuality can acknowledge the differentiated stages that so many of us pass along, refusing the denial of ourselves that boiling down our experiences to political battering rams inevitably entails.
The stakes in this are as follows: when under fire — as the trans community clearly has been — an understandable urge to simplify, boil down, and purify arises, in order to make a pithy and effective rebuttal. But this reflex is one we have to ensure does not lead to exciting the unsightly, the shameful, and that which has shaped us even as we have come to feel "so over it."
When Eve K. Sedgwick writes in her essay "How to Bring Your Kids Up Gay"2 that gay men feigning consistent masculinity are in denial of their (probably effeminate, bullied) boyhood, we should take this to heart as transsexuals. We should refuse the same process of pruning our autobiographies.
What we risk in refusing to claim the transvestite, the hermaphrodite, and all other indeterminate figures is not only a weakened political coalition. It's also a denial of the trajectories we ourselves have more often than not passed through: the assurance and conviction we've gathered when attempting to represent ourselves generally follow years, or even decades, of pain and conflicted feelings, phases of experimentation and testing the waters, detransitions, retransitions, and shifting from one set of pronouns to another, then back again.
Once we've reached a happier state, once it has Gotten Better, once people tell us "I'd never have guessed..." and no longer seem to be humouring us, it is tempting to attempt to cover our tracks. To deny that the scared teen or twenty-something picking out too-heavy fabrics in a charity shop was us, and will never have nothing to do with us.
To declare ourselves transsexual is the departure point for this deeper, fuller sense of solidarity: to acknowledge that we have passed through worse circumstances than those we have reached now, and that those in direr positions can never be abandoned in the name of expediency, or a punchy comeback.
This kind of reflective solidarity work is not a process best reduced to any simple slogan. Too much can be lost in blank declarations. And we have to strive to keep the tangle of our experience in sight, even as we encounter those intent on using one stage of the process to invalidate the next.
To turn our backs on our former selves is to reject the exact processes through which trans people rebirth ourselves.
Any moment of denial of this is the worst possible outcome when battling phobes. Just as any reliance on the state is a concession to the very thinking that underpins the bulk of radical feminist thought.
Again: the approach I argue for is to acknowledge that we have lived messy and often painful lives. That whatever relief and joy we have found through transition can only ever be bound up unclearly with the confusion and agony of gender being imposed upon us from birth. That our clearest and most explicit accounts of ourselves are layered over a haze of turmoil, confusion, and repetitive self-interrogation.
Underlying the existing face of straightforward attachment to gender is a continual work of repression and excision, ranging from symbolic acts, to formative repetitions, to singular acts of gratuitous imposition.
We can't allow the attacks on us to jettison the basis for solidarity between us, or to deny our own lived histories.
Nor should we give a single inch to the state. While forcing the state to recognise our terms of embodiment may be vital for our survival, are these efforts ever the last word in our terms of enfleshment?
Survival means survival on our own terms, and without flinching from the aspects of our lives that seem unpresentable when operating in a warzone.
As harsh as our era might seem, it will never be time to spurn the freakish, to deny our scared former selves, or attempt to distinguish ourselves from those cast as the most unsightly, the criminal, the migrant, the freakish. We can only separate ourselves from other transsexuals through a violent attempt at straightening out that which will always be bent.
Let us not allow our enemies to force us to shy away from the awkward, the complex, the complete mess, or inchoate. Let's instead forge a new politics of the transsexual, a flexible form of solidarity that can weather the storm still to come.
Jules Joanne Gleeson, "'What Is Transsexual Realism?' An Embedded Inquiry Into A Nascent Counter-Counter-Culture," in Queer and Trans (Counter)Cultural Marxism (Historical Materialism 2019: Socialism in Our Time, New York, 2019).
Eve K. Sedgwick, "How To Bring Your Kids Up Gay," Social Text 29 (1991), 90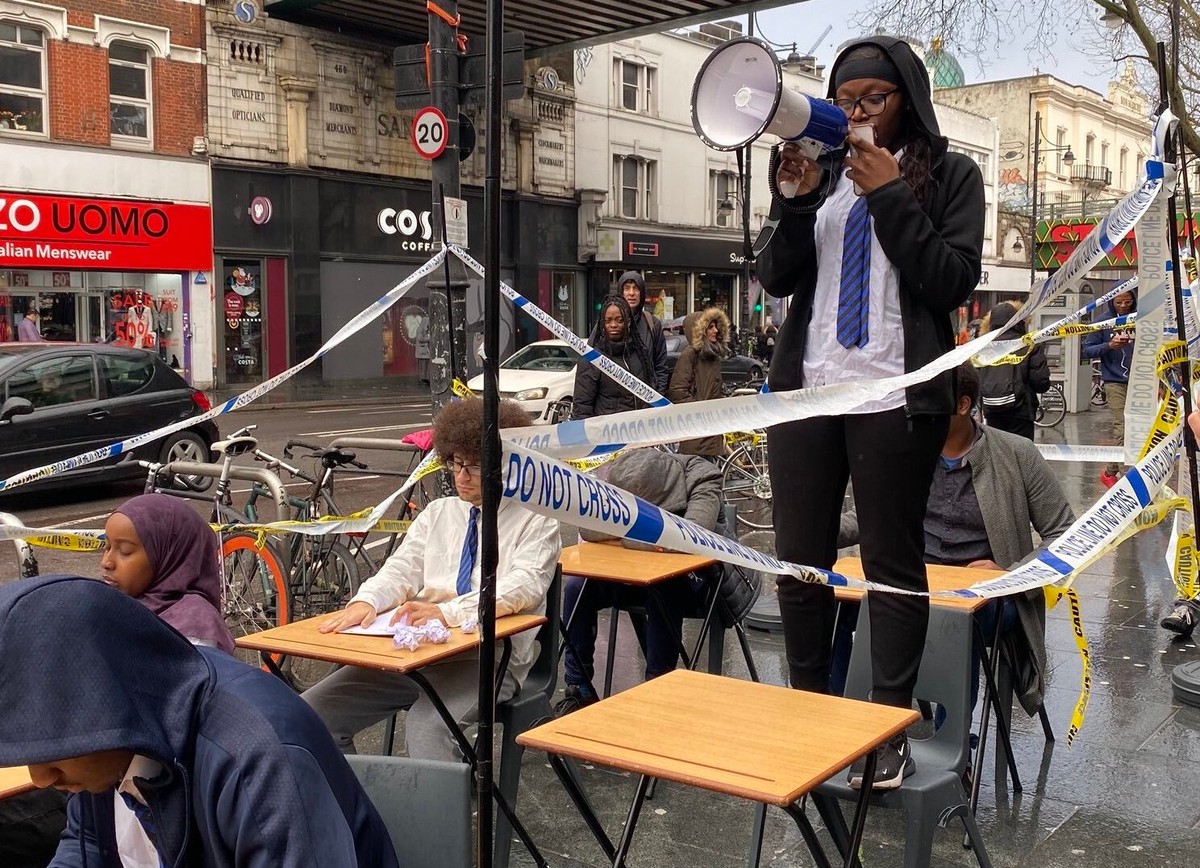 By
Lucy Freedman
This is an image from ICFree's demonstration against school exclusions at Brixton station, December 21st 2019. ICFree are "a group of young Black and Brown South London kids fighting to end the criminalisation of Black and Brown youth in the Eduction and Criminal Justice system". You can find them at @ICFreeUK
In the summer of 2014, having recently moved to London, and struggling to get by on the £50 I was entitled to through Job Seeker's Allowance, I began looking for work. I applied for whatever I could find. After a few weeks I had an interview for a company which offer alternative education to young people who have been excluded from mainstream school. Despite having no experience in this field, I was hired immediately. What follows is an account of two years in a workplace which relied on a feminised, precarious workforce to educate and care for some of London's most vulnerable young people amid a moment of brutal post-crisis economic restructuring.
Those who appear in this article are real people with whom I shared my life for a period of time. Names have been changed for confidentiality, but I've tried to write about my former students and colleagues with honesty and accuracy. Certainly, part of my desire to write about my experiences at the company was to be able to work outwards, to use the daily minutiae of a setting I know well to think more broadly about the intersections of UK state institutions with "care-giving" or "carceral" roles. However, I am wary of an approach which collapses real lives into case studies, or which claims to universalise singular experience. This article therefore aims to provide a materialist analysis of the economic and political landscape which shaped my working conditions and impacted the lives of my students, while avoiding extrapolation beyond this. In taking individual experience as a starting point, I also hope to resist the paternalistic fatalism often latent in leftist discussions of (particularly young) people facing pronounced structural violence. Of course, certain possibilities are precluded for those who have been criminalised and denied education, but nothing is predestined. It's important to bear this in mind in our struggles against oppression.
*
The company was founded in the late 1990s as an afterschool theatre club for children and young people with "behavioural problems". In the early 2000s, a gap in the alternative education market became visible, and so, alongside the theatre project, the company began to employ tutors to provide education to young people who weren't attending school. This new venture quickly expanded due to the increase in school exclusions throughout the last few years of the New Labour Government. Then, when the education system underwent drastic de-funding and restructuring under the Conservative/ Liberal Democrat coalition, the company responded to new demand by opening small education centres across London.
The centre I worked in was based in the outhouse of a community centre in East London. We had a 1:1 staff: student ratio, and had between 10-15 students between the ages of 11 and 18 enrolled at any given time, with a rapid turnover of both staff and students. We offered GCSEs in Maths, English and Science, but with the expectation that not many students would sit their exams. Our students had been excluded from mainstream school for a variety of reasons. Many had been "disruptive" in class, others had stopped attending because they were being bullied or suffered from anxiety, or had other things going on in their lives which kept them from school. All of our students were poor. The majority were racialised. Most had family histories of trauma, poor mental health, addiction and incarceration, and many had spent parts of their childhood in state care.
Had our students been from middle class families who felt entitled to demand they be assessed, many would probably have been diagnosed with learning difficulties or disabilities. Instead they had gone through life being considered "naughty" and "disruptive". The most common diagnosis among our students was so-called "Oppositional Defiance Disorder": an attempt to pathologise young people whose experiences have taught them not to have uncritical respect for those in authority.
All the young people I worked with associated school with traumatic experiences, and therefore had little confidence in their abilities, or in teachers. Often a full 45-minute lesson was too much for a student. 1:1 English lessons with one student involved half an hour of doing hair and makeup YouTube tutorials together before 15 minutes of reading Macbeth. Another student was unable to sit and concentrate for long periods, so we'd make an assault course around the playground. I'd sit on a climbing frame with a maths worksheet and he'd answer one question each time he got to the top.
A lot of what happened at the centre was geared around equipping our students to withstand the miserable futures which were considered a forgone conclusion. There was a real emphasis on preparation for low-paid, precarious work, and on building coping mechanisms which would enable them to repress rather than acknowledge their emotions. Head office were obsessed with "resilience", the new behaviour- management buzzword. We had a "resilience wall" at the back of the single room we taught in, and each day students were encouraged to add experience in which they'd demonstrated resilience on a post-it note. I felt conflicted about this. Ideally, the centre would be a space where young people could work through their trauma and would provide tools for them to fight for a better future, but given the absence of decent mental health services or post-school support systems, this sadly wasn't much of a possibility. Under these circumstances, maybe preaching resilience really was the best we could do.
Most of our students already had criminal records by the time they arrived at the centre, and some had been incarcerated. At times it was hard to shake the feeling that our workplace was just a holding pen for the prison system. We kept ourselves going by celebrating the small transformations our work was able to achieve, like an unlikely friendship developing between two students, or somebody discovering a new interest. It was these small things which helped me remember that, even though much was pitted against them, the paths our students' lives would take weren't necessarily already laid out.
The Education Industry: Funding and Restructuring
When a student has been excluded from school, the school is expected to redirect that student's funding allocation to the alternative education provider. But the cost of a place in alternative education is much higher than in mainstream school. At a time when local authorities were experiencing huge budget cuts, keeping the difference between money allocated from excluding schools and the cost of alternative education as low as possible became a priority. The company I worked for—who employed untrained workers on zero hour contracts, often on little more than minimum wage—were able to offer a comparatively cheap service, and cashed in on this meagre funding.
Although there has always been a budget for children with statements of special educational needs or disability (SEND), in 2013, local authorities' protocol around covering this shortfall was standardised: £6,000 per year would be ringfenced for each child with a SEND statement, and the 2014 Children and Families Act stipulated that local authorities set aside funds for the education of "high need" children. As soon as the 2013 SEND ruling was brought in, my company set up a centre for students with SEND statements (which is where I worked), entitling them to an extra £6,000 per year per student. This was clearly a student body with extremely complex and specialist needs, which the under-resourced provision and inexperienced staff were unlikely to adequately meet. However, due in part to the punitive disciplinary measures exerted on councils who go over-budget or seek to redistribute allocated funds,1 local authorities often referred students to my employer as they were a more affordable option.
Although the company kept overheads to a minimum—I once asked a manager to sign off on an order for some national curriculum textbooks, and was told they were an unaffordable luxury—running schools on rented property in central London is an expensive endeavour. The company relies largely on the re-routing of core government funding, but also, due to its theatrical roots, is able to take significant donations from prominent figures in the theatre world. In her essay "Lies and Mendacity",2 Dimitra Kotouza posits philanthropy as a necessary component in the logic of austerity. The essay, published two years before governmental reaction to the 'financial crash' of 2008 plunged us into an era of cuts to support and welfare services, was already drawing parallels between contemporary British welfare policy and the Poor Laws of the 1830s. According to Kotouza, the Poor Laws "aptly coincided with a renaissance in a new type of philanthropic organisation which had rejected the idea of almsgiving, elaborating a variety of techniques by which to create a fit between political economy and the population."
Kotouza goes onto discuss the romanticisation of the "voluntary impulse" by contemporary conservative and liberal politicians and economists, in which charitable and philanthropic endeavours, often with religious or corporate interests, are enabled to make moral and operational incisions into sectors usually thought of as public. Philanthropic endeavour, therefore, enables extra-political vessels of economic and moral conservatism. The rise of philanthropic and charity involvement in state activity is often brushed off as merely a quick-fix in a momentary crisis, but Kotouza argues that it in fact allows governments who project themselves as morally progressive, to "exert[...] influence over poor households in such matters as frugality and industry and ... the education and discipline of children" via a third party. Today, the "voluntary impulse" is not only romanticised when demonstrated by big corporations and celebrities (famous actors who finance independent schools, for example), but also encouraged from within the general population. A pertinent example of this is David Cameron's flagship "Big Society"3 initiative which advocated everyday volunteerism to ameliorate the crises sparked by the state's withdrawal of welfare. I'm not necessarily accusing the donors to this company of having ulterior motives, or of deliberately colluding with the state in absolving it of its welfare responsibilities, but I am interested in the shift back to philanthropic funding models, particularly within education, in our current economic climate.
Despite branching out into education, the company stayed close to its "creative" roots, not only through soliciting funding from rich people in the entertainment industry, but also drawing its labour force from out of work actors, musicians and artists rather than employing experienced education workers. Hiring qualified teachers is expensive, as is providing extensive training; the company are willing to do neither. By making the argument that creative approaches are best for engaging "hard to reach" young people, the company cleverly presents a major flaw as a strength. Their employees, they claim, have innate creativity which would be diluted by formal training. Now, an unqualified workforce appears as a USP rather than a red flag to local authorities, keen to legitimise their decision to go with a lower cost provider.
Of course, in reality these employment practices didn't work out well for our students. We were all playing it by ear, and although many of us cared deeply and wanted to do the best we could, insufficient training, lack of practical or emotional support, terrible pay and casual, short-term contracts left us exhausted, demoralised and unable to work to our best ability. It also led to an unofficial, predictably gendered two-tier system, where certain tutors (often men) who considered this job a place-holder before their artistic careers took off, spent teaching time learning lines for upcoming auditions or editing their films (there was always plausible deniability given "these bad kids don't engage in class anyway"). This left other tutors (overwhelmingly women) to pick up the slack and put in extra hours when exams came around and students hadn't been taught the required material.
Aware that the company like to hire "creatives", I prepared for my interview by thinking of ways to emphasise my artistic credentials. I picked out an outfit which didn't just make me look vaguely professional but also quirky and artistic. I felt ridiculous, but I got the job. Once I did, I was pressured to register as self- employed—as an "artist" my work for the company wouldn't necessarily make up my entire income—and be paid by invoice, giving me no employment rights. I refused and insisted to go on the payroll which guaranteed me some statutory rights, but at a reduced daily wage.
Shifts in employment practices towards precarity (including the rise of zero-hours contracts)—particularly within sectors such as education which used to fall more squarely within the remit of the state—are something we've seen more and more of as a feature of post-2008 economic restructuring. Kotouza talks about charities and private organisations "covering gaps" left by the defunded welfare system in the 1960s. The same is true today. Prime examples include the rapid "academisation" of the education system, where state-run schools are being essentially being sold off to corporations, charities and religious organisations, as well as small, for- profit organisations providing alternative education programmes. Where state employment was once some guarantee of stability— state schools must pay qualified teachers a statutory minimum of £24,373 per annum on fixed term contracts— academies, independent schools and alternative provisions are not legally obliged to employ qualified teachers, and are therefore able to employ people on lower pay, with less job security.
The Feminisation of Education Work
Following from Maya Gonzales and Jeanne Neton's essay "The Logic of Gender",4 I want to think of this move as a form of feminisation of the educational labour market. For Neton and Gonzales, the "feminization turn" in the labour market is made up of two components. Firstly, coinciding with the de-industrialisation of advanced capitalist economies which has been occurring since the last third of the twentieth century, there has been rapid expansion of the service and care sectors. This means that more and more low-paid workers now do what was previously thought of as women's work (for instance in customer service or social care), regardless of gender.
Secondly, they argue, because employers are experiencing less financial security since the 2008 crash, it is becoming more common to treat all workers as if they were female workers. Traditionally, employers considered female workers as unreliable over the long-term as they could at any point leave to have children, and that, throughout their careers, family—be that young children or elderly parents— would be their top priority. Therefore, women's labour is attributed less value, and is often used "in short spurts at cheap prices". In the wake of 2008, Gonzales and Neton explain, there's been an overwhelming "movement by capital towards the utilisation of cheap short-term flexibilised labour-power"; for instance, hiring unqualified drama school graduates at a high turnover rate rather than qualified teachers with secure contracts. In other words, it is no longer only people who appear to employers as liable to become pregnant (so-called "women") who are feminised through precarious and low-paid employment.5
In devaluing our work through poor pay and precarity, my employer mapped women's working conditions onto a broader employee base, justified here by the fact that our "passions" lay outside of the workplace. However, normative prejudices around gender, race and (dis)ablility continued to structure workers' experiences at the company, making conditions worse for more marginalised employees. For instance, there was no sick pay or maternity pay and no guarantee of work after a period of leave. On the other hand, regardless of aptitude or experience, people gendered as men were often offered senior, better-remunerated jobs, as our students' "delinquency" was often, lazily, put down to an absence of male authority in their lives.
The feminisation of work occurs not only through the way it is structured and compensated, but also through its content. Feminisation happens through various multi-faceted and interconnecting processes, but a central tenet is the vulnerability to a very particular kind of exploitation: on top of the work people read as women are paid to do, there is also an expectation that we do unpaid "emotional labour". This is because, in the words of Lisa Yashodhara Haller:
"since the majority of women carry out care work both professionally and privately, it becomes [...] an alleged characteristic of being, and thus a structural mark of gender. Care is then not only considered a feminine trait - femininity is constituted by care."6
Almost as if to deliberately demonstrate Haller's argument, at a staff meeting, our company director once announced, "I'm proud to employ more women than men. I believe women have an extra gene which makes them more caring". Because his understanding of femininity here is so bound up with the enactment of care, he perceives "caringness" as a biological trait, an "alleged characteristic of being" inscribed into and onto the bodies of his (largely female) workforce. If, then, "caringness" is a natural "characteristic" of his employees, care and emotional labour cannot be thought of as work, but rather mere expressions of existence. This company, along with countless others, rely on their worker's willingness to go "above and beyond" because they care.
For instance, nowhere in our contracts did it state that we were expected to cook. The company allotted us a budget of £3 per student for lunch, and it was up to us how we used it. The least labour-intensive way to feed our students would be by buying meal deals from the supermarket across the street. We didn't get breaks as a 1:1 staff to student ratio was required at all times, and we were always understaffed, so by buying pre-prepared food we would be able to spend the lunch hour taking it in turns to eat our lunch, catch up on paperwork and supervise the students, rather than cooking and washing up. However, most of us felt it was important to provide nutritious food, so squeezed time into our schedules to source recipes that would suit the requirements of all our students (a difficult task!), shop for ingredients, cook and then clean up. Of course, management were keen for this to happen, as it was attractive to potential customers, and therefore put pressure on us to continue. When we didn't cook because we were understaffed or too busy, they would try and emotionally blackmail us into doing this extra work: "if you really cared about your students you'd find the time to make them a healthy lunch."
More often than not, care work and emotional labour don't produce surplus-value, meaning that unlike in the production of many other commodities or services, an employer doesn't appropriate profit from the labour of their employees. This is the case for unpaid care work which happens within families and communities, and most waged care work which is organised by the state. However, in the case of private companies such as the one I worked for, labour carried out by workers takes the form of a commodity (something which can be bought or sold) and thus surplus- value is directly produced.
Usually, a commodity's value is determined by the length of time it is supposed to take to produce. But care and emotional labour can't be neatly packaged in this way: teaching somebody the difference between a noun and adjective or comforting them when they're upset just takes as long as it takes. Where within traditional value-producing industries, capitalists generate more surplus-value by speeding up average production time (through mechanisation, for example) this is less possible in care work. Therefore, if someone "wishes to generate a profit in this field, the only option remaining is to reduce labour costs by lowering wages" (Haller). In other words, value produced through care work can only be increased when that work is de-valued or feminised.
There were moments of resistance against our working conditions. For instance, new contracts which assigned us extra jobs for the same pay were met with protest, but workers were palmed off with the same old "we can't afford to pay more, but if you really care you'll do this". For the most part, staff were unhappy but—presented with the false dichotomy that the company can either provide good working conditions or a decent quality of care, not both—were willing to sacrifice their happiness at work for the students' wellbeing.
De-professionalisation and the State
Our role as unqualified, feminised "people who care" in a rapidly de-professionalising industry put us in a contradictory position in relation to the students and their families and the local authorities who indirectly employed us. Because we weren't "teachers" as such, and were working with people whose needs weren't being met elsewhere in the rapidly shrinking welfare system, our jobs entailed elements of myriad others: social workers, councillors and family therapists.
The majority of our students had always hated school and were reluctant to come when referred to us. This meant that, for at least the first week, a tutor would go to a new student's house each day to get to know them, conduct a risk assessment and ease the student into the idea of attending the centre. In reality, this process often took much longer than a week. When a potential student didn't wish to engage with the centre, we'd try to manoeuvre things so that they remained on our books. This was because, due to the way the company allocated its budget, each employee's pay was attached to an individual students' funding. If they lost a student, a member of staff would lose their job too.
For my first three terms at the centre, I was sent to a "disengaged" student's house every morning to try and make contact. This involved standing outside the front door, ringing the doorbell and being ignored. I was told that if someone else from her building let me into the stairwell I should go upstairs and try and try to speak to her through her letterbox, but I didn't, as this felt like harassment. As much as I believed it was important she knew there was someone there for her if and when she was ready, she clearly had a lot going on and needed support in other areas of her life before she'd be ready to come back to education. However, desperate to hold onto the funding she brought in, my employers insisted I continued this vain attempt.
On the few occasions I met this student's mother—usually at multi-agency meetings about her daughter, which she'd taken time off one of her three jobs to attend— she came across as lonely, unsupported and overwhelmed. She didn't speak much in these meetings, and was visibly tense around the representatives from other services (such as her social worker and a Community Support Officer)7 who spoke in jargon and, she feared, thought her to be an inadequate parent. But after they all left, she'd break down and tell me how she was worried about her daughter, who was withdrawn, angry and frequently went missing. She was also struggling to pay rent and worried about eviction, but kept this from social services in case they took her child away. To her, it seemed that because we weren't "real" teachers in a "real" school, we didn't pose the threat all the "professionals" around her did.
To other families, our proximity to these state agencies was more apparent. On a home visit to try and coax a non-attending student out of bed I was physically threatened by a parent, who felt that the school's incursion into his home was an act of surveillance intended to help build a case to have his children removed. I understood his fear and frustration and felt angry at my employers for creating this situation. Because this family were working class and not considered willing or capable of catering to their son's "additional needs"—in this case, autism—various state and quasi-state agencies had been granted access to their inner life. Despite legitimate concern that this child had stopped attending school, it was inappropriate for the company to send staff uninvited into his private space.
The Militarisation of Care
The "militarisation of care" is a term used by Becka Hudson to describe the interconnection of "welfare" and "carceral" state functions.8 This is not a new phenomenon, but Hudson argues it has become more pronounced in the UK since the New Labour government of the 1990s. This shift, she explains is primarily one of policy and funding, but also consists of changes in the logic and ideology within institutions. Hudson explains that workers in welfare and support services are often coerced into engaging in punitive practices, but sometimes do so of their own volition, because they and their colleagues and managers believe it's the right thing to do.
There were many instances in which staff at the centres voluntarily colluded with the state's carceral institutions. Police were called fairly regularly, including once because a student had self-harmed! Reports were made if a student claimed to be carrying a knife, without verifying if they really were, and a probation officer, police "gang specialists" and a magistrate were all invited to the centre to give workshops designed to scare our students away from criminalised activities.
Echoing Hudson though, not all participation in carceral structures were "deliberate". The most obvious example of this is forced participation in the Prevent programme.9 Originally, referrals to Prevent would be made directly. However, presumably because many were reluctant to expose those in their care to state violence, a general referral form was introduced instead. Now, any concern about a young person—maybe you felt they needed an eye test or a dyslexia assessment—would be routed via the local authority, who would forward it onto whichever agency they saw fit. If, for instance, a teacher had concerns about a young person's mental health, they could no longer refer them directly to counselling services. If this student happened to be from a Muslim background, there was now a significant danger their case would end up with Prevent instead.
In her book Gendered States of Punishment and Welfare Adrienne Roberts argues that in advanced capitalist countries, care and carcerality have always been two sides of the same coin.10 The so-called "school-to-prison pipeline" is a pertinent example of this, and was evident at the centres. Many of our students, particularly those who were not white, were constantly in and out of young offenders' institutions, and, largely because employment options had been precluded through the denial of education, saw spending some of their future in prison as inevitable.
For one student though, the relationship between the education, social care and prison systems was particularly clear. During his first term at the centre, soon after being excluded from mainstream school, Danny was arrested and held on remand in a children's prison. His mother became unable to deal with the stress of what was happening to her child and was interned in a psychiatric institution under a Hospital Order, which meant that Danny's younger siblings were placed in foster care. Here, one event precipitated an entire family being removed from their community and taken into state custody.
After several months in a prison which was in the middle of a child abuse scandal, Danny was released on bail to an overcrowded care home, and came back to the centre. As part of his bail conditions, he was given a Youth Offending Team (YOT) worker who he had to meet with regularly. This worker was responsible for making sure he kept to his curfew and was attending school, and would submit a report on his "progress" to the court, with a recommendation of what she deemed an appropriate sentence. The YOT worker met with him almost every day, and quickly became the most stable adult presence in his life during a turbulent and traumatic time. When Danny turned 15 she was the only person to buy him a birthday present. She was also largely responsible for the custodial sentence he received later that year. When I first encountered Roberts' analysis of the inter-dependence of the state's caring and punitive mechanisms, I thought immediately of Danny and his YOT worker.
The Deviant Family
In Gendered States of Punishment and Welfare Roberts charts the history of the nuclear family as economic and moral unit. "The family itself", she says "was reconstituted in the nineteenth century, and it came to play a certain policing function. In contrast to the previous period, the family was to be seen no longer as a reflection of the model of the state but as its own instrument of governance, with an important disciplinary role."11 This "proper" family she describes must be economically self-sufficient, subsisting on the family wage of the husband/father,12 and must bring up its children as law-abiding, hard-working, correctly-gendered capitalist subjects. Deviant families are, for example, those which cannot afford to exist without support from the state; are not headed by a married, heterosexual couple; are racialised; who engage in criminalised activities to survive; who have migrated from the Global South, or who have members living with disabilities. Deviant families are families like Danny's who are poor, Black and headed by a single parent on a council estate associated with "gang activity", and, as such, are treated with fear and contempt.
The idea of the deviant family has long been used to justify the draconian intervention of the state's disciplinary institutions. Seen as lazy, un-cooperative and undeserving, the meagre welfare provisions the deviant family are entitled to are presented as a great luxury and kindness when, in fact, they often serve to punish or even separate family members. Serving a similar function to the Victorian workhouse which Kotouza writes about, Roberts argues that part of social services' role today is to "break up deviant families and institutionalise children to prevent the transmission of criminality from parent to child."13 In periods of post-crisis austerity, the deviant family becomes a convenient scapegoat for capitalism's failure, and a justification for the de-funding of public services.
This rhetoric was apparent at the beginning of our current moment of economic restructuring. In the aftermath of the 2011 uprisings, after eighteen months of ruthless cuts to welfare and support services, seven local councils evicted whole families in which only one member was charged with rioting offences. David Cameron justified this use of collective punishment by stating "we've gotta find a way of enforcing responsibility in society."14 Under the same government, Michael Gove, then minister of Education, brought in legislation whereby parents could be fined or even prosecuted if their children failed to attend school. Since then, we've seen countless measures brought in to punish struggling families for their "failures", while simultaneously causing them further immiseration through the devastation of necessary services. The message of these measures is clear: the deviant family deserves no support or safety net, and when it fails, as it inevitably will, disciplinary and carceral institutions will be there waiting.
When the welfare state recedes, it is overwhelmingly feminised people who take on the responsibility for people's survival and welfare. As Haller explains, feminisation partially occurs through the assumption that the undertaking of certain types of work (care, for example) come naturally to those with biological traits coded as "female". For somebody gendered as a woman, then, to insufficiently care for members of your family or community is considered a great failure. In the general social imaginary, it is the job of women to love and discipline the children and men around her into law-abiding subjects, and her fault when this is not how they turn out. In an almost parodic example of this, Boris Johnson famously claimed that the children of "low income families with working mothers" were more likely to "mug you on the street corner" because they are "un-loved and undisciplined!"15 Of course, due to the criminalisation of certain means of survival, those growing up in poverty are more likely to break certain laws, but in his interpretation of this fact, Johnson lays bare the racist misogyny circulated widely by the current government and its policy makers. The imaginary mother in Johnson's statement is caught in a double- bind: because she is poor, if she doesn't work she will have to rely on welfare, and will therefore be setting her children a bad example. If she does work however, then she is negligent and her children will become "feral."
At the Intersection: Between Welfare and Punishment
I want to conclude with the story of a student who experiences the full violence of welfare's absence and carcerality's omnipresence, but for whom things could be so different. Lewis was the first person I taught at the centre, and my first session with him was a nightmare. He ran away from me and hid in cupboards, threw my teaching materials down the stairs and tried to steal things out of my pockets. After this rocky start though, I really warmed to Lewis. Once I got to know him, I realised he was extremely kind. He was genuinely interested in the people around him. He'd ask us lots of questions and remember all our answers. After I told him that my grandad had been ill, he asked after him every morning. He teased me relentlessly for my terrible football skills when we'd play at break times, but took it upon himself to help me improve. When he struggled to focus in lessons, we'd go outside and he'd set up cones for me to do dribbling drills, and shout encouragement at me as I lost control of the ball. Lewis was fascinated by keys and locks, and wanted to be a locksmith when he left school. This would be unlikely though: Lewis was heavily pathologised as he found controlling certain behaviours difficult. Sometimes, he'd compulsively shout and spit at people in the street, use racist and sexist slurs and get into fights. He would often shoplift without taking precautions to not get caught, and he struggled to understand boundaries and what was appropriate around people he was attracted to.
When Lewis was approaching 18, there were lots of conversations about what would happen to him after the local authority stopped funding him to come to the centre. It was clear to those of us who had worked with him that he would need some kind of care for the rest of his life. Someone arranged for him to have an assessment to ascertain whether he had "capacity to make safe decisions", and therefore whether he qualified for adult social care. The psychologist conducting the assessment spent less than ten minutes with him. The assessment was a short list of leading questions which were designed to get a "positive" outcome. Lewis was declared to be capable of making safe choices, and would therefore not be "looked after" by social services after his 18th birthday. By this point, he'd already been kicked out of home as his parents couldn't cope with him. He'd been arrested several times, and was drinking regularly and hanging out with a group of people who seemed to be taking advantage of his vulnerability in various ways. I miss Lewis. I don't know where he is now but, heartbreakingly, I think he's likely to be among the thousands of people absorbed by the prison system due to lack of appropriate provision elsewhere.
For someone with needs such as Lewis', the ideal support system would be one in which supervision and care are combined. This supervision wouldn't be a punishment for contravening law, nor would it need to include containment or the removal of choices. Instead, it could be a measure to keep people at risk of causing harm or being harmed safe. With the right kind of supervisory care, Lewis could be supported to lead a fulfilling life and to have healthy relationships with friends and family, who would not have to be solely responsible for his wellbeing. In our current climate though, care outside of the family is often absent, funnelling those who need it into institutions of punitive supervision instead.
However society is organised, people will always need support structures of various forms. Therefore, in a capitalist society, when state responsibility for these provisions diminishes, new markets open up. Many companies and organisations who tap into these markets, particularly those which are not state funded, produce surplus-value from care work which is transformed into a commodity. As I outlined earlier, the best way for them to do this is to use de-valued, feminised labour. It is always feminised people who are made chiefly responsible for the welfare of people in our society, but in periods of austerity, when support services are sparse and are operated by a precarious, underpaid and undertrained workforce, this is more the case than ever. As the (already inadequate) infrastructure to keep the most vulnerable and oppressed safe and cared for has collapsed around us, unpaid feminised work from within communities is often what keeps people out of the carceral institutions which threaten to swallow them. Our task, particularly amid the spectre of Brexit under a right-wing government, is to find ways to keep each other alive without exploiting and further devaluing those who carry out that work.
*
I left the company after roughly two years due to lack of managerial support, and the feeling that, due to the insidious militarisation of our roles, my work was doing more harm than good. It was an institution which didn't need to exist: the young people who were sent there shouldn't have been excluded from their schools in the first place, and their education and care shouldn't have been commodified through the exploitation of those who provided it. The centre was structured around hopelessness: that the best any worker could do was attempt to keep students out of prison for as long as possible, and the company's role as outsourced state institution meant it was beholden to the state's mechanisms of discipline and surveillance. But in a way, the centre also offered us a glimpse of its own radical alternative: due to the specificity of our student body, we were forced to take an approach which was centred around relationship building and individual needs. I think back to my time there with, among other things, a deep sadness for the way things could have been had the conditions been different.
For example, when councils in Lambeth, Lewisham and Liverpool refused to comply with budget caps between 1985-1986, councillors were prosecuted, disqualified from office and made personally liable for incurred debts.
Demetra Kotouza, "Lies and Mendacity," Mute, Naked Cities: Struggles in the Global Slums, 2, no. 3 (2005).
"The Big Society" was an initiative under David Cameron's government (2005-2016) which aimed to place responsibility for state functions which were no longer tenable due to budget cuts within the voluntary sector and the "community."
Endnotes, "The Logic of Gender: On the Separation of Spheres and the Process of Abjection," Endnotes 3: Gender, Race, Class and Other Misfortunes (2013): 56–91.
I am working with a social understanding of gender. That is, gender and anatomical sex are both produced through social relations, gender is not produced by or contingent on anatomical sex.
Lisa Yashodhara Haller, "Capital - State - Gender. A Theoretical Analysis of the Mediation Context," in Materializing Feminism. Positions on Economy, State and Identity, ed. Lea Haneberg (Münster: Unrast, 2018). (Unpublished translation from German by Callum Sunderland).
Voluntary police officer.
Becka Hudson, "The Militarisation of Caring Labour," International Times: The Newspaper of Resistance, May 3, 2016.
Since 2003, Prevent has been part of the Home Office's counter-terrorism programme CONTEST. Under Prevent teachers, youth workers, healthcare workers and others have a legal duty to report anyone they work with who show signs of "radicalisation". It is widely critiqued as a form of racial profiling and surveillance. There have been various campaigns against the programme including Together Against Prevent.
Adrienne Roberts, Gendered States of Punishment and Welfare: Feminist Political Economy, Primitive Accumulation and the Law (London: Routledge, 2016).
Roberts, Gendered States of Punishment, 80.
In fact, as is argued in "The Logic of Gender" and elsewhere, the family wage has always been a fiction. Even before women became a visible part of the workforce in the 1950s, working class women have always had to work for a wage. This work often takes forms which are invisiblised—such as "piecework" done at home—or criminalised—such as sex work.
Roberts, Gendered States of Punishment, 87.
"David Cameron Back Councils Planning to Evict Rioters," BBC News, August 12, 2011. 15. Heather Stewart, "Boris Johnson Claims Children of Working Mothers 'More Likely to Mug You,'" Guardian, December 4, 2019.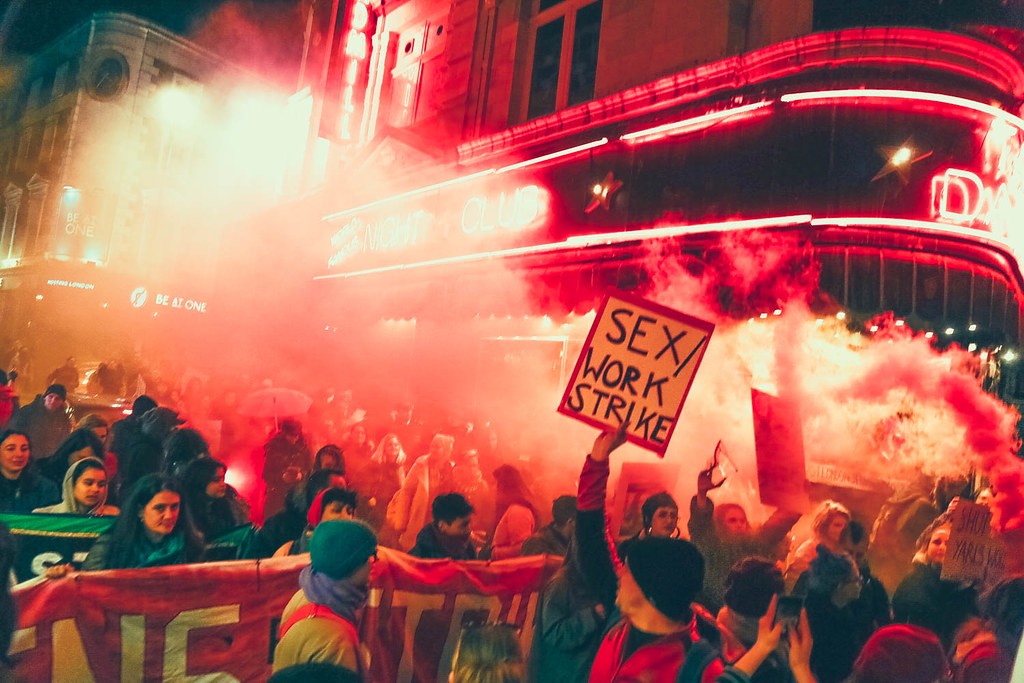 By
Ray Filar
Image credit: Juno Mac/SWARM
Introduction
We say, rightly, that sex work is work, but don't talk much about what that means.1 Theories of sex work have struggled to find their place, often starting from an analysis of "women's work". Since the domestic labour debates of the 1970s, which focused on the sex worker as the paid complement to the (house)wife, prostitution tends to be an appendage to marxist-feminist analyses2 of caring labour generally, if it appears at all. More recent work fails to attend to how the reorganisation of capitalism has since enacted changes within the reorganisation of prostitution. Focusing on the UK, I argue that the work of prostitution today remains under-theorised within contemporary marxist-feminism. I aim to address this here.
I begin with the claim that prostitution is service work, and that a full understanding of what this means necessitates a re-reading of social reproduction (SR) theoretical approaches. The failure to locate prostitution, now, among other precarious service industry work gives rise to outdated assumptions about the relation of sex work to capital. Prostitutes today are self-employed, actually or in-effect, where in-effect self-employment may mean a cut of the fee is taken by a manager or third-party figure without the supposed benefits or stability of actual employment.3 Like other work defined by terms like "freelance", "self-employed", or "flexible", sex work is sometimes positioned within liberal capitalism as primarily an entrepreneurial field where big money can be made: prostitutes become "erotic professionals" in the vein of the celebrity hooker memoir.4 Actually, a more realistic and helpful understanding starts from the impact of criminalisation on sex work. Currently, selling sex in the UK is decriminalised, but brothel-keeping, collective working, soliciting, loitering, incitement, kerb-crawling and third-party management all remain illegal. This partial criminalisation bars on-paper access to workers' rights.5 If you work in a brothel, the manager can decide you're not getting paid the full amount today, and because your workplace is illegal, there's not much you can do about it. To point to self-employment is to point to the complex position of sex work within and outside of recognisable labour markets.
In a legal grey area or underground economy, it's hard to come by meaningful statistics on prevalence or demographic spread.6 A 2019 report commissioned by the Home Office compared academic estimates of UK sex worker prevalence, with the lowest being (in a study of female workers, probably those working as presumed-cis women) 58,000, and the highest at 105,000. Each of the figures compared are accompanied by caveats:7 in the best case, extrapolating from small sample sizes is fraught with methodological pitfalls, while obvious errors abound,8 such as taking the number of profiles advertised on a website as a reflection of currently active workers. More relevant statistics would try to look at what proportion of sex workers work indoors or outdoors, independently, for agencies, in brothels or parlours, or for other managers. It would be useful to know with clarity the ways the makeup, form and location of work has shifted over time, and what degree of movement there is between styles of work. Most research agrees, however, that the majority of prostitution in the UK now takes place indoors, with most transactions arranged online.9 Somewhere between 3 and 15% of workers are thought to work outdoors, though some workers will also meet potential clients outdoors before moving indoors. The demographic shift from outdoor to indoor is one consequence of increasing ease of accessing the internet (which makes advertising and a level of immediate anonymity easier)10 and the subsequent gentrification of sex work. The feminisation of labour within neoliberal capitalism also makes stable wage work harder to come by, while precarious service labour like prostitution is easier to access, and more often, one of the few options available.
For the purposes of this essay, I use marxist-feminism to describe my approach, but I intend an intersectional understanding of the specific, interlocking, raced, gendered, and classed strategies of capitalism.11 For marxist-feminists, the realm of labour power is under-theorised within more traditional marxisms that focus on wage workers and the realm of production. Maya Gonzalez and Jeanne Neton suggest that marxist-feminism, in its simplest form, looks at gender oppression in terms of social reproduction.12 Social Reproduction theory, says Tithi Bhattacharya, focuses on the processes that create and sustain life.13 Gender and race are ways of sorting the value of human lives within capital: analysing the how and why of worth within labour markets, who is expected to do socially reproductive work, who is expendable, and who bears what structural relation to violence. Though marxist-feminism is most immediately an attempted corrective to traditional marxist theory which omits gender, white marxist-feminisms similarly often omit race, or treat it as a throw-in addendum, failing to recognise the centrality of racialised populations to capital accumulation, dispossession, exploitation and extraction. Writing on racial capitalism, Gargi Bhattacharya explains that while not all capitalism is racial, and while racism pre-existed capitalism, the phrase describes "how the world made through racism shapes patterns of capitalist development."14 It is well known, she writes, that capitalist development as it stands today is built on both the enslavement of Africans and the colonial "expropriation of resources and labour", giving the apparently "'free' injection of economic value" upon which Europe and America now rest.15
Following this, an intersectional marxist-feminism must ask: why does capitalism today persist in violent modes of domination along feminised and racialised lines? This question is vital: feminised and racialised people are disproportionately concentrated within sex work, while Black workers and other workers of colour generally earn less from selling sex than white workers. Here, I aim to briefly describe the structure and organisation of prostitution, in order to begin to look towards its role, as a structurally misogynist and racist industry, within capitalism. In order to do this, I read prostitution against SR-focused feminisms and conceptions of reproductive/productive labour. Prostitution is still overwhelmingly, importantly, women's work, purchased by male clients.16 I therefore analyse prostitution as a distinctive set of different types of labour that strike at the productive/reproductive binary, questioning the renewed popularity of reproductivity as an over-arching explanatory category, looking in addition to other forms of precarious, contractor service work as comparison points.
Part One: Prostitute/Housewife
Marxist-feminists have generally argued that prostitution is reproductive labour, the socially indispensable type of work overlooked within traditional marxist frameworks that fixate on productive labour: the work of producing commodities, to create surplus value for capitalists. Marx located productive labour as the driving engine of capital accumulation, while other forms of wage labour generally done by men – such as being a lawyer, finance worker or supervisor– were unproductive but necessary, so subsidised by capital. For Marx, only labour that "is exchanged directly with revenue, that is wages or profits", is productive.17 The purpose behind theorising women's work as reproductive labour, then, was to look directly at women's role within capital, to show that unwaged labour might be equally necessary to the mode of production. So, the gist goes, the usually female prostitute sexually services the usually male worker, attending to his desires so that he can get back to wage work.18
There are two main understandings of reproductive labour: the traditional and narrower definition, and the more recent, broader definition. These approaches differ in their view on whether the housewife should be seen as the model for women's work as a whole. The narrow definition focuses on the surplus value produced – whether directly or indirectly – by women's unpaid remaking of the individual home, arguing that even women's paid labour outside of the home reflects the woman as housewife first and foremost.19 By contrast, the broad definition states that any paid or unpaid work that does not directly produce surplus value but reproduces workers is indicative of the role of the feminised and racialised in sustaining capital. In this section, I now consider the narrow and broad definitions of reproductive labour as ways of locating the work of prostitution. I then go on to consider the role of the production/reproduction binary.
The domestic labour theorists of the 1970s, using the narrower definition, focused on the "remaking of the household"20 through care work: domestic labour like cooking, cleaning and tidying, sex, child-birth, and looking after children, (male) partners, and ageing parents. In line with this view, prostitutes are much like housewives. As Eli Long and Jack Frost write, "erotic work exists in both waged and unwaged forms."21 The narrow definition of reproductive labour is generally traced back to 1970s Italy, emerging out of the analysis of the International Wages for Housework Movement (W4H), associated with theorists and activists such as Mariarosa Dalla Costa, Selma James, and Silvia Federici.22 The general argument of these SR feminists is that women's unpaid work in the home – naturalised as supposedly "not-work" under the auspices of "love" and/or "care" – is indispensable to capitalism's functioning. The waged worker is not reproduced without the labour of his unwaged or indirectly waged partner. Women's reproductive labour should be made visible as work, therefore, as a transitional step on the way to its eventual dismantling. Federici classically argues that wages for housework is a perspective on a revolutionary demand, not an end-goal, writing that housework is drudgery, more, that it is violence. The demand, she says, is "the first step in refusing to do it".23 These theorists question the supposed distinction between the value-productive sphere of waged labour, and the apparently non-value producing sphere of reproductive labour, synthesising the two as essential for capital accumulation: the male worker only turns up for work because of the ministrations of the housewife (and/or the prostitute), on whom he depends. Production and reproduction are both vital for capital as a totality.
Among these domestic labour theorists, Leopoldina Fortunati most thoroughly theorises the "prostitute" side of housewife/prostitute paradigm. Writing in 1981, she focuses on the prostitute as the complementary but (according to capital) inferior partner to the housewife.24 She states: capitalism "has never hesitated to exploit women as prostitute, houseworker and production worker as and when it required, and often as all three simultaneously."25 Women performing reproductive labour in the home, she writes, are in fact creating surplus value by raising "the use value of his labour power."26 There is a particular relationship between women and capital which happens on two levels: "formal appearance" and the "real functioning".27 In formal appearance, women performing reproductive labour in the home do not have a direct relationship with capital: they do not receive a wage, instead their role within the home is naturalised as one of love. Crucially, says Fortunati, at the real level, women exist in an indirect relationship with capital, which is necessarily mediated by the male worker, husband and/or client, as "capital can only exchange itself indirectly with the labor power of reproduction."28 The male worker is better off than the female housewife, as he sells his labour only for a set period of time, while she, with her work mystified as not-work, cannot set hours on the labour she provides: rather it is "for better or worse".29 his distinction is at the basis of Fortunati's argument that reproductive labour is the exact opposite of productive labour. We might extrapolate that for Fortunati, since the housewife is not selling a measure of time but rather an indeterminate amount of labour, she herself becomes the commodity.
There are intuitive reasons to theorise prostitution as reproductive in this narrow sense, not least because it roots UK sex work within its surrounding activism. Contemporary sex worker activism in the UK emerged most definitively with the English Collective of Prostitutes (ECP) in 1975. Organising with and alongside the London branch of W4H, with Selma James acting as the ECP's first spokeswoman, their work then and since has drawn on, and indeed developed, a gendered analysis of women's work. Additionally, it is intuitive to imagine the housewife/husband exchange and prostitute/client exchange as similarly individualised and privately located: one-on-one in the home or the bedroom. Both the housewife and the prostitute's work involve attending to men's sexual desires. In either case, this may be seen as the work of reproducing labour power. The difference is that only the prostitute officially charges a fee. If there is a compelling similarity between the paid sexual labour women do as sex workers, and the unpaid but transactional sexual labour women do as wives and girlfriends, what's wrong with this framework? I will go on to argue that the broad definition of reproduction more compellingly encompasses how prostitution (and feminised labour more generally) operate today, but that simultaneously, the structure of prostitution now makes precarious service industry work a relevant but under-explored point of comparison.
The major, compelling criticism of the domestic labour theorists is that their (presumptively white, heterosexual, potentially middle class) housewife is not a structural representative of all women's work. This argument obscures the differentiations within racial capitalism that mean the majority of women provide care work in and out of the places where they might live.30 Reproductive work, it is argued, is far broader than the work of remaking the individual home. Angela Davis lambasts as ridiculous the suggestion that "women in general, regardless of their class and race, can be fundamentally defined by their domestic functions",31 pointing out that the group of people who best know what it is to struggle for wages for housework are, in fact, domestic labourers who work for poor wages and in poor conditions outside of where they live: "cleaning women, domestic workers, maids... know better than anyone else what it is to receive wages for housework".32 She highlights the fact that Black women and white immigrant women in the US have generally been wage earners first and housewives only secondarily. Or in apartheid South Africa, she writes, government policy had resulted in the all-but-dissolution of Black domestic life: with family life prohibited, rates of marriage on the decline, and a majority of Black women living in sex-segregated hostels.33 The latter in particular complicates the claim that capital accumulation fundamentally operates through productive labour's dependence on reproductive labour. Though racial capitalism manifests differently depending on geographic location, the comparative stigmatisation or criminalisation of Black families suggests that reproductive labour may not be necessary for the maintenance of the worker at all. Instead, the valorisation of the white, particularly middle class, family in reproducing the worker may relate more to who is considered useful, and who disposable.
Like Davis, Gargi Bhattacharya argues that "framing the domestic labour debate as the business of households" is heteronormative, androcentric, and fails to account for the precarious, insecure, generally waged, self-employed work performed in much of the world by those "in the shadows of capitalist relations".34 This is the key point for my argument: in the UK as in much of the world, prostitution is part of a shadow economy that operates through a hierarchically structured combination of criminalisation and decriminalisation, punishing more devalued populations, particularly migrants, women of colour, and trans women – who are also more likely to be outdoor or brothel workers – while politicians and police continue in their dual roles as clients and law enforcers.
Part Two: Reproductive Service Work
Would it then make more sense to understand prostitution as reproductive labour in the broad sense? This would make the prostitute less like a paid housewife, and more like a paid care worker akin to a childcare worker, nursery teacher, or nurse. The post-Fordist, neoliberal restructuring of capitalism since 1979 resulted in the privatising, individualising and deregulating of markets, transferring wealth from poor to rich, with an attendant move of manufacturing work to the Global South. This means that the marxian example of the wage worker in the factory and the wife at home (the whitewashed picture Bhattacharyya scorns as "working daddies and caring mummies")35 is no longer widely applicable in the UK, if it ever was. Increasingly, reproductive work is paid. Work on "global care chains" describes the outsourcing of care work from unpaid, or indirectly paid, white middle class women in the home, to underpaid migrant, working class and women of colour often working in other peoples' homes, or in care institutions. This outsourcing supports affluent men in continuing to avoid their share of social reproduction, while, as Barbara Ehrenreich and Arlie Hochschild suggest, the traditional division of labour where self-sacrificing women pick up after entitled men becomes globalised, shaping to the relationship between richer and poorer countries.36
Shifts between an unwaged, private sphere of reproductive work and a waged, public sphere of productive work are complex, too, as one of neoliberalism's many galling successes has been the re-individualising of elements of welfare or social security from state provision to a perk attainable to those who "deserve it", by virtue of being able to afford it privately.
Angela Mitropoulos explains it like this:
"...the privatisation of health, welfare and education that has been the hallmark of neoliberalism has amounted not only to a shifting of particular forms of (still largely feminised) kinds of work from the public and/or waged spheres to that of private and/or unwaged, but also the re-modulation of the distinction in welfare provision between the punitive and the contractual that emphasises self-command."37
Some elements of reproductive labour are now divested from the unpaid, individualised sphere of the housewife and incorporated into more institutional forms of care provided by underpaid, working class, often racialised, often migrant women. This can take the form of paid care for the elderly or children, paid-for cleaning services, or pre-prepared meals. Simultaneously, that which was for a time, at least in the UK, publicly-funded reproductive work within the NHS, youth centres, or women's refuges, is now either privatised or shunted back to underpaid and unpaid women, picking up, out of necessity, after the shortfalls of state provision.
The broader definition of reproductive labour reads it as any work that reproduces labour-power, which is also itself a commodity.
Johanna Brenner and Barbara Laslett include:
"The activities and attitudes, behaviors and emotions, and responsibilities and relationships directly involved in maintaining life, on a daily basis and intergenerationally... how food, clothing, and shelter are made available for immediate consumption, how the maintenance and socialisation of children is accomplished, how care of the elderly and infirm is provided, and how sexuality is socially constructed."38
So, is prostitution reproductive labour in the broad sense? The broader definition of reproductive labour aims to destabilise the binary association of productive/wage/ public labour against reproductive/unpaid/private labour. Is the work of prostitution the reproduction of labour power, which does not necessarily produce surplus value in itself, but supports the productive worker in creating value for the capitalist? The prostitute as reproducer of the wage worker, in the trajectory of teachers, nurses, or nannies, makes a great deal of sense. Unlike the housewife, the sex worker's services have an exchange value as well as a use value. These workers are paid, may work publicly or privately, but their work is in reproducing social relations rather than straightforwardly producing goods.
Last year, the ECP conducted a small qualitative study comparing the jobs of a brothel worker and an outdoor worker with those of: a bartender, childcare worker, cleaner, hairdresser, home care worker, housing support worker, midwife, nurse, personal assistant, retail worker, school playground worker, single mother, two teachers and a waitress.39 Though there was a spectrum of weekly hours and hourly rates, eleven of the seventeen earned less than a living wage. The sex workers interviewed were found to earn the highest hourly rate, but work the fewest hours, meaning that overall the outdoor worker was one of the lowest paid. Common to most of these roles were the embodied, relational, and affective aspects of the work. Three workers other than the sex workers "said their job demanded physical intimacy".40 The taxonomy of intimacies in prostitution may range from a "girlfriend or boyfriend experience" to a "pornstar experience", filming, photography, dates, and more. In most, though not all, forms of prostitution, the provision of services is accompanied by the provision of a negotiated amount of time, whether negotiated directly or by a brothel or manager. The time may include in-advance communication and sometimes follow-up conversation, which may be via email, text or telephone, or mediated by another party. Like these other roles, prostitution is overwhelmingly performed by feminised populations, and is often among a set of similar, limited options available to working class, migrant, disabled and racialised women. Though focusing on the role of caring labour within prostitution runs the risk of decentring sex and privileging the often more affluent workers (such as escorts or sugar babies) who sell affected intimacy alongside sex, whether or not part of the role is to pretend to care, intimate care work is involved in any affective performance of sexual enjoyment, however transient.
This is the extent of some recent SR feminism: having updated our understanding of what reproductive labour means in line with capitalist development, we could vaguely assign prostitution to the same category as other forms of paid, low-waged care. While I find the comparison between the qualities of labour persuasive, there are two reasons why I think it is a mistake to end the analysis here. Firstly, the broader definition of reproductive labour leads to a destabilisation of the productive/reproductive binary, which forces the question as to why we would hold onto it. Secondly, while prostitution does share much in common with other forms of paid care work, all of this paid reproductive labour could be better analysed under the auspices of the rise of the service industry, and the organisation and relation to capital of all jobs, whether specifically care-related or not, within it.
First, once the binary of waged/public/productive vs. unpaid/private/reproductive is challenged, it becomes clearer that labour isn't just of one or the other camp. If reproductive labour is simply any work –even if paid and public – that reproduces labour power with a more or less direct relationship to the creation of surplus value, how can it be distinguished from labour which produces other kinds of commodities? Marx's own account allowed that a headteacher's job, for example, would not necessarily be productive in terms of the work of teaching, but would become so when making the school owner richer, describing this delightfully and pertinently as laying out capital in "a teaching factory, instead of a sausage factory".41
Marina Vishmidt and Zoe Sutherland suggest that the concept of the reproduction of labour power, or the work that gets the worker to work, creates a "tautological relation" between feminised and generally racialised labour that is devalued, and that which is termed reproductive.42 So, "reproductive labour" might turn out to be just academic jargon for women's work. Vishmidt and Sutherland argue that instead, reproduction and production should be situated on a "continuum", with an attendant analysis of how it is that the "infrastructure" of the continuum is made up of "gendered, racialised and sexualised forms of exploitation and domination".43 This means that if there are multiple forms of labour that lie somewhere between wage work that produces surplus value, and unwaged work that reproduces the labourer so as to produce surplus value later, it remains to be explained how (and why) is it that exploitation is arranged along this continuum, with valued populations at the productive top, and devalued populations at the reproductive bottom.44 The postulation of a productive/reproductive binary ends up failing to do much of the explanatory work it aimed to do in the first place.
Second, our thinking is rooted in a particular academic and activist thought tradition that centres women's work, without also looking at how wider precaritisation underlies a service industry which in the UK is now more dominant than the production of material objects. I've belaboured different social reproduction theories in their apparent, often handwaving relation to prostitution very deliberately because I want to understand why marxist-feminists have taken "sex work=reproductive work" as a given and sometimes as the entirety of an analysis. In part, the 1970s context of most of the influential research means the manifold changes to the industry in the fifty years since are underrepresented in research.
At the same time, SR theories have become fashionable again, and while there are plenty of good reasons for this, it isn't automatically the best or only terrain on which to understand sex work. Another reason for the under-examined consensus on sex work as broadly reproductive is a failure to attend to the detail within the umbrella term "prostitution", perhaps a vague discomfort with the idea of sexual services as work, or simply a fair fear of getting it wrong. As Gonzalez and Neton suggest, what defines a kind of work is not just its "concrete characteristics" (the work of taking care of children, the work of driving to school, the work of giving blowjobs) but rather "the relationship of these reproductive tasks to exchange, the market, and the accumulation of capital".45
The question seems to become one of priority. In looking at prostitution, is it best to prioritise an analysis of how the remaking of the worker–whether by paid or unpaid reproductive labour–is a key strategy of capital accumulation? Or, is it best to start from the myriad ways that women fall into and out of a waged proletariat globally, whether as housewives or as agricultural workers? This would entail a specific focus on the function of UK-based prostitution not merely as reproductive, but more pertinently, as a paid, part-criminalised form of service work. Though paid care workers in non-criminalised fields are by no means beneficiaries of fantastic working rights and employment patterns (quite the opposite) prostitutes are not part of the (however diminished) third sector. They are not, and due to criminalisation, cannot be employees or staff members. Rather, they are workers on the edges of labour markets, whose work may be more or less "officially" work. Therefore, following Gonzalez and Neton's approach if not their conclusion,46 the third section of this essay suggests instead that work-organisation terms such as, precarious, criminalised, low-waged, agency, platform, are better routes into an analysis of what kind of work prostitution is via its relationship to the market, exchange and accumulation, than is the over-stretched production/reproduction binary, which boils down to an argument about whether surplus value is accumulated directly or indirectly, now or later.
Part Three: Prostitution as Precarious Service Work
Prostitution is not one type of work. The presumption that there is or should be one total theory of sex work may be one (of many) reason(s) why there is so much bad research in the area. This is not to say "everyone has a different experience so let's not generalise!" Structural analysis rests on the existence of structural conditions. But theory also has to respond to particularity. It is possible to think both comparatively and specifically. In the UK today, the service sector contributes about 80% of GDP. These are jobs that produce services or "intangible goods". This includes higher paid, more secure jobs which may not be useful comparison points for sex work, such as accounting, IT, or banking.47 The interesting area of comparison is precarious, technically self-employed or contractor service work: caring services, but also hospitality, cleaning, retail, admin, transportation, warehouse, call centre work, and other forms of platform work such as for Uber, Taskrabbit or Deliveroo. Ursula Huws describes this as a post-2008 crash shift, facilitated by the internet, from "servant labour", which is paid for out of wages and doesn't increase profit, to "capitalist service labour", in which companies make profit from the sale of services. She writes:
"Workers who provide these services are brought directly within the disciplinary scope of transnational corporations: closely monitored, expected to be available at short notice, subjected to continuous review through the use of customer ratings and with tasks tightly defined–but lacking the job security or collective voice that would come from working in a regular unionised workplace."48
The point here is not that we should expand our comparative reading of sex work as the production of sexual services to better encompass service jobs that have higher proportions of men. Rather, recognising the broader impact of globalisation and feminisation in proliferating contractor service labour gives us new routes into understanding sex work's relationship to the market.
Prostitution is the sale of in-person–usually penetrative–sexual services, but beyond this there is no one way in which prostitution is organised, no one exact type of work involved. As an unregulated shadow industry, commercial sex is brutally capitalistic, microcosmic of broader patterns of gendered and racialised social domination.49 Like other precarious service work, earning potential reflects these patterns of oppression, rather than necessarily the quality or skill of the service. Within the industry there are a minority of more privileged, majority white, "English" (or "English-passing") workers who are fully independent, working entirely from personal websites and online advertising. These workers benefit financially from being, or being able to pass as, middle class, cisgender, straight or bisexual, non- disabled, slim, and normatively attractive, though it is notable that some financially successful independent workers carve out a niche from marketising an aspect of "difference". Being fat, for example, can be advertised as the fetish "BBW".50 These workers may also benefit from earning 100% of the profit from a client/provider transaction,51 whereas some independent workers advertise through online platform monopoly websites, paying a fee for advertising, while the site takes a considerable cut from any financial transactions (such as purchasing access to picture galleries) carried out on it. Those who might be understood as less independent but still, in- effect, self-employed, would in another industry be called freelancers or contractors, receiving a wage from a brothel or parlour boss or manager, but with little-to- nothing in the way of holiday or sick pay, pensions, grievance procedures, or access to unionisation. 52 Some workers gain business through agencies, which take a substantial cut of the fee in return for advertising and finding clients. Some workers work outdoors, and may be self-employed or work for a manager, who also takes a cut. Theoretical accounts too often suffer from confusing advertising with reality, and from failing to realise that there is movement between roles and types of work, though access to higher pay and better working conditions is differentiated by race, class, disability, cis/trans status and nationality. A worker may work in a brothel part of the time while working independently at other times, and so on. Prostitutes work from hotels, client cars, outside, their own bedrooms, managed premises, and other peoples' premises, and whether the work is public or private, outdoor or indoor, makes little difference to whether the work is prostitution, though a great deal of difference to relative safety at work or proximity to state and police brutality.
Providing sexual services is the by-definition part of working as a prostitute, but this is also a shallow analysis of how a working day is spent, equivalent to analysing the work of a singer as simply the time spent going on stage and singing, or the work of an adjunct lecturer as simply the time spent giving lectures (an analysis which in both cases can result in less-than-minimum wage pay). Different forms of prostitution variably involve admin, finding and maintaining a client base, building intimate labour skillsets, advertising, marketing, and invariably, waiting around. Different forms of prostitution involve different amounts of contact time, but even brothel workers, who have possibly the greatest ratio of work-time to client-seeing time, will have additional hours to spend on prostitution work while there are no clients, buying and arranging outfits and makeup, having photos taken, and so on. At the other end of the contact hours spectrum, independent workers will spend a significant proportion of their time advertising, marketing, writing and updating copy or blogs, keeping on top of an email inbox, communicating with clients, purchasing clothes and makeup, arranging photoshoots, and so on. This is, to be clear, not a respectability-politics attempt to abstract prostitution out from the act of fucking. Rather it is to make the point that to draw conclusions about a form of work you must have a realistic conception of its ratio of working time to service commodity production. Failure to do this leads to either the regrettable "research" that supposes that "high class escorts" all make hundreds of thousands of pounds a year (because every hour is lasciviously imagined an hour with a client), or the even worse "research" that supposes brothel or outdoor workers all engage with hundreds of penises a day, every day (an equally lascivious, pity-porn imagining).
As Fortunati points out, unpaid reproductive work is temporally unbounded: the wage worker gets to go home but the housewife doesn't get to clock out at 6pm. In contrast, a key and saving feature of prostitution is that the time is boundaried, often with great specificity. Working in a brothel or parlour is most similar to the classic working day. It is shiftwork, sometimes long and poorly paid, sometimes unsociable, sometimes with a later end-time than agreed, but it is shiftwork nonetheless, where you arrive at a time and you go home at a time. Like other forms of precarious service work, brothel-work can also be zero-hours: you may get shifts one week but not another.
Contrastingly, independent escorting is charged by the hour. Rates are often priced to a specific time: one hour, two hours, overnight. Indeed, a regular advertising- inflected claim is that the client purchases an escort's time, rather than any particular sexual acts. This isn't entirely true, but it isn't entirely false either. It is rarer within prostitution, though more common within pro-domination or submission, that workers will charge by the act: a certain amount per stroke of the cane, more for acts that require clean up. An exception to this is the common practice of charging for "extras", the price for an hour plus £ extra for anal, for example.
This brief overview53 of the different types of prostitution common in the UK today give rise to a surprising conclusion: some sex work might be seen as productive labour, and some not. Prostitution may be reproductive, unproductive labour when the client/provider interaction is considered in isolation, but this central relation doesn't fully explain the relation of prostitution to exchange, the market, and capital. Just as Marx's headmaster in the teaching factory labours productively when he enriches the school owner, so too the prostitute labours productively when her sexual services, as a commodity, create the surplus value that directly makes the agency or third-party manager richer, or that makes the brothel owner richer. Or, when online platforms extract profit from workers paying for higher billing that day, or from the sale of pictures. (Similarly, the healthcare worker whose services are made commodities that produce profit for the private healthcare company also labours both productively and reproductively). Workers who do not work with third- parties, including some independent indoor or outdoor workers, do not directly produce surplus value: the relation with capital is more indirect. The productive/ reproductive distinction here may track levels of capital accumulation but it doesn't track working conditions, exploitation or oppression. The relation of precarious service work to accumulation is complex and varied. As Callum Cant points out in his book on working as a Deliveroo courier, despite massive investor capital and vast expansion the platform's profit margin (in 2016) was only about 1%.54 Though sex work is one of many areas where vulturish online platforms have swept in, aiming to profit by institutionalising precarity, their profits are mitigated by their greed for growth. This may point the way towards worker-owned cooperatives as an alternate model for sex worker self-management.
The purpose of this descriptive mapping work is to reach an analysis that helps explain the relations of exploitation and oppression, and the function of prostitution within capitalism. Whether surplus value is created directly or indirectly, prostitution as a feminised and racialised industry helps perpetuate the violent modes of domination that Bhattacharyya identifies as being at the heart of racial capitalism (this is how it works). The comparison to other forms of service industry work aims to provide a comparative route into shared or similar modes of exploitation, while revealing specific modes of exploitation, ultimately giving us the insight to build tools to target them. So, if the role of precarious service labour in capital accumulation is varied, what is the point of it? What relationship does it have to gendered and racialised hierarchies? Theoretically all the tasks, including sex, that fall under the reproductive, service work umbrella, could be either provided for free within communities or foregone as unnecessary luxuries. While this is true, it is woefully insufficient as an answer where it fails to take into account the need of the worker to survive. Arguably, the ultimate point of prostitution is not to reproduce the male client but to keep the sex worker alive. The lens needs to be turned back on itself: prostitution is not, after all, for clients but for prostitutes. Precarious service work exists to keep workers precarious. Its relation to capital is defined first and foremost by its maintenance of an underclass of criminalised, feminised, racialised, dispossessed workers who will suffer the consequences–through violence and stigma–of their decision to survive. Step one is to win improvements in the relationship of worker to boss within racial and patriarchal capitalism. Step two is to abolish the lot.
Sex work is an umbrella term for myriad types of sexual services, including prostitution, stripping, BDSM services, webcamming, and so on. Yet within the sex work umbrella, prostitution itself is also an umbrella term. Within this essay, I'm talking about full service sex work or prostitution, but will use both "sex work" and "prostitution" for ease of terminology.
Prahba Kotiswaran, "Theorizing the Lumpen Proletariat: A Genealogy of Materialist Feminism on Sex Work" in Dangerous Sex, Invisible Labor: Sex Work and the Law in India (Princeton: Princeton University Press, 2011), 52.
In practice, of course, employment in feminised or low-wage fields rarely confers these supposed benefits.
In Revolting Prostitutes: The Fight for Sex Workers' Rights, Juno Mac and Molly Smith describe the "erotic professional" like this: "Easily identifiable as one of the more vocal, visible figures of the sex worker movement, the Erotic Professional positions herself as answering a vocational "calling" that seems to have barely anything to do with being paid. In downplaying economic coercion and instead emphasising her pleasure and desire, the Erotic Professional attempts to make commercial sex more closely resemble the sex life that society is more ready to endorse–that for which women receive no payment." (New York & London: Verso, 2018) 31.
For more on the forms that partial criminalisation takes, and the varying underhand legal mechanisms police use to brutalise sex workers, particularly street-based or migrant workers, see Revolting Prostitutes, 87-114.
Underground, hidden, or shadow economies are often defined (by conservative economists) as work practices that evade tax and state regulation, however more relevant here is the provision, distribution and consumption of criminalised services. As with prostitution, some forms of work may combine formal and underground economies.
University of Bristol, Nature of Prostitution and Sex Work in England and Wales (Home Office and University of Bristol, 2019) accessed 12 February 2020. The report itself examined sex work in England and Wales - but its prevalence comparison predominantly included studies based on the UK as a whole.
Mary Laing et al, Supplementary Written Evidence Submitted by National Ugly Mugs: Research and Statistics Briefing (Home Office, 2016).
E.g. Teela Sanders, Laura Connelly, and Laura Jarvis King, "On Our Own Terms: The Working Conditions of Internet-Based Sex Workers in the UK", Sociological Research Online, 21.4 (2016): 133–46.
Melissa Gira Grant, Playing the Whore: The Work of Sex Work, (New York & London: Verso, 2014).
In an essay looking at the social relations and labour organisation of sex work, a materialist perspective would seem intuitive. Complicatedly, though, "materialist" has been used vaguely, sometimes interchangeably with marxist, sometimes as a kind of marxism plus, or sometimes expressly against marxism.
Endnotes, "The Logic of Gender: On the Separation of Spheres and the Process of Abjection," Endnotes 3: Gender, Race, Class and Other Misfortunes, (2013): 56–91.
Tithi Bhattacharya, "Introduction: Mapping Social Reproduction Theory", in Social Reproduction Theory, Remapping Class, Recentering Oppression (Pluto Press, 2017), 1–20.
Gargi Bhattacharya, Rethinking Racial Capitalism: Questions of Reproduction and Survival, (London & New York: Rowman & Littlefield, 2018) 103.
Ibid., 107.
The vast majority of sex workers are cis and trans women. Some workers are cis men, and some are non-binary people, with comparatively few trans men. The gender of the worker does not always correspond to the gender performed at work. While female and non-binary clients do exist in very small numbers, it is disingenuous to claim, as some liberals do, that this has any significance for an analysis of the gendering of sex work.
Karl Marx, Economic Manuscripts: Theories of Surplus-Value (Moscow: Progress Publishers, 1969) 157.
These analyses don't depend on the sex worker being a woman - what's relevant is that in comparison to the male client the sex worker is feminised, if only by the working relationship.
E.g. Selma James and Mariarosa Dalla Costa, "The Power of Women and the Subversion of the Community (1972)", in Sex, Race and Class (Oakland: PM Press, 2012), 43–60.
Bhattacharya, Rethinking Racial Capitalism, 66.
Eli Long and Jack Frost, "Notes on the Erotic in the Capitalist Mode of Production", LIES II: A Journal of Materialist Feminism,_ (2015), 99.
Though Angela Davis points out that the argument that housewives are a distinctive class of labourer was not first made, as often cited, by Maria Dalla Costa, but rather originates with Mary Inman in In Woman's Defense, in 1940, and Margaret Benston's "The Political Economy of Women's Liberation", in 1969. Angela Davis, Women, Race and Class (New York: Vintage, 1983).
Silvia Federici, Revolution at Point Zero: Housework, Reproduction, and Feminist Struggle (Oakland: PM Press, 2012), 19.
Kotiswaran suggests that the term reproductive labour originated with Fortunati. Dangerous Sex, 57.
Leopoldina Fortunati, The Arcane of Reproduction: Housework, Prostitution, Labor and Capital, eds. Jim Fleming, trans. Hilary Creek (New York: Autonomedia, 1995), 41.
Kotiswaran, Dangerous Sex, 58.
Fortunati, The Arcane of Reproduction, 33.
Ibid.
Ibid., 40.
The criticism that paid and unpaid reproductive labour is far broader than the figuration of the housewife suggests is persuasive. However, in her later work, Federici contests the claim that 1970s organisation around domestic work was a "crisis" reserved for white, middle class women. She writes: "It was the Welfare Mothers Movement that, inspired by the Civil Rights Movement, led the first campaign for state funded "wages for housework" (under the guise of Aid to Dependent Children)". Similarly, in the UK, the many groups operating out of the Crossroads women's Centre, including W4H, but also the ECP, All-African Women's Group, Wages Due Lesbians, Black Women Against Rape, and so on, makes it seem too quick to write W4H off as the concern of only white, hetero, bourgeois women. Federici, Revolution ,98.
Davis, Women Race and Class, 133.
Ibid., 136.
Ibid., 134.
Bhattacharya, Rethinking Racial Capitalism, 58.
Ibid., 51.
"Global Woman: Nannies, Maids, and Sex Workers in the New Economy: Introduction", in Global Woman: Nannies, Maids, and Sex Workers in the New Economy, eds. Barbara Ehrenreich and Arlie Hochschild (New York: Henry Holt, 2002), 12.
Angela Mitropoulos, Contract & Contagion: From Biopolitics to Oikonomia (New York: Autonomedia, 2012), 29.
As cited in Tithi Bhattacharya, "Introduction: Mapping Social Reproduction Theory", 6.
English Collective of Prostitutes, Report: What's a Nice Girl Like You Doing in a Job Like This? Comparing Sex Work with Other Jobs Traditionally Done by Women (2019) [accessed 19 February 2020].
Ibid., 24.
See Part V, Chapter 16 of Karl Marx, Capital: A Critique of Political Economy, trans. Ben Fowkes, vol. 1 (London: Penguin, 1976).
Marina Vishmidt and Zoe Sutherland, "Social Reproduction: New Questions for the Gender, Affect, and Substance of Value," in New Feminist Studies: Twenty-First-Century Critical Interventions (Cambridge: Cambridge University Press, [2020 forthcoming]), 193. 43. Ibid., 199.
I would add that while the idea of a continuum seems intuitive, it also needs much more explanation. I'd like to know how gradients of a continuum between productive and reproductive might be laid out. A non-binary third space, perhaps? Neither productive nor reproductive? Or might it be more like differently weighted mixtures? Does the continuum make a nonsense of the binary altogether?
Endnotes, "The Logic of Gender," 62.
Gonzalez and Neton's own schema attempts to undercut the productive/reproductive binary by framing labour markets instead (with some awareness of the clunkiness of the phrasing), in terms of: "Directly Mediated Market" (DMM) and "Indirectly Mediated Market" (IMM). DMM work, they explain, is guided by return on capital, the going rate of exploitation, the need for productivity, uniformity, and efficiency. It is also temporal: DMM work must be done ever more quickly and efficiently so as to create more surplus value, IMM work may be done more quickly and efficiently but at the end of the day, as Gonzalez and Neton mention twice, however well you look after your kids, they still need looking after 24/7. The overall point is well-taken and deserves further exploration, but within the proposed alternative schema, prostitution does not appear to fit totally in any of the three categories, being seemingly directly market mediated but without being waged labour, and without a need for ever greater speed and efficiency, being outside of a state or publicly- funded sector (in the UK), and clearly, not being an unpaid activity.
Though as mentioned elsewhere, sex work often includes elements of advertising, marketing and PR work.
Ursula Huws, "The Hassle of Housework: Digitalisation and the Commodification of Domestic Labour", Feminist Review 123.1 (2019), 19-20.
E.g. Pluma Sumaq, "A Disgrace Reserved for Prostitutes", LIES II.
Two points can immediately be taken from this: first, that the construction and intense regulation of acceptable desires around these beauty norms inescapably creates a realm of supposedly anti-normative desire, understood within the terms of racial capitalism as taboo or shameful, and second, that the capitalist concept "fetish" makes marketable that which would – in a less oppressive society – simply be part of the general variance of desires, bodies and sexualities.
Though this money is not free from overheads like renting or hiring an incall space, purchasing advertising and SEO, etc.
For more on UK sex worker unionisation, see United Voices of the World/United Strippers of the World.
This is not intended as an exhaustive list! There are also workers who may not consider themselves prostitutes but exchange sex for money with a level of explicitness: through sugar babying, or through viewing the work as money rather than a job, for example.
Callum Cant, Riding for Deliveroo: Resistance in the New Economy (Cambridge: Polity Press, 2020).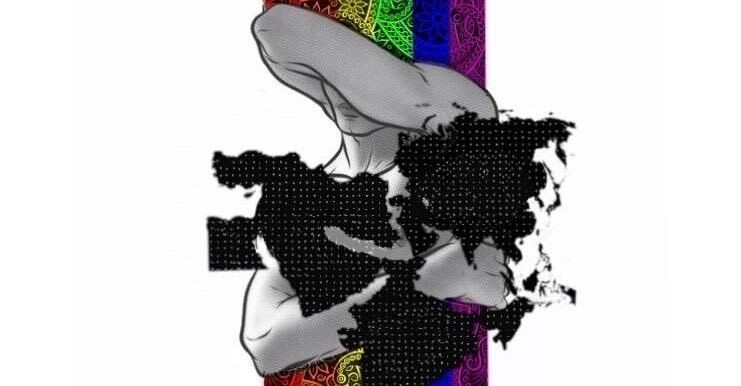 By
Ian Liujia Tian, Mani Azimzadeh, Sabra Rezaei and Vinaya Gopaal
This is the first of a two-part essay. The second instalment is forthcoming with Invert.
Queer Asia is Burning
Asia is burning. It is so, because after being a site of colonial/imperial violence and exploitation for four hundred and fifty years, Asia continues to be a central locale of economic development and capital accumulation. This means that Asia has been one of the biggest providers of technocratic labour and cheapened workers for racial capital. The mass migration and return of workers in/to China, Southeast and South Asia have constituted what Lisa Rofel calls "temporal-spatial migration".1 That is, contrary to the thesis of (forced) dispossession and urbanisation of peasants in the early stages of industrialisation, contemporary inter-state/region labour migration is temporarily relocated to industrialised urban centres. Migrants tend to return to their villages rather than being fully subsumed into urban centres as industrial labour.
Asia is burning, however, with a queer twist. What we call "Asia" here – a geopolitical boundary, cultural signifier or civilisational concept, has no unified, fixed or concretised definition.2 Much like queerness, Asia is liquid and ambiguous: it immediately denotes East/Southeast/South Asia, but how about West Asia and the Middle East? Does Russia count as an Asian country? How many religions are there in Asia? 3 Working against determinism and essentialism, we conceptualise Asia in this paper as the liquidised land that constitutes the Other of Europe/North America: the "Different", "Oriental" and "Exotic" East/Far East. If the Asian continent and other islands are the container of "Asia", then the liquidity of Asia suggests that Asia is always extending/spilling out, flowing/moving inside and absorbing from outside. We are, of course, aware of the mutually constitutive character of this Asia/ West dyad. The very concept of the "West" does not stand without the "Rest". We centre Asia, then, as a means of decentralising and dislocating the West, moving strategically away from the imperial mobilisation of "area studies" (East Asia/South Asia) as strategies of hegemonic control. Moving away from area-specific knowledge production, queer Asia entails theoretical and critical potency to understand the grounded manifestation of global capitalism, nation-states and transnational financial class.4
Moreover, as we consider the importance of Asia in the global political economy, we cannot but discuss the emergence of queer organising and activism in Asia. Indeed, queers in Asia are burning with desire for liberation, love and freedom even though these notions may refer to different things for various individuals. For example, our relative work in China, Southeast Asia, Iran and India have demonstrated that the signifiers of liberation often appear in different trajectories, structured by historical colonialism/imperialism. The U.S., for instance, has been the imagined free land for some queers in (post)socialist China, while Britain occupies a certain special place in public memory of queer liberty in India, owing to its colonial history.5
Further, queer Asia is burning for another reason. As national elites in Asia collaborate to safeguard the passage of capital and the accumulation of wealth, a homogenous nation-state form is maintained as the pre-structure for the entry of global capital.6 In Lefebvre's theorisation of space and state, he indicates that the state as a space is simultaneously homogeneous and fractured.7 This set of contradictions suggests that we might read queerness as a "fractured" force that threatens the homogeneity of the (post)colonial nation-state. Departing from the argument that queerness does not belong to "Asian tradition", we assert that cultural traditionalism elides the material benefits of maintaining the homogenous state-form. Hence, given the vast contexts, cultures and histories of Asia, queer Asia is inevitably burning for a re-conceptualisation of (post)colonial nationalism, state socialism, religion, nation-state and South-South collaboration.
Both queer and marxist responses to a burning queer Asia have been slow and inadequate. Queer theory in general tends to treat Asia as a "different" site of theorising. Canonical queer texts by Foucault, Butler, Sedgwick and Altman, for example, claim that sexuality in the non-West are somehow outside of "Western" sexuality, thus constituting the "conceptual limits of the modern West".8 Yet the conception of "West" and "East" is structured by Orientalist epistemology; the reluctance of queer theorists to announce the universal presence of heteropatriarchy and hetero/homo separation is less motivated by an intent to decolonise than an expression of Eurocentric fragility, a form of unease when the domination of "theory proper" by the North over the South is revealed. Against the grain of such blindness, it is only recently that queer Asia has become a site of theorising.
The revival of "Asia" as a critical concept has coincided with the translation of several books by Asian scholars into English, for example The Structure of World History, The End of The Revolution and Asia As Method, as well as the growing interests in practices such as inter-referencing and South-South anti-colonial theory exemplified by Latin American scholars. However, these rejuvenations are yet to travel into the burgeoning field of queer marxism and anti-capitalism. Much of the literature at hand is geographically bound to the North and linguistically limited to Anglophone audiences. For example, we picked up a recent publication, Handbook of Queer Development Studies and found out that there are only five contributors who are from the South out of eighteen.9 Despite the nuanced materialism of its analysis, the collection of essays is still confined by the geopolitics of knowledge structured by global academic capitalism and the coloniality of power. We will turn to these concepts later but before we move on, we must first clarify what queer marxist/anti- capitalist theorising actually is.
A queer marxist investigation of sexuality and desire seeks to uncover the connections between capitalist modes of production, race, class, gender, erotics and nation-states. First, as an initiative developed out of the socialist movement and the gay/lesbian liberation movements of the 1960s and 1970s, a queer anti-capitalist project has expanded to mobilise various marxist concepts in order to understand the production of categories such as sexuality, performativity, gender and the heterosexual family. This project has sparked calls for the abolition of gender, the heteropatriarchal family structure and global capitalism. An expanded form of queer anti-capitalism, as Drucker notes, incorporates anti-racist and feminist influences.10 In terms of political economy, sexuality is increasingly becoming an entry point into theorising the wider global economic system. For example, queer development studies have adopted a materialist lens through which to analyse the many issues facing queers in different locales. Rao's "global homocapitalism" is a crucial concept that maps the production of the "homophobic" South in relation to structural adjustment programs as well as the globalisation of SOGI.11 We are witnessing a growing body of literature produced in theNorth detailing forms of oppression, sexual liberation and economic exploitation in and of the South.12
These revolutionary provocations on the part of queers have often been overlooked or treated as equality markers within traditional marxism. Queer marxist theorising of, by and from Asia, thus constitutes a more marginalised critical position. The intention of this paper is to ask what Asia means for queer anti-capitalism. How does the geopolitics of knowledge manifest in the production of queer marxist knowledge—that is, what counts as theory and what constitutes empirical data? We further Deshpande's point that, as queers of Asia, we have much to learn from each other with the help of the linguistic instrument known as English and the theoretical framework and vocabulary of marxism. We must be aware of our geopolitical locations and the disadvantages and advantages they bring, since the revival of queer Asia is a process within the historical movements of capitalism, neo-colonialism and imperialism, and their production of war and conflict.13The following pages will centre queer Asia, rather than merely update the rest of the world on what is happening in Asia. We first offer critical readings of two recent queer marxist publications, mapping out the Eurocentric tendencies of some of the theoretical formations in both books. We argue that the sexual regime in many Asian countries cannot simply be looped into the European narrative of capitalism. Our observation is that feudality continues to form a hybrid organisation of knowledge about/of sex and gender that has facilitated capitalism in Asia. For example, the continuation of the family kinship structure observed in Chinese rural areas has enabled the transnational exploitation of migrant labour without the expense of the massive urbanisation of rural migrants, as with patterns of mass proletarianisation observed in the West.14
In the second section, we bring together activist accounts and our knowledge and experiences together to show what we mean by learning from each other instead of learning from the North-centric globalised anti-capitalist movement. In the final section, we theorise queer anti-capitalist Asia as method. Following Chen, we centre Asia not to stake a claim to the particular, but rather, to argue for a geographical historical materialism of the sexual that sees the temporal divergence and convergence of sexual regimes/knowledge through the lens of geography: territories, lands, continents, logistics of knowledge, noopolitics (the politics of the mind/technology), colonialism, the geopolitics of imperialism and the Cold War, and the spatiality of cultures.
Decolonising Queer Anti-capitalism
One of the typical assumptions of North-centric anti-capitalist approaches is that capitalism, nation-state, hetero-patriarchy and imperialism would fall one after another as long as the first tile (the capitalist mode of production) is levelled down, as in a game of Dominos. We want to problematise this tendency, prompted simultaneously by (post)colonial readings of capitalist social relations in the South, while seeking to depart from the postcolonial fetish of the pre-modern/pre-capitalist. We find the Domino model incapable of asking key questions such as how the state has been conceptualised in Asia. Why is it that capitalism works well with authoritarian state mechanisms? Why is it that non-normative sexual practices have long been present in many locales in Asia, and how has capitalism in its colonial form interacted with these practices? How can queers in Asia situate their history through a narrative of colonial capitalism? Indeed, as many New Left intellectuals in Asia have attempted to grapple the collective history of Asia, we think that any discussion of anti-capitalism in Asia must take a detour and enter through the history of colonialism and the formation of the terrorised nation-state.
To be clear, our critique is neither to stage an internal/external conflict, as Chakrabarty has done.15 Nor are we suggesting that the colonised are totally engulfed by the "universality" of capitalism.16 Rather, following Grant Farred and Fadi A. Bardawil, we offer a decolonial critical theory that focuses on an anti-/post colonial condition as the starting point.17 We use the term "decolonisation"/"decolonial", "(post)colonialism" and "anti-colonialism" differently. Decolonisation is the process through which both the colonised and the colonisers interrogate the legacies of colonialism spiritually, mentally and institutionally. (Post)colonialism is a framework for understanding issues in the formal colonies/semi-colonies. The "post" does not signal a temporal separation but suggests "as a result of" and "in relation to" colonialism. Colonialism does not end at a particular historical juncture but re-configures itself through, for example, the making of the "global village" and the globalisation of capital.18 Anti- colonialism refers more specifically to ongoing struggles by indigenous nations against settler colonialism; historically, it connotes the independence movements in the colonies of European empires in the 20th century.
What we mean by "decolonising queer marxism", then, is an attempt to argue that queer marxism produced in the empires is not immune to the coloniality of power. Action "proper" to the knowledge economy unfortunately tends to be articulated under historical conditions that bear the legacy of North-centrism and academic colonial relations. Hence, in the process of knowledge production, agencies, struggles and activism unknown to the Northern academy are omitted due to geographical and linguistic borders.19 The geopolitics of knowledge renders the North as "theory proper"and the South as a reservoir "empirical data" whereby global academic capitalism, much like global capitalism, confines the circulation of ideas, capitals and knowledge in the North. Indeed, relatively new members of the queer marxist family: Warped and The Politics of Everybody are not immune to many problems we identify. In what follows, we specifically focus on parts of these two books where discussions of transnational and global queer politics appear.
Reading Warped
Peter Drucker's Warped is a recent and important addition to theory and practices of queer anti-capitalism. We choose to focus on this text as the first of its kind to construct a global framing of the gender regime. Here, we focus on Drucker's periodisation of sexual/racial regimes and the historical construction of what he calls "gay normativity".
First, Drucker's historical account of the "before homosexuality" and the accumulation regimes and same-sex formations is written with European history as the baseline, which can be summarised as such:
Two limitations can be observed in this narrative. Firstly, it is a linear account that compartmentalises and periodises history from a Northern perspective. This is different from a vertical view of history in which remnants of the past are sedimented and imbricated in the present. For instance, while the feudalist mode of production might appear to have "ended" in Europe by the 15th/16th century, it persisted in many parts of Asia as well as Europe beyond this point. In fact, even though we might have passed the "Asiatic mode of production", feudal social relations were and are being continually reorganised through state-sanctioned reforms which make the passage of capital possible (e.g. the Muji Reform). Uno Kōzō conception of "feudality" suggests that at least in East Asia, feudal customs, modes of thinking and social organisation continue under the capitalist mode of production.20 In this process, the feudal sexual regime is incorporated and perverted by capital for its accumulative purposes, to the extent that the whole notion of primitive accumulation may as well be based on the benefits of feudal sexual and gender relations. Think, for example, of the socially reproductive work undertaken by extended family members under feudal regimes. These practices did not "disappear" after their formal subsumption into global colonial capitalism. Tight kinship structures continue to provide capital with "free" social reproduction. Nevertheless, Drucker's historicism levels all such heterogeneous temporalities in its path, erasing the material remnants of historical capitalism (e.g. hybrid feudal-capital sexual regime). For Drucker, these remnants either had no bearing on the rise of capitalism, or were incorporated into its matrix, losing their temporal identities. In this sense, the ascendance of neoliberal gay normality becomes the sexual regime that absorbs all other deferred arrivals.
Secondly, the role of the post-colonial nation-states remains underdeveloped in Drucker'stheorisation of gay normativity. For us, situated in the formal colonies/ semi-colonies, the nation-state has been the legitimate entity to organise industrial production and to advocate "sexual modernity". Note that many anti-imperial nations in Asia have voiced critiques of capitalism (e.g. China; Vietnam); yet industrialisation and modernisation of the "nation" has remained part and parcel to anti-colonial projects, in tandem with the reproduction of capital on a global scale. The feeling of lagging behind, or what Trotsky termed "combined and uneven development", has forced the newly independent nation-states to accelerate the absorption of the peasant masses into industrial production. Such mega-projects seemed to be accomplished with the presence of the strong "despotic" state, normally under the leadership of one supreme leader. For Asia to "catchup" with the North, liberation of any kind has had to give way to centralised industrialisation. Hence nation-building becomes a homogeneous process of making modern (mostly cisgender, heterosexual) subjects. Asian postcolonial struggle unfortunately negates its promises and becomes the regeneration of the national bourgeoisie.21
Our intent here is not to reinforce the West/East (North/South) binary; rather, we are reminded of Césaire, Fanon, Du Bois and others' caution about colonial and racial conditions. To be fair to Drucker, he cites his previous engagements with "combined and uneven social construction,"22 yet his approach fails to adopt a sufficiently geographical lens in its examination of geographical encounters—of sexualities and genders as fundamental to the regime of gender and sexuality he proposes. Like most Eurocentric narratives of historical formations, Drucker tends to treat homonormativity in West Europe/North America as being capable of emerging by itself, as if the historical process of colonialism and the geographical encounter of racialised/indigenous sexualities were not part of the defining and making of the gay normality/sexual modernity. A relational view, then, would assert that 1) the invert-dominant regime could not fully define itself without indigenous sexualities, racialised Southern sexuality and Oriental fantasies. 2) The gender-dominant model would have had different mutations if Cold-War and anti-colonial struggles had not taken place (Northern sexual modernity is anti-communist and designed to set the model for newly independent Asia).23 3) Homonormativity would have been less likely to construct itself without the dialectical positioning of the homo/trans-phobic authoritarian Southern states (Northern sexual modernity II is an extension of the Eurocentric project in which the North sets the sexual liberalism of "love is love" for Asia).
Drucker's sexual schema is therefore predicated upon a North-centric view of queer politics and is not entirely applicable in Asia due to its omission of the crucial question of the nation. For us, the historical narrative thus looks more like this:
Here, we chart an interconnected process in which contemporary Northern see
sexual liberalism is dialectically formed through an engagement with "the other" in the context of colonialism, imperialism and the Cold War. We argue the nation-state with a European script in many Asian countries today is the mechanism that negotiates the simultaneously unifying and dividing forces produced by global capital.24 The articulation of social systems, territories, human bodies and general arrangements, glued together by ideological normality, came into existence as nation-states because the transition to imperialistic global capitalism requires "nation-state systems" as the equaliser. Insofar as the nation-form is the irreversible historical product of colonialism and imperialism, the Southern nations will continue to be disadvantaged and thus require surplus homogenisation to counter the rupture/multiplication of global capital.25 Queerand trans populations in Asia, outsiders to this liquidation, become the historical victims of the "passing" of capital. Critiquing homonormativity in the North is only made possible historically by the colonial forms of accumulation that produced West European whites as the embodiment of sexual modernity, and contemporarily by transnational capital accumulation sustained through the state biopolitical rendering of labour-power ready for extraction in the South.
A Response to The Politics of Everybody
Colonialism, real/formal subsumption and the question of the nation are central to a decolonial queer anti-capitalist project. The Politics of Everybody, while it does not
explicitly formulate a global queer marxism, is grounded in North America/Europe and lacks discussions around the ways in which capitalist modes of production produce both universal (real subsumption) and culturally mediated consequences (formal subsumption) in different locales. Here, we specifically respond to the section where Lewis directly criticises (post)colonial theory.26
First, Lewis offers a partial reading of post-colonialism. Post-colonialism is not, for us, solely a literary and social theory.27 It is an attempt to understand our realities in relation to and as a result of semi/colonialism. Although Lewis is right to point out that (post)colonial theory is a diaspora academic project, she fails to attend to other streams of Subaltern Studies (in her critique, the poststructural-postcolonial stream represents Subaltern Studies as a whole) and numerous others in the formal semi/ colonies who insist on the importance of critiquing Eurocentrism.28
Second, decolonisation, as we have defined it, involves both the colonised and the colonisers. The mind of the colonisers is also shaped by the process of the colonisation: as Césaire suggests, the brutal violence deployed on the "colonised animal" also shaped the minds of those in the metropolitan centres.29It is not so much that "postcolonial theory sees marxism is not the answer for the colonised,"30 but that because of colonialism, the relations between the subaltern and hegemony are always asymmetrical, even for marxist theory. Insofar as the global North academy still occupies a hegemonic position by the monopoly of English, one's structurally and geographically advantaged standpoint has to be brought to light and negotiated.
Third, transnational capitalism may have engendered a transnational industrial working class, but in Asia and certainly in other (post)colonial capitalist economies, the primitive accumulation of capital is demonstrably continuous. Capitalism is ironically legitimised as the process that ensures the subsistence of life, when in fact, the continuation of primitive accumulation is a fundamental characteristic of postcolonial developmentally, precisely because capital feeds on the surplus, the dispossessed and the non-value-producing.31In many post-colonial Asian countries, the national project to "improve" the lives of the dispossessed becomes the justifications for more wholesale capitalist investment, industrialisation, gentrification and urbanisation. Industrial labour organising alone is not enough to address these challenges. In this sense, transnational capitalism has produced important consequences that those born and raised in the North would never experience, though they are capable of objective understanding and analysing. In the search for a marxism that responses to these new formations, we find that Eurocentric marxism does not fully correspond to our theoretical urgency. Lewis may have rightly put that there are grounds for solidarity,32 yet who gets to lay that ground and on which historical grounds we theorise are of crucial concerns for us. Indeed, though we may be capable of understanding each other based on the observation of objective conditions, this cannot negate the incommensurability of experiences between the two parties engaging in a dialogue of solidarity building.33 In queer marxism, these incommensurable experiences have to be the basis of solidarity and the co-resistance to global capitalism.
In essence, both Warped and The Politics of Everybody are highly valuable contributions to queer marxism, but this does not mean they are not complicit in North-centrism. The emergence of gay normality is a historical process taking place in a geographical-historical-material context. Homonormativity is not necessarily a "rupture" but the product of exchanges between sexualities in particular historical junctures. Critiques of homonormativity tend to be North-centric, negating colonial differences and the specificity of their narratives to a Eurocentric history of sexual modernity. There is, we reiterate, an irreducible epistemic difference between queer marxist social science projects from the North and the theories and practices of queer anti-capitalism in Asia. Our chart is a starting point for engaging with, narrating and partially departing, from North-centric queer marxism, while aspiring towards a revolutionary politics of the world proletarian.
The world has never appeared to be a sleek world to queer Asians; what we call for are zigzagged concepts. A queer marxism that responses to these multiplicities should not hide the violence of colonial expansion, which includes the expansion of North- centric knowledges of sexual modernity and queer politics. In the later section of this project, we will travel to three locations in Asia, delineating a decolonial, anti-capitalist queer critique of the state, colonialism and racial capitalism. A marxism for the feminised should be a marxism for the subaltern; for the feminised in the subaltern and for the subaltern amongst the feminized.
The collective would like to thank the editors of this journal and comrades who made this journal possible. This piece is dedicated to all the comrades in Iran, China and India and across Asia who are fighting for better futures. Part of this piece is written during Professor Kanishka Goonewardena's course "Space and Revolution". For this, we thank him for his encouraging comments. Ian, Sabra and Vinaya would like to thank Professor Jamie Magnusson for their passion and love; Mani would like to thank Professor Vannina Sztainbok, Professor Rinaldo Walcott and Professor Robert Diaz for giving him the space to think and write. Lastly, we would like to thank Arash Ghiassi for his helpful comments on the first draft.
Lisa Rofel, "Temporal-Spatial Migration: workers in transnational supply-chain factories," in Ghost Protocol eds. Carlos Rojas and Ralph A. Litzinger, (Durham: Duke University Press, 2016), 167.
Hui Wang, "Yazhou xiangxiangde puxi 亚洲想象的谱系[Imagining Asia: A Genealogical Analysis]," Shejie 视界[Horizons] 8, (2002), 104.
Howard Chiang and Alvin K. Wong, "Queer Asia as Critique," Culture, Theory and Critique 58.2,(2017), 122.
Gavin Walker and Naoki Sakai, "The End of Area," positions:asia critique 27.1, (2019).
Ian Liuijia Tian, "Graduated In/Visibility," QED 6, no. 3 (forthcoming 2019).
Gavin Walker, The Sublime Perversion of Capital (Durham: Duke University Press, 2016), 159.
Henri Lefebvre, State, Space, World: Selected Essays trans. Gerald Moore et al., (Minneapolis: University of Minnesota Press, 2009[1978]), 228.
Canonical queer texts tend to follow Foucault's theory that homosexuality is a "Western" invention and the "non-West" is outside such framework. This allows some theorists to argue that sexuality of the "non-West" has a different "pre-modern" trajectory that is only recently complicated by global capitalism. See, for example, Eve K Sedgwick, Epistemology of the Closet (Berkeley: University of California Press, 1990), I.
See, Corinne L. Mason, Handbook of Queer Development Studies (London and New York: Routledge, 2018). Only five contributors are based in the South and the majority of the authors of this edited collection are professors who live in the relatively "free" North. We think there are contentious points in terms of who get to speak, who become data and who is the theorist "proper"in the global production of knowledge for academic capitalism.
Peter Drucker, Warped: Gay Normality and Queer Anti-Capitalism (Leiden: Brill, 2015).
Rahul Rao, "Global Homocapitalism," Radical Philosophy 194, (2015).
See Kate Bedford, Developing Partnerships: Gender, Sexuality, and the Reformed World Bank (Minneapolis: University of Minnesota Press, 2009); Amy Lind, Development, Sexual Rights and Global Governance, (London and New York: Routledge, 2010); Michael J. Bosia and Meredith L. Weiss, Global Homophobia: States, Movements, and the Politics of Oppression, (Champaign: UI Press, 2013); and Mason, Handbook of Queer Development Studies.
Satish Deshpande, "Making 'Asia' Mean," Inter-Asia Cultural Studies 2.1, (2001).
See Hanrong Yan, New Masters, New Servants: Migration, Development, and Women Workers in China (Durham: Duke University Press, 2008) and Chongqing Wu, Mapping China: Peasants, Migrant Workers and Informal Labor (Leiden: Brill, 2016).
Dipesh Chakrabarty, Provincializing Europe (Princeton: Princeton University Press, 2000).
Vivek Chibber, Postcolonial Theory and the Specter of Capital (New York: Verso, 2013).
See Grant Farred, "A Thriving Postcolonialism: Toward an Anti-Postcolonial Discourse," Nepantla 2.2 (2001), and Fadi A. Bardawil, "Césaire with Adorno," South Atlantic Quarterly 117.4 (2018).
Ginger Nolan, The Neocolonialism of the Global Village (Minneapolis: University of Minnesota Press, 2018).
Pierre Bourdieu and Loïc Wacquant, "On the Cunning of Imperialist Reason," Theory, Culture & Society 16.1 (1999).
Harry Harootunian, Marx after Marx (New York: Columbia University Press, 2015).
Farred, "A Thriving Postcolonialism," 240.
Drucker, Warped, 63.
This point is well-articulated in Jodi Kim's book, Ends of Empire: Asian American Critique and the Cold War (Durham: Duke University Press, 2010.
Lowe has made a similar argument in her earlier book, specifically critiquing the U.S. national project as the medium through which "diversity" of capital is negotiated.See Lisa Lowe, Immigrant Acts (Durham: Duke University Press, 1996), 10.
See Aiwha Ong, Neoliberalism as Exception: Mutations in Citizenship and Sovereignty (Durham: Duke University Press, 2006); Ian Bruff, "The Rise of Authoritarian Neoliberalism," Rethinking Marxism
1, (2014); Sandro Mezzadra, "Forces and Forms", positions
1 (2018). 26. Holly Lewis, The Politics of Everybody (Chicago: University of Chicago Press, 2016), 247-256. 27. Ibid., 248.
See Partha Chatterjee, The Politics of the Governed (New York: Columbia University Press, 2006); Sun Ge, 我们为什么要谈东亚[Why Do We Talk About Asia], (Shanghai: 三联书店[Point Publisher], 2011), Nawal El Saadawi, The Nawal El Saadawi Reader (London: Zed Books, 1997); Walter Mignolo, "Globalization and the Geopolitics of Knowledge," Nepantla 4.1, (2003); Enrique Dussel, "Europe, Modernity, and Eurocentrism," Nepantla 1.3, (2000).
Aimé Césaire, Discourse on Colonialism trans. Joan Pinkham, (New York: Monthly Review Press, 2000[1972]), 41.
Lewis, The Politics of Everybody, 249.
We are not alone in making this argument. See, for example, Sandro Mezzadra, "Forces and Forms", 150; Kalyan Sanyal, Rethinking Capitalist Development: Primitive Accumulation, Governmentality and Post-Colonial Capitalism (London: Routledge, 2007).
Lewis, The Politics of Everybody, 255.33. Ruben Chuaqui, "Orientalism, Anti-Orientalism, Relativism," Nepantla 3.2, (2002), 380.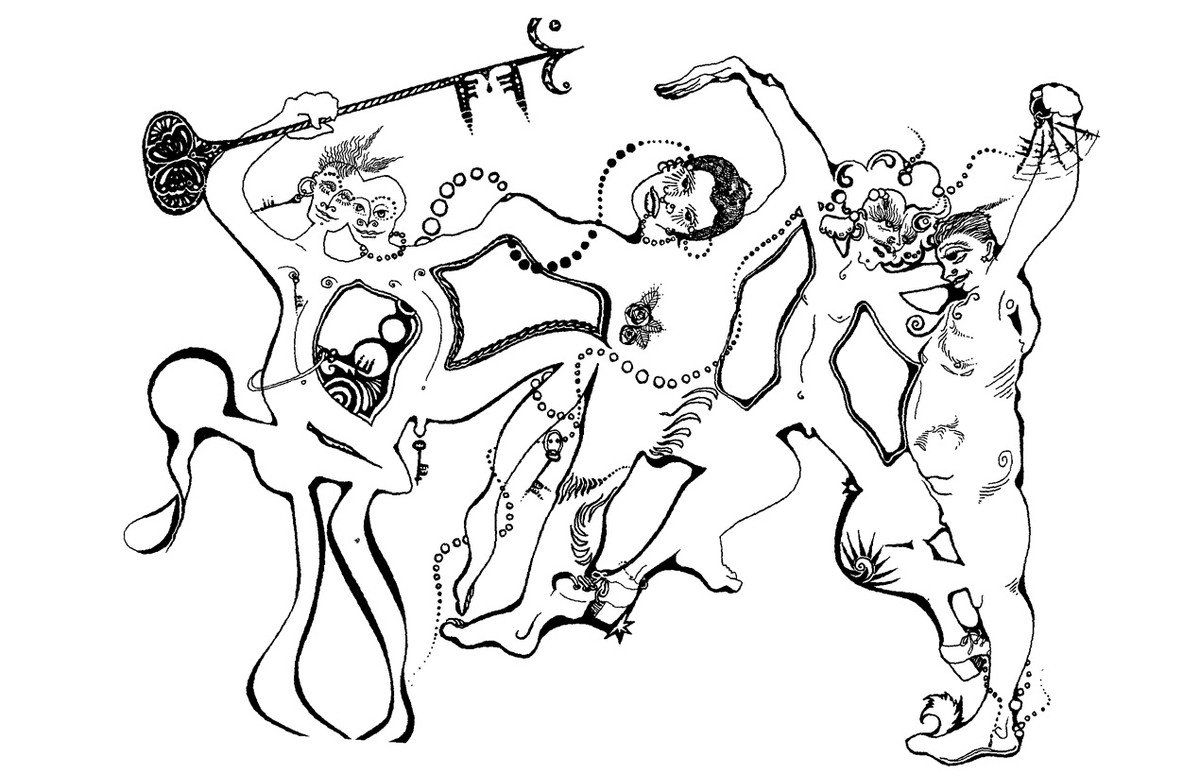 By
Kay Gabriel
Artwork by Ned Asta, used with permission.
In one of her Revolutionary Letters, Diane Di Prima instructs: "Remember you can have what you ask for, ask for / everything."1 Di Prima ushers possibility into the space cleared and composed by the demand. She even breaks the line to prove it.
I want to open here, on the terrain of creative opposition, where we discover in our needs and desires something more than equal to the creative destruction of the capitalist life-world. Call it the potential of a collective, an enthusiastic mutuality. Its strength derives precisely from its proximity to addressing our needs as we understand them, in a full and anti-ascetic conceptualisation of their possible extent. Where the crises of the present—let's name them: capitalogenic climate change, nationalisms fascistic or conservative, the growth of surplus population worldwide and a concomitant crisis of social reproduction2—seem to foreshorten the future, and to force us to settle for something "less than a nightmare," our first strength is our ability to conceive of demands equal to our ambition. Their common object must be nothing other than a life worth living for everyone.
What contribution does the struggle for trans liberation have to this communist horizon? To pose this question raises immediately the vexed relationship between class struggle and so-called identity politics. In this essay it'll be my aim to understand the totalising, rather than particularising, force of political movement from one or another standpoint of social identity. Hungarian philosopher Georg Lukács introduced standpoint as a category in order to think the differential perspectives onto capitalist totality that class positions enable. In a Lukácsian attempt to account for the capitalist production of sexual identity, Kevin Floyd in The Reification of Desire has argued that this production of identity—a reification in the sense of the freezing and solidification of a stable position out of a historical process—enables a particular, historically situated, and critical knowledge of capitalist totality: "To think sexuality in reification's terms is to begin to see the way in which reification refers to a social dynamic that opens critical vantages on the totality of capital as much as it closes them down".3 Here I'll pursue an analogous argument from a specifically transsexual perspective. I say transsexual, versus trans or transgender, advisedly. My aim is to foreground the sphere of embodiment that transsexuality bears upon—where "embodiment" signals the social dimension of signification that any particular body partakes in.
In the essay that follows, I claim first that, for capital, gender as an ideological regime functions as an accumulation strategy. Second, I argue that the project of trans liberation looks to the aesthetic and sensuous qualities of gender as a dimension of bodily autonomy, an intensive dimension of disalienation, and that this in turn discloses its totalising relationship to class struggle.
In broad strokes, these formulations sketch the concerns of my approach. Let's say that the poles are abjection at one end, at the other a series of high-stakes desires and pleasures. I mean abjection in the sense proposed by Rosemary Hennessy: "In devaluing some bodies abjection helps to produce subjects who are worth less—that is, subjects who forfeit more of themselves in the labour relations that produce capital".4 On the other hand, my focus on pleasure will probably raise some eyebrows: according to a certain strain of "Left puritanism,"5 pleasure appears already as a suspect dimension of experience, and not without reason. The main form of appearance of pleasure in a consumer society dominated by the tyranny of the commodity-form is the promise of satisfaction that capital parasitises in order to circulate goods and realise profit. In that regard, the relationship of pleasure to class struggle is at best obscure.
Meanwhile, relating pleasure to the projects of gender liberation risks either a wilful false consciousness or shilling for the kind of aesthetic experience available only to the materially secure. To speak of gender at all invokes at minimum a system of social differentiation whose form of appearance is primarily abjection, in the sense described above, unevenly racialised and variously distributed, and whose function for capital is the enabling and maintenance of an unequal division of labour. When the Endnotes collective, for instance, names gender as a "misfortune" and a "powerful constraint,"6 they correctly identify in this form of differentiation both its deployment by capital and its imprint as a species of immiseration.
On the other hand, the desire for a disalienated life-world—as envisioned in the slogan bread and roses—is if nothing else the demand for everyone to enjoy the kinds of aesthetic contingency that capital cordons off for the wealthy. As a result any genuine revolutionary politics will orient itself towards a radically pleasurable future. As Fredric Jameson argues, this orientation necessarily recentres the body and its mediations: "Pleasure is finally the consent of life in the body, the reconciliation—momentary as it may be—with the necessity of physical existence in a physical world".7 The minimal demand of trans people, then, to exercise autonomy to the fullest possible extent over our own relationships to the signification of sexual difference foregrounds pleasure as a critical dimension of social movement.8 The point of this politics is to attend to the body as a site of struggle over the intensive disalienation of mental and manual labour. This thesis, meanwhile, discloses a certain determinate ambit to an abolitionist politics: the abolition of gendered abjection, not—at least, not in the abstract—gendered signification. But I'm getting ahead of myself.
Gender as Accumulation Strategy
At a moment marked by the vigorous alignment between repressive state apparatuses and crypto right-wing feminists,9 it has become especially critical to identify the object of a liberatory gender politics. This means making some claims about gender as a dimension of both social and subjective experience. Consider the following theses:
Gender belongs to the sphere of ideology—not in the pejorative sense of false consciousness but in the descriptive sense of the conceptual representation of social relations.
As such, gender names the subjective imprint of the symbolisation of sexual difference—a formulation that provisionally captures both a subjective valence of desire and identification together with the objective determinations of the structural, systemic and historical formations that enable these desires and identifications in the first place.
The secondary signifiers of gender, together with other social codes, inflect social relations at every turn. In its capacity as an axis of difference, then, gender serves as one of the instruments by which capital unevenly compels and exploits labour.
The partial list I've advanced here responds to the critical mandate of marxist- feminism to think simultaneously the social dimensions of oppression on the one hand and exploitation on the other. It takes a cue from queer theory, to the degree that the theses above displace any would-be ontological ground of the operations of gender in favour of an account of its social origins. But this purely social phenomenon nonetheless doesn't admit any voluntarist attempt to simply "undo" its determinative force. By way of analogy, the value-form, too, is only a "product of the human brain".10 The challenge is then to theorise the gendered contours of immiseration and violence without the clumsy wish-fulfillment of opting out of the totalising and abstract force of ideology—or indeed supplanting the project of a materialist transformation of the social with ideology-critique.
To be clear-eyed about the techniques by which gender contours labour and vice versa, to confront gender as a mediating term of class and property relations—this account sounds a basically consonant note with the analytic of social reproduction theory (SRT). SRT works outward from Lise Vogel's critical insight11 that the social oppression of women derives primarily from the outsized burden—maintained through the historically contingent institution of the family—of reproducing labour-power, which Marx defines as the sum of the manual and intellectual capacities of human beings.12 Tithi Bhattacharya writes:
"Simply put, while labour puts the system of capitalist production in motion, SRT points out that labour power itself is the sole commodity— "the unique commodity," as Marx calls it—that is produced outside of the circuit of commodity production."13
SRT steps forward as an attempt to wrestle with this unique commodity—to comprehend "the processes necessary for the reproduction of the workforce, both biologically and as compliant wage workers".14 This initiates a step into what Jordy Rosenberg has named capital's "hiddener abode,"15 the sites and institutions—from households to schools to prisons—that reproduce an exploitable labour force.
SRT updates an insight of 70s autonomist feminism: the feminised category of reproductive labour, occulted in its capacity as labour, aids capitalist accumulation. In her classic pamphlet on the wages for housework movement, Silvia Federici argued that "just to want wages for housework means to refuse that work as the expression of our nature, and therefore to refuse precisely the female role that capital has invented for us."16 Federici's "us," of course, splits on the racial unevenness of the category of "women"; similarly the sphere of reproductive labour is scarcely entirely or even mostly unwaged, never mind delimited by the boundaries of the home and the family—more or less the force of Angela Davis's critique of the wages for housework movement.17 But the kernel of Federici's claim—that capital has "invented roles" for the social categories it abjects, and uses these as a lever of exploitation—enables a fourth thesis in addition to the three advanced above:
Gender for capital assumes the form of an accumulation strategy, an ideological scaffolding that sustains an unequal division of labour, contours practices of dispossession and predation, and conditions particular forms of exploitation, including and especially in the form of un- and low-waged reproductive labour.
My formulation here riffs on Neil Smith's claim that nature, the sphere that capitalist society secretes as ideologically other than itself, functions for capital as an accumulation strategy;18 Smith's thesis itself derives from Donna Haraway's provocation that the body functions as an accumulation strategy in light of the advent of biocapital.19 The point in pushing this polemical formulation is then less to proliferate an ultimately empirical list of the diverse tactics of the production of value—tactics that are, anyways, widely recognised and elsewhere recorded— than to highlight a commonality among these various strategies: the exploitative repurposing of the residual, of pre-existing ideological structures and social practices, which capitalism tightly aggregates to itself as co-extensors of its operations. This strategy of repurposing the residual generates a theoretical challenge for marxists: to think capital's instrumentalisation of gender without reducing the latter to the former as epiphenomenon or, indeed, a handmaiden.
One consequence of this thesis is that the forms of gendered exploitation and dispossession cannot be captured by reference solely—liberally—to the distinction between women and men, or for that matter cis- and trans identity. Viewing gender as an accumulation strategy therefore aligns with an approach sensitive to the strategies of the dispossession and reinscription of gender through colonialism.20 In that capacity, the simultaneous imposition and racialisation of European gender norms has historically enabled primitive accumulation, the violent compulsion of colonised peoples into labour, waged or not. Hortense Spillers, for instance, insists that the commodification of African persons through the trans-Atlantic slave trade assumed the form of an "ungendering" whereby "one is neither female, nor male, as both subjects are taken into 'account' as quantities [emphasis in original]."21 Here a gendering episteme takes the form of dispossession through commodifying and attempting to realise value from human life. By way of provincialising the domestic as a racialised site of social reproduction, Spillers' critical example inflects and transforms the privileged strategies of marxist-feminism in theorising (white) women's unwaged labour within the home together with a fuller and more keenly historicised comprehension of the objects and processes of gendered exploitation.
Ideology and its Antonyms
In any case, something like an equivocation between gender and capital occurs in the transphobic canard—repeated by such politically distinct figures as anti- trans feminists, right-wing shills for the ruling class, and queer theory darlings— that transsexuals shore up the oppressive operations of gender via the biomedical interventions into the body that travel under the category of "transition." A secret moralism lurks in these various attacks. Implicitly or not, they target transsexual desires—to have a certain embodied relationship to the signification of sexual difference, and to assert autonomy over that relationship—as misguided or regressive or disgusting. The left-wing version of this moralism might go something like: once the operations of gender in reproducing an immiserated world are disclosed, what could gender transition accomplish if not an entrenchment of the normative force of heterosexuality? According to the arch bad faith of this accusation, transsexual desires assume the cast of false consciousness in the extreme, a particular susceptibility to the ideological allure of a commodified gender persona in apparently willful ignorance of the violence and precarity that gender asymmetrically distributes—as if transsexuals weren't ourselves variously and violently subject to these effects. This wildly misplaced moralism scapegoats transsexuals to disguise its own failure to come to terms with the roots of gendered oppression in the present, grounded in the capitalist production of value.
Meanwhile, the other side of this bad-faith accusation appears in the contrary assertion that transition actually destabilises or denaturalises or undoes this ideological force, just like that. That's more or less the thesis of Paul B. Preciado's Testo Junkie ("I'm not taking testosterone to change myself into a man or as a physical strategy of transsexualism; I take it to foil what society wanted to make of me"22 —words penned, somewhat infamously, before the author's transition). But Preciado isn't alone in his spin on the voluntarist thesis, which simply bears out in its most naked form a tendency of queer theory to treat gender as something whose social dictates are as possible to denature as eggs in a pan. Preciado transvalues a moralistic code of values until transition appears as politically good rather than politically bad—but the common term this thesis shares with the moralism it rejects is its commitment to the malleability of ideology, and the determination of ideology over the subject.
In effect, the debate splits into two contraries: either transition sustains gendered abjection, and per Janice Raymond should be "morally mandated out of existence," or transition subverts gendered abjection, and should be pursued as an attack on normative modes of possible subjectivity. Not coincidentally, this antagonism recalls the contrary positions of sex-negative and sex-positive feminisms: either women's sexual desires are a kind of ideological coercion from without and deserve suspicion, or feminised sexual pleasure is an ideologically foreclosed aspect of human life and deserves embracing. Both contradictions are, effectively, homologues of each other, historically situated in second-wave feminist debates on trans identity, pornography and sex work from the 1970s and 80s. Both ignore the enabling of bodily autonomy as a critical dimension of social life and political struggle, opting instead to prescribe the correct positions to take towards ideological dictates. Both are moralisms, and both are equally useless.
Let's start instead from an anti-moralistic premise: transition pertains to something entirely other than holding a politically virtuous position within, or towards, the signification of sexual difference. In a widely read intervention for n+1, Andrea Long Chu23 asserts that "transition expresses not the truth of an identity but the force of a desire." Articulating a theory of subject formation, Chu offers a basically psychoanalytic thesis, if not explicitly in psychoanalytic terms. But at a certain Lacanian level of abstraction, the opposition between "the truth of an identity and the force of a desire" turns them into identical formulations, united in the priority of desire over the subject: desires mediate between a psychic ideal and the unrepresentable Real of sexual and embodied experience, the tether that allows the development of subject formation at all. Consider, for instance, Oren Gozlan's anti- pathologising attempt to align gender with "fantasy and imagination":
"The body in psychoanalysis is a sexual one and therefore a relational body that interacts with and is affected by other bodies, that takes other bodies as its own and that finds its own corporeal experience through its relation to others... Considered in this way, gender can function as a transitional object or as fetish. Like the fetish, gender cannot be given up; however, like a transitional object, it provides an intermediate area of experience between discovery and creation, between subjective and shared experience."24
Gender, in other words, is "a fantasy object that mediates between the drives and social reality... a construction that links, through fantasy, subject and object."25
So transsexuals aren't unique in bearing a desiring relationship towards our own embodied relationship to gender and sexuality—just the opposite. Gozlan writes, "every gender disposition carries a kernel of helplessness, anxiety and guilt, and therefore is vulnerable to dissociation, splitting and idealisation." 26 Non-transsexuals too are hailed into subjectivity by the ideological operations of gender; non-transition expresses the force of a desire also. The pathologisation of specifically transsexual desires marks out, and re-sexualises, only these configurations of gender according to the normative force of the history of the clinic,27 bearing out the Althusserian chestnut that "being in ideology only applies to others, never to oneself."28
In short: gender on the scale of the subject names a desire that mediates between drives and the real—between idea and actuality. The point isn't a defence of libertinage, of an anti-social indulgence in the ethically suspect or politically quietistic. Transsexual desires aren't either good or bad, they're real. Ideology has no antonym, and the ultimately aesthetic decisions that mark conformity to or departure from the dictates of gender norms are, in every possible sense, immaterial. The critical question is then not whether transsexual desires are appropriately counter- ideological but what is to be done given that we have the desires we do. What demands do these place on the structure of the world as it stands? And how do they relate to and oppose the instrumentalisation of gender in the service of accumulation? When a trans politics steps outside the tug-of-war over the political virtue of our desires into the material world of the forces that precaritise our lives and others', what resources do we find for both liberation and solidarity?
Transsexuals in the Hiddener Abode
Any provisional answer to these questions needs to emerge out of an encounter with trans life as it's actually, materially lived. How does the asymmetrical abjection of transsexuals square with capital's deployment of gender as an accumulation strategy? Hennessy draws our attention to the role of abjection in deepening the exploitation of the labour process, but the force of her insight doesn't stop there. Hennessy argues for understanding social identity as a "second skin"29; the secondary signifiers of that identity inflect social relations according to the intangible and frequently unconscious manoeuvres of ideology writ large. Abjection in this sense seeps beyond the wage-labour relationship (manifest, say, in lower pay, longer work, poorer conditions and so on) to the precarity of not being able to get or hold onto a job in the first place or secure access to other means of subsistence—housing, healthcare, education.
Abjection contours not just what you do for a wage, then, but un- and underemployment, and the social precarity that follows. Trish Salah emphasises the "crisis of classification wherein a suspicion as to the ontological (sexed) status of the trans subject may preclude the assignment of value; certainly, non-passing trans people's difficulty in accessing paid employment within the legal economy is directly tied to transphobic repudiation of not only trans people's sex of identification, but of their value as people within the sex of assignment."30 Salah's attention to the relationship between wage labour and passing divulges the critical insight that vulnerability to phobic abjection tracks the disclosure, discovery and/or legibility of trans status—the point in a social encounter when the "second skin" of identity becomes perceptible.
This impact of phobic abjection extends beyond the wage relationship into the reproductive sphere, variously constraining the ability of transsexuals to reproduce ourselves. Considering the critical role of the family in regulating social reproduction—a role that, following Mohandesi and Teitelman,31 has only expanded in the "crisis of social reproduction" in the post-1980s global north—the uneven alienation of trans people from the family unit further exacerbates our social precarity. As Kate Doyle Griffiths writes, "In the interstices of increased rights, the elaboration of family networks and a right-wing backlash, queers serve as a category of 'last hired, first fired' with respect to the family... an optional category of reserve reproductive labour for a working class increasingly pressed in our efforts to self- reproduce"32; Griffiths' remarks pertain with particular force to transsexuals, who by and large cannot avoid disclosing trans status to family members.
Call this an inconsistent downward mobility, highly racialised in practical terms.33 It's this above all that contours the historical alignment between transsexuals and the underground economy, sex work above all. This isn't to repeat the stigmatising myth that sex work is, as Nihils Rev and Fiona Mae Geist dispute, a "labour of last resort."34 Rather, barriers to legal employment together with the ideological coding of legibly transsexual bodies as sexual commodities—if anything, the private and illicit face of the public abjection of trans embodiments—enable the trans sex industry, a field characterised by unequal criminalisation and vulnerability to harm that nonetheless "offer[s] greater autonomy and financial stability compared to more traditional workplaces, with few barriers to entry."35 Monica Forrester, Jamie-Lee Hamilton, Mirha-Soleil Ross and Viviane Namaste argue that "a history of transsexuality is a history of prostitution,"36 contending that the social enclaves that have historically enabled trans communities are predicated on the political struggles of trans sex workers, a category largely37 made up of women of colour.
The thesis that a history of transsexuality is a history of sex work helps point towards two critical insights: first, in transsexuals capital discovers a reserve category of disposable reproductive labour in the form of sex work. Hennessy registers the effect of "feminisation" on the sale and purchase of labour-power: "all subjects who transgress this prescribed distribution of gendered bodies are feminised, whether they are men or women... To be feminised is to bear on your embodied second skin the mark of (de)valuation, which is indeed quite valuable to capital."38 Sex work is then the primary form that feminised labour has historically taken for transsexuals—albeit differently depending on race, geographic location, transmasculine or transfeminine status, and other sociological factors. But second, and from the standpoint of labour, trans sex work has been the grounding condition for the emergence of politically mobilised and culturally active trans communities, capable of determining what we need and identifying pressure points of solidarity with other social and political movements.
To ground a liberatory trans politics in its historical configuration alongside and emergent from sex work skirts both (1) the epistemology of the clinic and its attention to the appropriateness or authenticity of transsexual desires and (2) an emerging trans-inflected homonationalism focusing narrowly on rights and representation centred on easing the lives of white bourgeois subjects of the imperial core.39 The point is precisely to frame politics from the side of those with only their labour- power to sell—to determine, from the standpoint of labour, the coordinates where the needs and demands of a trans politics inflect and are inflected by class struggle.
Hedonisms, utopian and scientific
What are these demands? Let's start with a provisional list: decriminalisation of sex work, to start, together with the abolition of prisons and borders, free and comprehensive healthcare, universal housing, the routinised affirmation of the autonomy and development of children and adolescents, and the socialisation of reproductive care, including care for the elderly.40
But complementary to these I want to urge that transsexual demands to exercise autonomy, however enabled by social or medical interventions, over our configurations of embodiment and sexuality pertain to a category of high-stakes desires and pleasures, whose utopian core is the demand for the body to be a site of affirmation over and against routine abjection. On the one hand, designating pleasure as a site of political struggle recognises, with Jameson, the inevitability of sensuous life in a material world. Being hungry, or tired, in chronic pain or constant grief, routinely fearful or simply bored—these textures of everyday life matter politically, if only because they name the miseries that one class inflicts on another in order to access nourishment, rest, health, safety, company, or aesthetically engaging experience. Opting for an ascetic stance towards these dimensions of experience isn't good enough; why shouldn't the object of our revolutionary dreaming include a world where everyone can sustain a full, disalienated life—fishing in the afternoon, criticising after dinner?41
But a transsexual hedonism designates more than sensuousness. "Transsexuality scares us," the poet Stephen Ira writes. "It confesses how much / beauty matters to life." A transsexual hedonism recognises that the signification of sexual difference mediates every relationship between people in the social world, including one's relation to oneself; it insists on embodiment as both the mediator of that social world and the enabling of agency towards and autonomy over desiring interventions into that process of mediation. Finally, against the prurient interest in spectacles of trans suffering that the culture industry has ruthlessly capitalised on for a buck since the so-called tipping point,42 such a politically interested hedonism suggests in the opposite direction that the subjects of trans liberation are not passive victims of our own supposed pathologies but rather political agents who more or less know exactly what we need and have every intention of securing our access to it, in solidarity with each other and in broader left movement.
As discussed above, my emphasis on the political valence of pleasure will probably upset a left conscience that sees in sexual difference only the differential strategies for the extraction of surplus-value. But the ground of this scandal arises in part through the residue of previously dominant, and surprisingly hardy, transphobias: the feminisms that have emphasised the pornographic and supposedly revolting image of transsexuals taking pleasure in our bodies, or the objectifications of Ray Blanchard's debunked category of the autogynephilic trans woman who derives sexual satisfaction only from her own feminisation.
In their own way, these fantasms combine with the left puritanism Jameson described in 1983 to produce a deep-seated suspicion of pleasure—as, say, the mental silt of a late-capitalistic civic imperative to consume and enjoy that consumption. Jameson's reply to the double-bind of an insensate asceticism on the one hand and a non-politics of bourgeois leisure on the other is to insist on the allegorical function of pleasure, its capacity to suggest the dimensions of a transformed social world: "the right to a specific pleasure, to a specific enjoyment of the potentialities of the material body—if it is not to remain only that, if it is to become genuinely political...—must always in one way or another also be able to stand as a figure for the transformation of social relations as a whole."43
Taken as an imperative over consumption, Jameson's claim sets the bar a little high (like: okay, dad). But I think the force of reframing pleasure in terms of its allegorical function consists instead in restoring pleasure to the revolutionary project that Kristin Ross more recently has called "communal luxury." For Ross, the slogan of communal luxury opposes a bourgeois luxury of consumer goods in imagining a world "where everyone would have his or her share of the best."44 In Jameson's approach pleasure has at least the potential to body forth the force of this slogan in the image of a world thought otherwise.
From this perspective, the aesthetic gains a valence altogether different from the tug-of-war over ideological versus counter-ideological configurations of the body and its sensations. For transsexuals this aesthetic project is basically an embodied one—which is to say it's social, but irreducibly mediated by the body. The minimal demand to assert autonomy over one's own sexed disposition bears down on the capacity of the body to be a source of continuous pleasure over and against routine alienation. Needless to say, the liberatory horizon of a pleasurable, disalienated life matters to transsexuals and non-transsexuals both. A specifically transsexual standpoint then discloses for a liberatory gender politics the critical insight that the body, including its capacities within the signification of sexual difference, is an indispensable site of struggle over the creation of a disalienated life-world available to all. Where Bhattacharya urges that the "demand by [working class] communities to extend their sphere of pleasure is a vital class demand,"45 the foregrounding of the body as a mediation between desire and the social appears as the intensive side of this extensive demand.
Gender and its Sublation
The desire of any revolutionary left politics must be for a world where these politics are no longer necessary—where all the tools at our disposal for understanding the capital and colonial relations no longer have an object to understand. In a word, the theoretical end of any marxism is its own Aufhebung. So when I suggest that the aesthetic edge of trans liberation both discloses certain coordinates for political struggle in the present and orients itself towards a radically pleasurable future, I also mean that the horizon of such a hedonism would necessarily belong to a world where the aesthetic would not be distinguishable from life as such. That accords with the horizon identified by the Endnotes collective, "a life in which all separate spheres of activity have been abolished."46
In a sense my project here has been to identify the operations of gender at two different scales—the subjective scale of interpersonal relations and the scale of political economy—and to urge that one scale offers a way to think about the determinations of the other as well as the dimensions of liberatory struggles in both. To that degree this project accords with gender abolition at the vanishing point of a world where, as the Xenofeminist manifesto states, "traits currently assembled under the rubric of gender no longer furnish a grid for the operations of power."47 At the furthest utopian point of the world we're fighting over, we can imagine that the signification of sexual difference would matter only on the level of contingency. If we understand abolition in the sense of an Aufhebung, not an evacuation, we begin to grasp the project of trans liberation in the Lukácsian sense of a "movement of mediations proceeding from the present to the future."48
I want here, however, to suggest a departure from the understanding of abolition as theorised in the Endnotes "Logic of Gender" essay, and to do so on the basis of the arguments I've furnished above. I've argued that on the scale of subjective relations, gender names the imprint of the symbolisation of sexual difference, a desire that mediates between the drives and actuality, and therefore discloses an aesthetic orientation towards the world that on the scale of political struggle helps to determine some of the coordinates for liberation.
Endnotes offers a somewhat different, if not entirely competing, formulation: that gender just names "a separation between [social] spheres" as a mediation of the production of value. They distinguish the sphere of directly and indirectly market- mediated activities, DMM and IMM for short. Gender then names the "anchoring of a certain group of individuals in a specific sphere of social activities. The result of this anchoring process is at the same time the continuous reproduction of two separate genders." In this capacity gender turns out to be, in strict terms, a marxian real abstraction on analogy to the value-form, in which the sex of the material body occupies the position of a use-value. The analogy generates an imperative of abolition, "just as exchange-value and use-value will both have to be abolished in the process of communisation." Trading on Butler's idiom, Endnotes advances an essentially Hegelian claim that the denaturalisation of gender enables a form of consciousness about its operations: "the process of de-naturalisation creates the possibility of gender appearing as an external constraint. This is not to say that the constraint of gender is less powerful than before, but that it can now be seen as a constraint, that is, as something outside oneself that it is possible to abolish."
In a comradely vein, and sensitive to the clear-eyed realism about the miseries of the present that Endnotes sustains, I object that to synonymise gender with the production of value obviates the subject, or rather the entire subjective scale. Endnotes enables us to grasp capital's instrumentalisation of gender as an accumulation strategy, but makes the critical error I urged against above: comprehending gender as merely epiphenomenal of and accessory to capitalist political economy. This account raises a number of problems, both analytic and political. Analytically, it fails to account for the subjective moment either as an irreducible dimension of experience or as the site of politically inflected desires. It also operates on a presentist conception of gender, which poses a problem for both an accounting of history and the imagination of a future politics: to identify gender just as a function of the value-form offers us few resources for thinking about gender anterior to and outside of the global domination of the capital and colonial relations. Further, if gender is only an instrument for the production of value, and therefore shares in its fate absolutely, then maintaining or acting upon a desiring relationship towards gendered difference can only take the form of false consciousness, the politically misguided embrace of an "external constraint."
As discussed above, the diagnosis of false consciousness tends towards, at best, a sympathetic misrecognition of transsexual desires, and at worst, an antipathetic accusation that trans people, insufficiently critical of gendered abjection, are "more royalist than the king." My claim is less that the collective has forwarded a hostile argument than that their account of gendered abjection is insufficiently attentive to, and flexes away from, the stakes of bodily autonomy that trans liberation foregrounds and insists upon.
In effect, Endnotes correctly identifies that and how capital instrumentalises gender, and derives a mistaken conclusion: capital uses gender to exploit people, and therefore the object of abolition would be not that exploitative instrumentalisation, but gender itself. (In personal correspondence, the writer Cam Scott identifies this argumentative move as a reverse syllogism, and analogises it to an accelerationist misprision: capital's bad for people, let's get rid of them.) Ultimately, I submit that the reflexive attention to gender purely in terms of abjection testifies to something like a failure of imagination about a liberatory reworking of sexual and gender relations, coextensive with any revolutionary project worth fighting for.
Consider a different staging of abolition. Jules Joanne Gleeson helpfully identifies the roots of contemporary abolitionisms in gay liberation-era thinkers including Mario Mieli and Monique Wittig.49 Mieli's Homosexuality and Liberation: Elements of a Gay Critique 50 advances an idiomatic "trans-sexuality"51 as the name for the reclaiming of wide-ranging capacities under the mode of a polymorphous perversity. Some of his formulations may embarrass—think of Mieli's comrade Guy Hocquenghem on the anti-capitalist universality of anal eroticism. But Mieli instructively attends to a hedonistic utopianism at every turn, defining the "revolutionary homosexual moment" through its "particular pleasures".52 He further apprehends pleasure taking place not just through the liberation of sexuality – though he clearly regards the decriminalised ability to exercise eroticism in public as a demand of gay liberation53 – but also the proscribed transgressions of drag, a further "dimension of pleasure covered by a taboo." Elements of a Gay Critique sustains the argument I urged above: a revolutionary politics of gender and sexuality will foreground the autonomy over the capacities of the body within the signification of sexual difference as elements of the struggle over intensive disalienation. He says as much:
"[T]he achievement of trans-sexuality can only follow from the work of the women's movement and the complete liberation of homoeroticism, as well as the other components of human erotic polymorphism; nor must the utopian ideal of trans-sexuality, if it is to serve as a "concrete utopia," be divorced from the concrete dialectic presently underway between the sexes and between the different sexual tendencies... If trans-sexuality is the inherent goal, it can only be achieved when women have defeated the male 'power' based on the sexual polarity and homosexuals have abolished the Norm that prohibits homosexuality. Besides, given the very important functional role for the perpetuation of capitalism of the subordination of women and the sublimation of certain "perverse" erotic tendencies in labour, the (re)conquest of trans-sexuality will coincide with the fall of capitalism and the rejection of alienated and alienating labour: the struggle of homosexuals and women is essential to the communist revolution."54
Mieli thinks of mediation as a way of articulating a politics grounded in the now, and turned towards the future. This is just the point—to throw us back into the here and now of foreclosed configurations of human life and the struggle over their liberation. We can't narrow the horizon of this struggle to the exclusive terms of trans liberation, which could only result in the racist and imperialist allegiances of a trans-inflected homonationalism—but equally we can't ignore it. In view of a politically urgent hedonism, the question becomes: what would it mean for gender to function as a source of disalienated pleasure rather than an accumulation strategy?—a question that, mobilised in practice, helps us to engage the world at every relevant scale.
Diane DiPrima, Revolutionary Letters (San Francisco: Last Gasp of San Francisco, 2005), 32.
See Salar Mohandesi's and Emma Teitelman's "Without Reserves" in Social Reproduction Theory: Remapping Class, Recentering Oppression, ed. Tithi Bhattacharya (London: Pluto, 2017), 62–67.
Kevin Floyd, The Reification of Desire: Toward a Queer Marxism (London: University of Minnesota Press, 2009), 20.
Rosemary Hennessy, Fires on the Border: The Passionate Politics of Labour Organising on the Mexican Frontera (Minneapolis: University of Minnesota, 2013), 131: "These values and the affective charge that accompanies the abjection or recognition of embodied subjects of different sorts are embedded in the capacities that produce surplus value during the working day."
As named by Fredric Jameson in "Pleasure: A Political Issue," in Ideologies of Theory (London and New York: Verso, 2009), 377.
Endnotes, "The Logic of Gender: On the Separation of Spheres and the Process of Abjection," Endnotes 3: Gender, Race, Class and Other Misfortunes (2013).
Jameson, "Pleasure: A Political Issue" (381).
See for instance Edinburgh Action for Trans Health's manifesto, which forcefully demands the intentional enabling of trans bodily autonomy together with the freeing of trans prisoners, decriminalisation of sex work, fully socialised reproduction, and exhilaratingly more.
See Melissa Gira Grant, "Beyond Strange Bedfellows: How the 'War on Trafficking' was Made to Unite Left and Right," Public Eye, 6 August 2018, and Sophie Lewis, "Julie Bindel and the Wrong School of Abolitionism," Verso Blog, 24 May 2018.
Karl Marx, Capital vol. 1 trans. Ben Fowkes (London: Penguin, 1976), 165. 23
Lise Vogel, Marxism and the Oppression of Women: Towards a Unitary Theory, (Chicago: Haymarket, 2013 [1983]), 141-156.
Ibid., 270.
Bhattacharya, "Introduction: Mapping Social Reproduction Theory" in Social Reproduction, 3.
Ben Fine and Alfredo Saad-Filho, Marx's 'Capital' 6th ed. (London: Pluto, 2017), 60, quoted in Bhattacharya (2017), 8.
Jordy Rosenberg, "Becoming Hole (The Hiddener Abode)," World Picture Journal 11 (2016).
Silvia Federici, Wages Against Housework (Bristol: Power of Women Collective and Falling Wall Press, 1975), 4.
Angela Davis, Women, Race and Class (New York: Vintage, 1983).
Neil Smith, "Nature as Accumulation Strategy," Socialist Register 43, (2007).
Donna Haraway, Modest_Witness@Second_Millennium.Female_Meets_OncoMouse(tm) (New York and London: Routledge, 1997).
See especially Maria Lugones, "Heterosexualism and the Colonial/Modern Gender System," Hypatia 22.1, (2007).
Hortense Spillers, "Mama's Baby, Papa's Maybe: An American Grammar Book," Diacritics 17, no. 2 (1987), 72
Paul B. Preciado, Testo Junkie: Sex, Drugs and Biopolitics in the Pharmacopornographic Era (New York: Feminist Press, 2013), 11.
Andrea Long Chu, "On Liking Women," n+1, 2018.
Oren Gozlan, Transsexuality and the Art of Transitioning: a Lacanian Approach (New York and London: Routledge, 2015), 41.
Ibid., 103.
Ibid., 13.
Routed, as Trish Salah has forcefully argued, through the vexed history of the Freudian and post-Freudian interpretation of the memoirs of Daniel Paul Schreber; see e.g. her "To Return to Schreber: Trans Literatures as Psychoanalysis" in Current Debates in the Field of Transsexual Studies ed. Oren Gozlan, 169-180. See also Griffin Hansbury's claim that the pathologisation of transsexual desires and embodiments develops out of the analyst's transphobic countertransference—specifically, the anxiety of being brought into proximity with homosexuality: "Unthinkable Anxieties: Reading Transphobic Countertransference in a Century of Psychoanalytic Writing," TSQ, 4.3-4, (2017), 384-404.
Louis Althusser, Essays on Ideology, (New York and London: Verso, 1984), 49
See Hennessy, Fires on the Border, 125-150.
See Trish Salah, "Notes Towards Thinking Trans Institutional Poetics," in Eva Karpinski, Jennifer Henderson, Ian Sowton and Ray Ellenwood (eds.), Trans/acting Culture, Writing, and Memory: Essays in Honour of Barbara Godard, 167-189.
Mohandesi and Teitelman, 62.
Kate Doyle Griffiths, "The Only Way Out Is Through: A Reply to Melinda Cooper," Verso (blog), March 26, 2018.
As the National Centre for Transgender Equality demonstrates, rampant poverty among trans people in the US cleaves heavily along racial lines.
Nihils Rev and Fiona Mae Geist, "Staging the Trans Sex Worker," TSQ 4.1 (February 2017), 118.
Erin Fitzgerald, Sarah Elspeth, Darby Hickey, Cherno Biko, and Harper Tobin, Meaningful Work: Transgender Experiences in the Sex Trade (National Center for Transgender Equality, 2015), 7.
Monica Forrester, Jamie-Lee Hamilton, Mirha-Soleil Ross and Viviane Namaste, "Statement for Social Services Agencies and Transsexual/Transgender Organisations on Service Delivery to Transsexual and Transvestite Prostitutes," in Viviane Namaste, Sex Change, Social Change: Reflections on Identity, Institutions and Imperialism (Toronto: Women's Press, 2011), 105.
The results of the NCTE survey show that 20% of respondents who had done sex work in their lifetimes were trans men and a further 23% of respondents were non-binary with female marked on their original birth certificate.
Hennessy, Fires on the Border, 130.
On which see C. Riley Snorton and Jin Haritaworn, "Trans Necropolitics: a Transnational Reflection on Violence, Death, and the Trans of Color Afterlife," in Stryker and Aizura (eds.), The Transgender Studies Reader, Second Edition (New York and London: Routledge: 2013), 65-76.
For an ambitious description of the socialisation of reproductive care, see especially Sophie Lewis's Full Surrogacy Now (2019).
For the sake of intellectual honesty, I would have to admit that these formulations derive from a kind of humanism, in the sense that they presuppose certain limits to the possible and historically situated dimensions of human experience. I don't have the space here to defend any given conception of humanism, so I'll just say that humanism is less wedded to a static and therefore reactionary concept of the human than its detractors allow—while the conceptually available and currently popular anti-humanisms, from the so-called new materialisms to accelerationism, basically suck. As Nicholas Brown suggests, the proper response to the unhappy contraries would be to determine an anti-anti-humanism sufficient for understanding both determination and the subject.
On this point see Tourmaline, Eric A. Stanley and Johanna Burton in their introduction to Trap Door: Trans Cultural Production and the Politics of Visibility (2017).
Jameson, "Pleasure: a Political Issue," 384-5.
Kristin Ross, Communal Luxury: the Political Imagination of the Paris Commune (New York and London: Verso, 2015).
Bhattacharya, "How Not to Skip Class: Social Reproduction of Labour and the Global Working Class" in Social Reproduction, 92.
Once again from the "Logic of Gender" essay (2013).
Laboria Cuboniks, Xenofeminism: A Politics for Alienation, reprinted as a pamphlet from Verso Books (2018).
As Lukács writes in "Reification and the Consciousness of the Proletariat," (1923), 32.
See the first of Gleeson's two essays for Blindfield Collective: "The Call for Abolition: From Materialist Lesbianism to Gay Communism," 2017.
Mario Mieli, Homosexuality and Liberation: Elements of a Gay Critique, trans. David Fernbach (London: Gay Men's Press, 1980 [1977])—recently retranslated and released as Towards a Gay Communism, trans. Fernbach and Evan Calder Williams (Pluto Press, 2018).
Not to be confused with actual transsexuals, whom Mieli also addresses.
Ibid., 204.
Ibid., 194: "Even today we can't make love freely wherever we like it, on the buses or in the streets..."
Ibid., 38.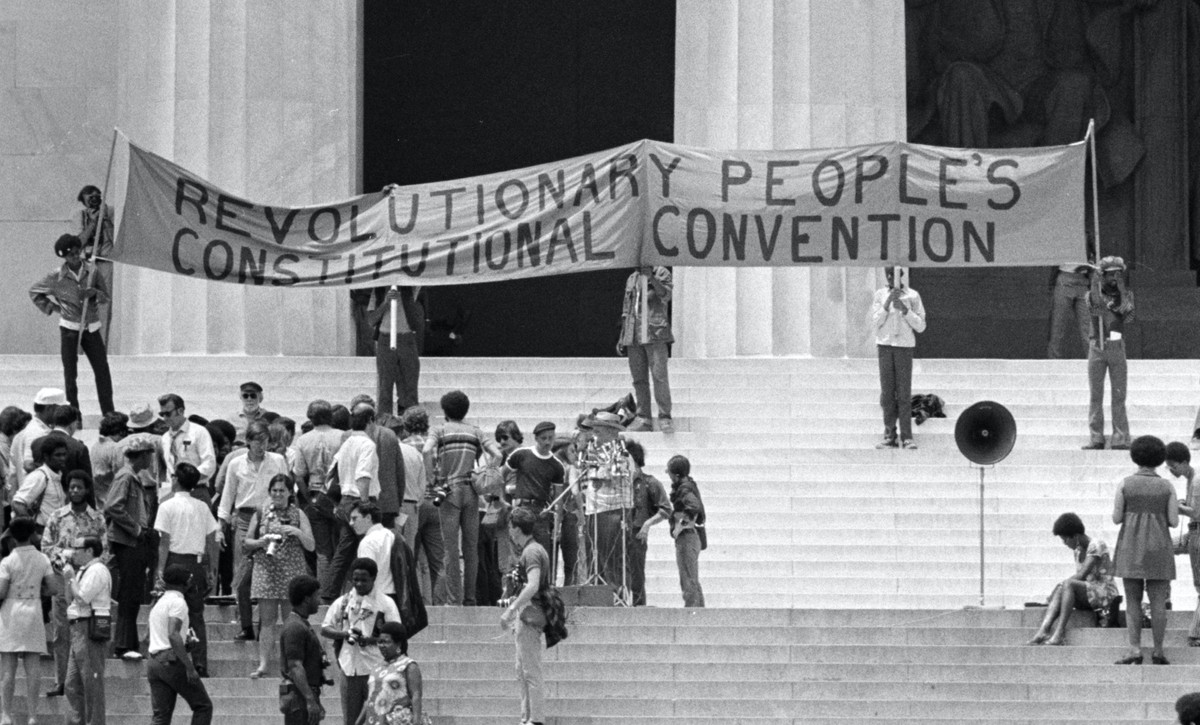 By
ME O'Brien
One June night fags & queens rioted. They burned police cars and pelted cops with whatever was at hand. Fifty years is a nice round number, and everyone wants to show their pride. The story has been told many times last year, in classrooms and libraries, on pride marches and corporate marketing campaigns. Some things will be easily forgotten, others easily repeated.
Two insights about the Stonewall Rebellion, of many, have not been made enough: first, the events in New York in June 1969 was part of a long wave of proletarian uprising that tore across much of the world. In the US alone, the Stonewall Rebellion was one of 750 violent urban riots from 1964 to 1971.1 In the US, we argue, the Black Liberation movement constituted the driving core of this working-class insurgency. Gay Liberation was deeply bound up with two other movements: Black American militancy, and the struggles around the world against colonialism. These movements directly made possible the rapid growth of the anti-war movement, second wave feminism, the wildcat workers strike wave, and radical gay activism.
Second, this wave of struggle at the end of the 1960s depended on long-term, major, underlying changes in the economy, in people's relationship to work, and where people live. Built into capitalist development are long-term trends towards people moving to cities, moving from being farmers depending on their families to becoming wage workers, and coming into contact with many other people in new and changing ways. We can trace and explain much that's important about how mass social movements emerge from looking at these long-term patterns in capitalist development. In particular, the economic changes of proletarianisation and urbanisation that peaked around World War II were the foundation of the rebellions of the 1960s.
These points are neither unique nor new, though require some cobbling together of multiple social movement literatures. The recent growth of queer marxism owes much to the historical work of John D'Emilio, Allan Bérubé, and Peter Drucker, who share a recognition of mass proletarianisation as essential to the emergence of gay movements. Major classics of social movement studies—Frances Fox Piven and Richard Cloward or Doug McAdam—located the development of the American Civil Rights Movement within the changing political economy of the American South in the 1930s and 1940s, the collapse of King Cotton, the Great Migration, and the emergence of a newly enfranchised, urban Black proletariat. More recent scholarship has recognised the essentially international character of the Black Power movement, closely shaped by the anti-colonial insurgencies of Africa and Asia. Of the many common errors of recent attention to Stonewall, these insights have been particularly neglected.
Freedom Struggle and Mass Proletarianisation
At the beginning of the 20th century, the majority of Americans worked in agriculture and lived on farms, constraining the kinds of social movements people were able to form. We highlight here two central coercive forces that operated on the lives of agricultural proletarians: family dependency and racial terror. It would take the mass entry into wage labour, with its peak during WWII, to enable the rebellions of the late 1960s.
For people living on family-operated farms, constituting movements around non- normative gender and sexual identities is exceedingly difficult. Those living within farming families depend entirely on their families for their reproduction and survival. Under such conditions one could pursue queer sex in private, and occasionally find limited degrees of acceptance, but could not rebel directly against the expectations of one's family without dire material consequences. White families who settled the Midwest and Western US, backed by federal support and the genocidal displacement of Native Americans, differed in many ways from pre-capitalist farm life: they largely produced for the world market, they depended on credit and finance, and they were forced to pursue the most advanced agricultural techniques available for economic survival. But like most farming families everywhere, those growing up on the family- operated capitalist farms of American settler colonialism were restricted in sexual and gender expression. For those drawn to queer sex or non-normative genders, there were few opportunities for escape from the tyranny of their families.2
Black families in southern US agriculture were further constrained in their potential for rebellion through the coercive racial terror system of Jim Crow. At the turn of the century, nine out of ten of Black Americans worked in agriculture in the American South. They had driven forward the most massive class rebellion of the 19th century: the struggle of enslaved people for their freedom, radicalising the American Civil War, and successfully abolishing slavery. During Reconstruction, Black people pursued a campaign of extensive economic redistribution and a major restructuring of American capitalism. This was ultimately defeated when US troops pulled out of the South, and the former slave-owning class rearmed to set about defeating these new Black workers movements and the subsequent multi-racial small farmer movements of the 1880s. By the turn of the century, Black Americans were living under a new system of racial terror: weekly public lynchings, complete political disenfranchisement, and a farming tenant system known as sharecropping. Black people were nearly entirely barred from accessing any form of wage labour, from moving to cities, or to leaving the South. At its peak functioning in the 1890s, this system of Jim Crow made organised Black working class rebellion suicidal. For Black queers, Jim Crow posed an additional obstacle to organising: white landowners required Black sharecropping tenants to enter into heterosexual marriage prior to gaining access to land. Black people were forced to marry early, were not able to divorce, and had no economic options outside of the coercive heterosexuality and racial terror of sharecropping.
In the 20th century, capitalist development began to transform this racially stratified world of agricultural production. The steady expansion of industrialisation and growth of factories pulled first white wage labourers off the farms and into cities. Labour demand during WWI gave Black workers their first opportunity to flee sharecropping and the rural South, beginning what came to be a fifty-year Great Migration of Black movement into cities, and northern and western states. In the 1930s the Depression bankrupted many family-occupied farms, and then WWII drew these now landless workers into the war effort as soldiers or factory workers. During WWII, for the first time, a majority of Americans became wage workers in cities, rather than agricultural workers.
The war offered many new opportunities. Many African-Americans were able to escape the brutal racist violence of Jim Crow, remaking their lives in cities where they could potentially vote and organise. In factories, many Black people joined unions and political organisations they could not have accessed when working as farmers under the watch of the Klan. Gender and sexual minorities, both white and Black, similarly had new opportunities for queer sex and relationships while in the army or living in new cities. No longer dependent on their families for survival and instead relying on wages, gay men and women could have more choices about how they spent their time outside of work, and could more easily pursue gay sex, gender or sexual minority subcultural scenes, or other forms of sexual expression. The armed forces tolerated limited homosexuality for a time, and many people found gay relationships during the war. The escape from Jim Crow into wage labour enabled Black people to pursue new sexual freedoms, both through queer relationships and by heterosexuals refusing marriage.
WWII permanently changed the options, optimism and resources available to African-Americans broadly, and many sexual minorities. The right wing McCarthyist currents of the 1950s were an effort to reimpose the racism, homophobia and sexism of American social life that had loosened up due to the changes of WWII, particularly the opportunities offered by the forms of capitalist development of people moving to the cities and going to work in wage labour. For a time, in the 1950s, it seemed right wing politics backed by the FBI was successful in containing the social rebellions that began to brew during WWII. But despite this political repression, the underlying transformation from agricultural life to becoming urban proletarians created the opportunity for the re-emergence of later struggles.
Rebellion in the 1960s
With many more Black people living in Northern states where they could vote, or in Southern cities where they could more easily organise together, they seized the opportunities to confront Jim Crow. These new Black activists both organised together, and went out into the rural South to start building political movements with those still working as sharecroppers. They were empowered by two additional major economic trends: the collapse of the price of cotton with a growing world market; and the shifting relative power of different American elites due to industrialisation. Specifically, cotton-based Southern elites depending on racial terror and Jim Crow to control Black agricultural workers weakened in their power and influence, while manufacturing capitalists of the South grew in power. The latter were concerned to attract outside investment, more open to a variety of labour regimes, and hence more vulnerable to strategic Black organising that successfully drew national attention to the brutality of Jim Crow. These activists were aided by the growing numbers of Black people in Northern states able to vote, and the relative freedom in organising enabled by city life.3
Meanwhile, another major international context provided a strategic opportunity to Civil Rights organising, and shaped the political vision of later Black Power militants. Those living under European colonialism in Africa and Asia seized on the aftermath of WWII to gain political independence. After the initial wave of comparatively non-violent postwar decolonisation, intransigent European powers soon found themselves confronting protracted revolutionary wars of independence. Further, formal colonialism was increasingly ill-suited to the trends of global capitalist development, pushed forward by US elite interests calling for free trade and less encumbered international markets. The US and Soviet Union competed for influence among these decolonising nations. US elites were particularly vulnerable to accusations of racism as they sought to sway newly independent African leaders.
Black American activists were able to seize on these contexts to use nonviolent protest—and the well-publicised violent repression that followed from Southern white supremacists—to draw national and international attention to domestic US racial fascism, embarrassing national elites, the Federal government, and southern capitalists seeking new investment. Their organising through the late 1950s and early 1960s successfully toppled Jim Crow and the system of legal white supremacy that dominated the American South. This victory profoundly reshaped the consciousness of young Americans, indicating the power and effectiveness of sustained social movement organising. Tens of thousands of people, including many young white people, joined the Civil Rights Movement and learned concrete organising skills. Homophile activism—the dominant form of gay rights activism of the 1950s and 1960s—was closely modelled after Civil Rights activism. Like Civil Rights organising, they relied on the growing populations of gay people settled in cities and working for wages, and similarly working for equal rights.
By the mid-1960s, the limits of the strategy of the nonviolent Civil Rights Movement were becoming clear. Millions of Black Americans had moved into Northern cities where they were free of Jim Crow, but faced a new set of problems in poverty, police violence, bad housing, and exclusion from stable employment. Many Civil Rights organisers began to imagine a multi-racial poor people's movement to address the intensity and severity of Black social exclusion, including turning to labour organising or the expansion of social welfare programs. Their efforts were both challenged and rapidly accelerated when poor Black youth who rioted in hundreds of cities in the late 1960s.
These riots, neither organised nor planned, profoundly reshaped the American social landscape. Thirty thousand people joined the 1965 riot in Watts, Los Angeles. In 1967, following a police raid on an unlicensed bar, Black residents of Detroit rioted for five days, destroying over 2,000 buildings. One-hundred-and-twenty-five cities rioted following the 1968 assassination of Martin Luther King, Jr. This mass rioting pushed forward the entire political landscape of American social movements. The days of rioting at the Stonewall Inn was not only a part of increasing militancy by queers with escalating fights against police in the months prior, but was one riot among hundreds that swept the country, constituting together the biggest wave of working-class insurgency since Black Reconstruction. These riots collectively indicated a depth and scope of outrage and rebellion that outstripped the visions of both Civil Rights and homophile rights activists, posed a massive challenge to the sufficiency of American liberalism and social equality, and revealed the depth of the political and economic violence of American racial capitalism. Black youth, rioting by the hundreds of thousands in response to chronic poverty and social exclusion, and sparked by police violence, broke open the political imagination of the American left.4
Called on by these riots to find a new revolutionary language and vision, American militants turned to the global revolutionary struggles against colonialism. Anti- colonial, "Third World Marxism" offered the language and vision of this new politics: armed nationalism, committed to a vision of socialism and international solidarity, simultaneously challenging a racial imperialist world order and capitalism. Through the 1950s and 1960s, socialist revolutionaries were playing leading and visible roles in anti-colonial struggles in Mozambique, Angola, Algeria, Guinnea-Bissau, Ghana, Morocco, Tunisia, Namibia, Kenya and Vietnam. Socialist revolutionaries were playing growing roles in the newly post-colonial societies of India, Egypt, Indonesia, China, Eritrea and Ethiopia. Socialists played a leading role in the struggle against apartheid in South Africa. Socialists were growing in power throughout Latin America. Some of these revolutionaries were aligned to the Soviet Union, some to Mao in China, and many were somewhat independent. In many cases, these revolutionary parties had to brutally subjugate key elements of proletarian self- activity to consolidate their control over the anti-colonial struggle, a fact largely lost on the American revolutionaries they inspired. The US government positioned itself as a major opponent to these militant and socialist anti-colonial movements through invading Vietnam, and becoming heavily involved in backing apartheid South Africa in a war against independence and socialism in Angola. The theorists, poets, novelists and leaders of these international anti-global movements put out many books that became available to activists in the United States. Facing the limits of the Civil Rights Movement, many activists turned towards the revolutionary thinking of these movements from across the world to forge new kinds of politics. They envisioned socialist, people of colour led revolutions as not only possible in Africa or Asia, but also in the United States.
The Black Power movement that grew in the wake of these riots took many forms. The largest and most respected, the Black Panther Party, explicitly sought to organise criminalised, unemployed Black youth as its central constituency, within a broader multi-national political coalition of socialist national liberation movements. Some cultural nationalist groups obscured the class tensions within Black communities and rejected socialist politics. Others, like the League of Revolutionary Black Workers, saw the substantial number of waged Black workers as the central force of building a multi-racial socialist movement, particularly in major industrial sectors like auto manufacturing and later in healthcare and education. Crucially, the Black Power movement included both the large Black industrial proletariat and the criminalised and unemployed people, and many groups sought to negotiate and bridge the tensions between the two to incorporate their relative strategic strengths.
The Stonewall Rebellion and the Gay Liberation Front
It was in this context that in June, 1969 four nights of riots fought back against anti-gay police violence in Greenwich Village in New York in what was called the Stonewall Rebellion. Gay activism and gay nightlife had been growing through the 1960s, driven by the new opportunities of gay people settling in cities and working for wages. Yet urban proletarianisation for American queers, as for Black Americans and generations of European urban proletarians, entailed both the relative autonomy of wage labour, and a growing and overlapping population of lumpenproletariat— those excluded from wage labour, surviving on the fringes through crime and various hustles. The homophile organising of the 1950s and 1960s depended almost exclusively on waged professionals, dealing with forms of state repression and the threat of police violence. But alongside them, was another overlapping world of poor queers: sex workers, Black and brown queens, or homeless queers. Enabled by the militancy of these lumpen queers and the Stonewall riot, gay activism exploded internationally into something much more visible, militant and fierce. Like many gay bars in New York, the Stonewall bar, run by the mafia, was part of a criminalised world of gay life. Trans sex workers of colour played a prominent role in the Stonewall riots, with names famous among young queer activists today: Marsha P. Johnson, Sylvia Rivera and Miss Major. Let us listen to Miss Major:
>>They come, take that night stick, hit the door down, the lights come on and you're streamed out. That's the routine, that's what they did, everybody knew it. They checked for ID to see if minors were in the bar. And the routine started but nobody would budge, everyone would just look at each other. And when we got our nerves together and everybody decide "Okay, we're going to go out", a fight ensued and all this crap that I've been hearing through the years, "Oh someone threw a shoe, someone threw a Molotov cocktail, someone did something else, someone slugged a cop". I don't know what happened! All I know is, a fight ensued. And we were kickin' their ass. So much so, they backed into the bar for protection. And then the next thing you knew, the riot squad was there and then it was on...I snatched this cops mask, spit in his face, he knocked my black ass out. And he dragged me to the fucking truck and threw my ass in there. But I'm still here.5
The gay and trans people who fought the police at Stonewall knew they were fighting alongside the tens of thousands of Black youth who had rioted in cities all across the US over the four years before. Analogous to how the homophile movement was enabled and modelled after Civil Rights activism, Stonewall was made possible because of the broader milieu of Black insurrection. Black, white and Latinx queers rioting in the West Village shared Black youth in Detroit or Watts' outrage at police violence. Like the youths, they fought police in the street, adopted a new fierce militancy, and felt the riots as a form of freedom and rebellion. Just as the wave of riots produced a new era of internationalist Black Power militancy, Stonewall rapidly transformed the landscape of gay activism. Soon after, the newly-formed Gay Liberation Front (GLF) emerged as the main immediate political outgrowth of the Stonewall rebellion, followed by the rapid growth of gay rights groups of all sorts.
Like many radicals of 1969, the Gay Liberation Front turned towards the world movements against colonialism for their inspiration and rhetoric. They took their name from the National Liberation Front, the Communist forces of Vietnam that were waging a war against the US invasion. The GLF saw itself as among the many other revolutionary groups emerging all over the US, joining a united front against capitalism, against the racist American state, against empire and war, and against an oppressive and alienated society. They saw themselves as a front against straight society within this broader multi-issue insurrection centrally driven by socialist, internationalist, and anti-white supremacist militancy. The GLF, like many other mostly white radical groups, took the Black freedom movement as their central frame of reference, particularly the Black Panther Party. The Gay Liberation Front initially formed as a group from the Mattachine Society that marched as a contingent in a Black Panther-led protest, and later segments of the GLF worked closely with the Black Panthers. The GLF was joining many other radical groups of the era in supporting the Panthers, as the leading American form of what they saw as a global rebellion against capitalism and racism.6
Internally, New York City's Gay Liberation Front was a wild group. They used rotating facilitation, allowed anyone to be a full member the moment they showed up, and encouraged independent affinity groups that each did their own separate work within the overall GLF. Quickly, affinity groups formed out of many particularly marginalised sub-groups within the gay liberation movement: gay women formed the Radicalesbians; trans people formed multiple GLF affinity groups, including one of mostly sex workers called Street Transvestite Action Revolutionaries (STAR) led by Rivera and Johnson; people of colour formed Third World Gay Revolution; and socialists formed the Red Butterfly. An affinity group called Aquarius organised gay dances that could be an alternative to mafia-controlled bars. Another called June 28 published a newspaper for the GLF. These groups tried to make some decisions together through the GLF, and mobilised to participate together in rallies against the US war in Vietnam and in support of the Panthers. They were highly visible, very militant, involved hundreds of people, and took on extensive organising over the course of the group's lifespan.
One affinity group at the GLF, alienated by the broader multi-issue revolutionary politics, split off to form the Gay Activist's Alliance. The GAA was committed to winning concrete reforms in support of gay rights, and continued to organise through the 1970s as New York's main gay rights organisation, on a much larger and more public scale than previous homophile activists. Similar split-off groups from the GLF won many major policy changes in the 1970s, including getting homosexuality removed from the official list of medical disorders, reducing police arrests for being gay, and expanding social and political spaces in which people could be openly gay. Where the GLF was oriented towards freedom through the revolutionary transformation of society, the GAA was oriented towards equality through winning policy changes.
Sexuality and the New Left
The militants of the Gay Liberation Front did not simply adopt their politics wholesale from the broader New Left and Black liberation struggle, but offered to it a major and transformative contribution: a critical challenge to the sexual politics of movement militancy. They faced two dominant logics of sexuality on the left: on the one hand, an enthusiastic sexual rebellion of youth that provided more opportunities for sexual experimentation and gender expression in pursuit of a non- alienated life; and on the other, an increasing investment in hyper-masculinity as a key constituting feature of political militancy.
Though pro-gay sexual freedom policies were a part of early socialism in Russia after the revolution, by the 1960s, many socialists had come to think that homosexuality was a form of capitalist decadence, and such sexual deviancy would naturally disappear in a socialist society. Revolutionary China and Cuba had adopted repressive policies towards gay people, and many socialists in the US supported these policies. Further, waging a revolution according to these militants required one to be very, very tough. It required both men and women to be extremely strong, ready to battle police, ready to wage a war, ready to do anything. Many revolutionaries conflated hard masculinity and sexism with radicalism. Afraid of accusations of weakness or homosexuality for avoiding the US draft in Vietnam, many young radicals would accuse those in power of being not masculine enough. Calling Nixon a faggot was a common insult.
For some, gay liberation was a chance for gay people to overcome being soft and powerless, and take on the masculine toughness needed to be a revolutionary. For others, gay liberation was a chance to express their gender in wacky, lovely, fun, and different ways. Many made the novel argument that soft masculinity and forms of trans femininity, could actually be a form of revolutionary militancy. This went along with very intense fights about the role of gay people and women among many radical groups across the left. In the largest radical student organisation—the nearly all-white Students for a Democratic Society—these fights didn't go well. Women ended up leaving SDS in large numbers due to intense misogynistic harassment, and instead started what became the second wave feminist movement. Out gay people were never substantially welcome in SDS.
But in the Black Panther Party, the other major radical group of this era, these internal fights ended up being much more productive and transformative. Several major members of the Black Panthers, such as Eldridge Cleaver, had very openly called his political enemies faggots, and opposed women and gay rights. Women who were playing major behind-the-scenes roles in the Panthers were actively challenging this misogyny and homophobia. Huey P. Newton, the head of the Panthers at the time, ended up convinced that homophobia and sexism were obstacles to the solidarity needed by the left. Though homophobia was prevalent on the left, it was in the leading currents of the Black liberation movement where straight militants were occasionally won over to a pro-gay politics.
Newton issued an order insisting gay people and women belonged in the revolutionary front. He writes: "We know that homosexuality is a fact that exists, and we must understand it in its purest form: that is, a person should have the freedom to use his body in whatever way he wants".7 Bodily self-autonomy is a huge issue for women fighting for abortion, for trans people fighting to be able to change their gender, for gay people being able to have sex. It's a fundamental theme of freedom for many people today, but it actually wasn't widely recognised as such by radicals in the 1960s. "Maybe a homosexual could be the most revolutionary," Newton goes on, in a context where being the most revolutionary was a central concern, and gay people had long been excluded as inherently somehow reactionary. Newton admits to dealing with his own homophobia, and through doing so demands Panther members challenge their own. Newton identifies women's liberation and gay liberation movements as friends of the Black Panther Party.
This recognition was a major victory for the gay liberationists, who had long fought for their place in a revolutionary front in which the Panthers were the most important force. Newton followed through with this letter in welcoming the GLF into the Panther's coalition meetings. With Newton's support, the GLF joined the People's Constitutional Convention the Panthers held in Philadelphia in 1970, mobilised in support of the Panther 21, a group of prisoners in New York, and played an ongoing visible role in Panther solidarity work.
Stonewall Now
The Gay Liberation Front was a short-lived project, and the gay liberation movement didn't last too much longer. The GLF in New York City fell apart in 1971. The organisation could no longer hold its internal contradictions between single- issue gay activists wanting to win specific reforms, revolutionary socialists, lesbian feminists critical of sexism in the organisation, and many other tendencies. Within a few years, however, the broad left it had been a part of also collapsed. The Panthers and similar groups faced a brutal FBI-sponsored campaign of targeted assassination and incarceration of its leaders, deliberate sabotage from secret FBI infiltrators, and relentless police harassment. Growing mass incarceration undermined the broader Black liberation movement. When the US withdrew from the Vietnam War in 1973, many young white students left radical movements, no longer so motivated by their fear of and opposition to the draft. Public attention drifted away, and many liberal sympathisers lost enthusiasm for left social movements. A rising right wing movement among Evangelical Christians began to push back against the gains of the feminist and gay rights movements. By the election of Ronald Reagan in 1980, it was clear to everyone the rebellions of the late 1960s and early 1970s had completely come to an end.
As the rebellions of the 1960s were enabled by the long-term trends of capitalist development towards urbanisation and proletarianisation, producing the large urban populations of Black and gay people with opportunities to organise they lacked in agricultural life, the political trends from the mid-1970s on were driven by new dynamics of capital accumulation. Due to a global oversupply in manufacturing capacity, the average rate of profit began to decline in the 1970s. Worldwide, the industrial proletariat began to shrink, and with it a global political imagination that centred factory work as the heart of a socialist imagination. Facing the extreme challenges of a global capitalist market, the newly independent and supposedly socialist-led nations of Africa and Asia pursued many of the same neoliberal, anti- working-class politics of their openly capitalist counterparts. Socialist parties across Europe, one-by-one, abandoned their commitments to working class power and comprehensive social welfare states, adopting policies oriented towards stabilising profit accumulation. US corporations launched a brutal crackdown on American labour, coupled with the restructuring of workplaces to reduce worker power through the 1980s and 1990s. All these politics driven by capitalist elites are best understood as various strategies to displace the costs of a protracted capitalist crisis onto working class people.
For queers, neoliberal austerity took the particularly murderous form of the devastation of the AIDS epidemic. Queer politics today has been deeply reshaped by this context of massive dismantling of social welfare, weakening of organised labour, mass incarceration, and the collapse of any coherent socialist vision.
Queer radicalism both reflects the limitations and contradictions of this political and economic context, and in new and multiple ways directly seeks to contest the violence of neoliberal austerity. Both mainstream gay rights activists and queer radicals today reference Stonewall as an inspiration and frame of reference. Debates over the legacy of Stonewall continue to animate struggles over how LGBTQ politics relate to white supremacy, imperialism, police violence, and class domination. Recently, Miss Major's call for police to be barred from Pride festivals for the 50th Anniversary of the Stonewall Rebellion gained some international attention by queer activists, continuing to raise the stakes of an ongoing battle over the political content of LGBTQ movements.
The half-century of queer movements since Stonewall gives us a chance to reflect on these broader arcs of social movement struggle, shaped by global dynamics of capitalist accumulation as it conditions and constrains the lives of working class people and the poor. Stonewall was embedded in a global Black insurrection of urban riots and armed struggle drawing attention to the fundamental inseparability of queer militancy from movements against racial capitalism. We can learn from the failures of national liberation and state socialism as dead-end paths that did not ultimately lead towards freedom, but still be moved by much in their visions of internationalist solidarity, direct resistance to state violence, and an attempt at grasping imperialism, capitalism and—as the gay liberationists added—straight society as integrated systems of domination. Like the gay liberationists, we can challenge the reproduction of heteronormativity and misogynistic masculinity as toxic obstacles to solidarity and struggle. But we are also in a transformed world, living in a different landscape of capital accumulation and working-class struggle. Our struggle today must take new forms specific to our era. A new generation of queer and trans militants today, both incorporating and moving beyond the insights of gay liberationists, are again claiming our freedom is essentially embedded in a global struggle for communism and human emancipation.
[Virginia Postrel, "The Consequences of the 1960's Race Riots Come Into View," New York Times, December 30, 2004, sec. Economic Scene.] (https://www.nytimes.com/2004/12/30/business/the-consequences-of-the-1960s-race-riots-come-into-view.html)
This analysis is from John D'Emilio, "Capitalism and Gay Identity," in Powers of Desire: The Politics of Sexuality, ed. Ann Barr Snitow and Christine Stansell (New York: Monthly Review Press, 1983).
This argument is drawn directly from Frances Fox Piven and Richard Cloward, Poor People's Movements: Why They Succeed, How They Fail (New York: Vintage, 1979); and Doug McAdam, Political Process and the Development of Black Insurgency 1930-1970 (Chicago: University of Chicago Press, 1982).
We particularly appreciate George Georgakas and Marvin Surkin, Detroit I Do Mind Dying (New York, St. Martin's Press, 1975) and the writing of James Boggs on the importance of these mass riots in reshaping political consciousness.
[Miss Major Griffin-Gracy, NYC Trans Oral History Project.] (https://s3.amazonaws.com/oral-history/transcripts/NYC+TOHP+Transcript+054+Miss+Major+Griffin-Gracy.pdf)
This history is documented in Terry Kissack's 1995 essay "Freaking Fag Revolutionaries: New York's Gay Liberation Front, 1969-1971", Radical History 62.
[Huey P. Newton, "The Women's and Gay Liberation Movements," Black Past (blog), 1970. 18] (https://www.blackpast.org/african-american-history/speeches-african-american-history/huey-p-newton-women-s-liberation-and-gay-liberation-movements/)
By
Joni Alizah Cohen
A version of this article was originally published on the Verso Blog in 2018.
With a resurgence of National Socialist and Fascist politics taking hold in a vast proportion of the globe, it becomes more and more urgent to fully understand the logics that govern fascist thinking, action and policies, so as better to fight them and avoid their creeping influence in our everyday lives. Antisemitism and transmisogyny1 are two crucial and interrelated forms which the racial and gendered aspects of National Socialist ideology take. This essay will trace the analogous logics and imbricated histories of antisemitism and transmisogyny in National Socialist political thinking and practice.2
We must begin from the seemingly contingent fact it has been and continues to be part of the National Socialist project to eradicate from the world, Jews, transfeminine people and their intersection, among many others. From there we must question whether these are simply two separate elements of National Socialism, united only by their inherence in the same political actors, or whether the link goes deeper. Is it possible that there is a single logic which governs both the Nazi antisemitism and transmisogyny? These are the driving questions of this article. I will begin with an analysis of the actions of historic Nazism and its regime, moving on to focus on some articles published by contemporary Neo-Nazi thinkers. I am then going to attempt to construct a theory of a singular logic that governs antisemitism and transmisogyny in National Socialist thought and action, binds them together, and forms them into two expressions of a singular political project.
1. Historic Nazism and Gender Variance: From the Institute to the Camps
The earliest entanglement of Nazi antisemitism and transmisogyny occurred in response to the emerging gay and trans liberation movement in Weimar Germany. The earliest development of an organised effort for gay and trans liberation developed in the late 19th century and reached a new level of power in 1919 with the establishment of the Institute of Sexual Science in Berlin. The Institute's founder was Jewish marxist scientist and political campaigner, Magnus Hirschfeld. Hirschfeld was a committed organiser in the German Social Democratic Party, and also headed the Scientific-Humanitarian Committee, the world's first gay and trans advocacy group. He is credited with the coining of the terms "transvestite" and "transsexual". In his research and advocacy, he was committed to opposing the eugenic homophobic and transphobic science of sexology that had emerged in Germany at the end of the 19th Century, which had come to dominate state understandings of sexual and gender issues and profoundly influence the sexual and gender politics of National Socialism.
Firstly, in order to understand the context for the Institute we must first look briefly at the of eugenic tendency in early sexology. Understandings of gay and trans people at this time were lumped together into one category "homosexual," here defined as by "sexual inversion". It is important to note that for the Nazis, "homosexuality" was a condition only applicable to those assigned male at birth. Eugenic sexology understood homosexuality essentially through the lens of gender, specifically as the corruption of the male body and psyche by femininity. In this category of "homosexual" were four sub-categories: firstly, only a slight sexual inversion, which only affected affecting desire; secondly, a feminine demeanour; then, the practise of dressing in women's clothing; and, most severely, delusions of being a woman and the desire for a different body. We can thus see that transfeminine people were understood to embody the most severe and thus most deplorable form of homosexuality. Transness is here understood as a dysgenic biological defect that must be eliminated for the health of the species. It is perhaps important to note here the presence of a small thread of masculine same sex desiring Nazis, including Ernst Rohm and other members of the SA. These men understood their Nazism as commensurate with their same sex desire and, further, felt that it did not constitute "homosexuality" since, as it was a "manly Eros", rather than a form of feminisation. This reflected in practice the differentiations of sexual deviance espoused in the sexology model.3 It therefore seems that homophobia, as a hatred of those who experience same-sex desire, although vastly prominent in the practice of violence against homosexuals, was not ideologically fundamental or universal to the ideology of Nazism. Rather, it seems more accurate to understand Nazi homophobia (and by extension transmisogyny) as the hatred of the feminine, or the "womanly" in those deemed to be men.
For his crime of arguing against this strand of eugenic science, it is not surprising that Hitler is reported to have named Magnus Hirschfeld "the most dangerous Jew in Germany", nor that Nazi activists regularly plastered his residence with posters reading: "Dr Hirschfeld A Public Danger: The Jews are Our Undoing!"4 The Institute had been the centre of the early homosexual emancipation movement in Germany. Counted among its many achievements are: a scientific study of sexual and gender variance which did not seek to correct or cure, but to liberate; including, the development of the first techniques for hormone replacement therapy and gender confirmation surgeries; special state-provided ID cards for people (then termed) transvestites which recognised their gender identity and chosen names, and protecting them, at least legally, from harassment and arrest by the police; and crucially, a shelter and community for gay and trans people.
On the 6th May 1933, the Nazi student movement and stormtroopers raided the Institute building, removed years of research documents and burned them publicly outside in the street. Many people living in the Institute were arrested and sent to the newly opened concentration camps. Hirschfeld, who was on a speaking tour in Switzerland at the time, had his citizenship revoked and died in exile two years later.
Doubtless, the political motivations behind the destruction of this institute were not simply based on homophobia and transphobia but were understood to be fundamentally linked to antisemitic notions of Jews and the Jewish conspiracy. Hirschfeld and many of the scientists and intellectuals involved in the institute were Jews; Walter Benjamin even spent some time staying there. The Institute was seen by the Nazis as a hub for Jewish marxist intellectuals and their nefarious plans to undermine the purity of Aryan racial biology and culture. This historical connection that Nazism makes between Jewry and trans liberation will be elaborated on later in the article.
What followed this event, both a founding act of the new Nazi regime, and cataclysm in the history of trans liberation, was a sustained campaign by German state police to arrest, prosecute and incarcerate "homosexuals". Many who were then released from ordinary criminal incarceration were rearrested by the Gestapo and deported to concentration camps.5 It is noteworthy that many of the cases of prosecution of people for crimes of homosexuality were not punished by execution or deportation in this instance, but instead remained in the ordinary criminal carceral system. An area of historical research that I intend to investigate, but to my knowledge has not yet been pursued, is the correlation between deportations to concentration camps by Gestapo, and the femininity, transvestism and trans-like character of the accused. Notably however, on the 13th November 1934, the Hamburg City Administration asked the Head of Police to "pay special attention to transvestites and to deliver them to the concentration camps if necessary".6 We can infer to some degree, that the primary object of Nazi persecution of "homosexuals" was in fact the gender variance implicit in their understanding of homosexuality, most pronounced in people who demonstrably showed feminine traits such as dressing in feminine clothing and taking on feminine names.
It is common knowledge that in the concentration camps, prisoners who were categorised as "homosexual" were forced to wear pink triangles on their prisoner uniforms. What is less known is that medical experiments were conducted on pink triangle prisoners, with the intention of finding a medical cure for sexual inversion. A Danish Nazi doctor, Carl Værnet, undertook experiments at Buchenwald concentration camp near Weimar in Southern Germany.7 These experiments involved the surgical insertion of artificial hormone glands in the groin of pink triangle prisoners as an attempt to redress the hormone imbalance that was understood to have caused this sexual inversion. They were overseen by Heinrich Himmler, and so we can understand the methods and discourse surrounding these "cures" to be entirely commensurate with the Nazi conception of gender variance as homosexuality to the highest level. It seems then, that the picture of Nazi persecution of "homosexuals" that we can infer from this evidence can be better understood through the lens of gender, and what today we would term "transmisogyny".
2. Neo-Nazism and "Transgender Ideology"
Having demonstrated the National Socialist fixation on transmisogyny, I now wish to explicate a little further how it fits in with and connects to their antisemitic worldview. To better understand this, however, we first have to look at Neo-Nazi and ultra-right thought in its present form. Much contemporary Neo-Nazi thinking on sex and gender takes the form of historiography concerning precisely the early emancipatory sexology discussed above, as well as a key focus on the anti-fascist thought of the well-known Jewish thinkers of the Frankfurt School during and directly after the Nazi era.
We can begin with the figure of Kevin Macdonald, an antisemitic evolutionary psychologist and has earned the accolade of "the Neo-Nazi Movements favourite academic" from the Southern Poverty Law Centre.8 His work can be understood as a cornerstone of contemporary antisemitic ideology and forms the theoretical backbone for much of the contemporary National Socialist thinking on the relation between Jewry and so called "transgenderism". MacDonald published a four-part series of books known as the Culture of Critique Series, which attempts to trace and explain Jewish influence in the emancipatory social movements of the 19th and 20th Centuries. Classically, he attributes a vast amount of social power to Jews, essentially placing Jews as the clandestine agents behind such varying movements as Bolshevism, Social Democracy, and later, anti-colonial struggle, gay liberation, feminism and the Black Power movement; all of which are designed in order to undermine western culture and societal norms.9 This, he argues, is in order to produce the kind of society in which the conditions for antisemitism to emerge are undermined. He cites the goliath study of Nazi and Fascist psychology undertaken by Adorno and Others, The Authoritarian Personality, which argues that fascism is more likely to occur in societies with strict sexual moralities and gender roles.10 He therefore understands it to be in the interests of Jews, to undermine these societal norms—the nuclear family, compulsory heterosexuality, and a strict gender binary —in order to prevent the development of fascism. In essence, Jews orchestrate the transformation of society through social movements, as a self-interested project of ethnic security. The social liberation achieved the Left (broadly conceived) is reconfigured as the effect of a social Darwinian drive on the part of the Jewish ethnic group to preserve and propagate themselves. A grand narrative of all politics is constructed as a Darwinian struggle between the Jews and the Aryans, with the lives and liberation of others posited as simple pawns in this global chess match.
We can look to MacDonald's followers on the online magazine The Occidental Observer (founded by Macdonald), to see how this framework has been applied to the contemporary "transgender moment". In his article "Jill Soloway and the 'Transgender' Agenda", Brent Sanderson analyses Soloway's landmark television show Transparent (ironically the very show that sparked my thinking about this topic) as a weapon of the Jewish-dominated culture industry to propagate "transgender ideology". He claims that:
>>With the legality of "gay marriage" seemingly secured (largely as a result of Jewish efforts) the focus of the [Jewish] "identity politics" agenda has now shifted to deconstructing traditional Western views about what it means to be a man or a woman.11
He is delighted to be able to quote Jill Soloway in situating their work within a Jewish tradition of cultural production aimed at "recreating culture to defend ourselves post-Holocaust".12 Solidarity with other and intersecting marginalised groups is reframed as ruthless self-interest. In fact, elsewhere, the joke is made that "intersectionality is Hebrew word," showing how this relationship between social justice movements and Jewry is casually and continually reinforced at the level of Neo-Nazi vernacular.13
Another article from the same website, "The Assault on Gender and the Family: Jewish Sexology and the Legacy of the Frankfurt School" gives a detailed account of the Jewish involvement in early emancipatory sexology. It understands emancipatory politics and science based on a respect for difference to be a Jewish invention:
>>The unique role of Judaism in world history was to vindicate the concept of difference against the homogenizing forces thought to represent the essence of Western civilization. Jewish sexologists and social commentators were united in advancing theories of sexual inversion that moved away from interpretations involving themes like degeneration, demographic decline and biological reality, and instead towards Talmudic abstractions involving the nature of romantic love and the allegedly fluid nature of gender and sex.14
It is worth noting here that "Talmudic" here is used in a dual sense. Firstly, it is a reference to the Jewish books of commentary on the Torah, and thus to Jewishness as such. Secondly, it is used colloquially to refer to the complexity and intricacy, or in this case, the abstraction which the Talmud is known for. It is therefore a perfect example of how Nazi discourse brings together Jews and gender plurality as abstractions. This opposition to abstraction will prove essential in understanding the logic of National Socialism later in this article.
In other more veiled far right output, the independent video channel InfoWars, headed by Alex Jones, has notoriously warned of the Jewish conspiracy—via the dog whistle of "globalists"—to corrupt biology, and specifically to undermine masculine hormone levels. One of his most famous outbursts involves screaming that globalists (read Jews) are poisoning the water supply with feminine hormones and "turning the freakin' frogs gay". Notably also, InfoWars also claims to be entirely funded by the sale of lifestyle products including vitamin supplements, water and air filters, and coffee. Each of these items has listed as its first effect the protection the normal hormone levels in the body: "Super Male Vitality is designed to aid the body in ways that may help support normal testosterone levels in men".15 We can hear an echo from Buchenwald in this advertisement.
Nazism understands itself to be engaged in a culture war with Jews over gender roles and gender/sexual variance. But just as we saw in the original National Socialist regime, Nazism also understands the fundamental terrain of this war to be on the level of biology. There is a deep anxiety expressed in Nazi and far-right thinking which is constantly concerned about the biological undermining of the white race yes, but also the white male, and his hormone balance, his testosterone level. Nazi political ontology understands the biological as one of, if not the most important terrains of political dispute. We know this in our understanding of Nazi race theory, but what has been neglected is the centrality of endocrinological purity and security to Nazi ideology. In this sense, endocrinological purity is the gender/sex corollary of the Nazi eugenic project of racial purity.
3. The Homologous Logic of Antisemitism and Transmisogyny
It is safe to say, then, that transmisogyny and antisemitism are both integral parts of the National Socialist worldview. However, while the above has been merely descriptive of the views and actions of National Socialism, elucidating the imbrication of their transmisogyny in their antisemitism, this does not explain why they are so entangled, and indeed, the essential logic from which both spring. Without a thorough interrogation of the logic behind these elements of Nazi ideology, we will be at risk of conceiving Nazism as a simple conglomeration of prejudices which are distinct and can be opposed separately. I believe that if Nazism is to be defeated once and for all we must not underestimate it as a mere psychological phenomenon writ large but must confront its coherent structure as a political logic, even if it may appear as a messy bundle of incoherent and often contradictory hatreds. Pace Postone, "my intention is not to negate sociopsychological or psychoanalytical explanations, but rather to elucidate a historical-epistemological frame of reference within which further psychological specifications can take place."16
3.1 Antisemitism as Foreshortened Critique of Capital: The Jew as Abstraction
This project of uncovering a fundamental logic of National Socialism I have inherited from the great Jewish marxist theorist Moishe Postone, who in his landmark essay "Antisemitism and National Socialism" puts forward a very convincing theory, the explanatory power of which encompasses a great deal of the apparently contradictory elements of National Socialist theory and practice. In the following paragraphs I will attempt to reproduce what I believe to be the essential points of his argument.
Postone's account of modern antisemitism brings a unifying logic to a number of disparate elements of the National Socialist project both in its ideas and in how the actual regime acted. Some of the main aspects of National Socialist antisemitism to be explained are:
(1) Jews are ascribed great power, but this power is not manifest directly but mediated through many modes of appearance. (2) Jews are identified as the personification, not just of money and finance capital, but capitalism as a totality: the modes of antagonism it produces (Bolshevism, an organised proletariat), and further, the cultural transformations of modernity that accompany its development. (3) National Socialism aims at the complete eradication of Jewry, not simply as a means to gain power, but as the purpose of gaining power.17 (4) National Socialism understands all political antagonism through the biologised lens of Social Darwinism, where the biological health and purity of distinct racial groups is paramount in a universal struggle for supremacy. (5) National Socialism claimed to champion the authentic and rooted "premodern" volksgemeinschaft (people's community) with its bounded unity of blood, soil and artisanal labour. But at the same time implemented a state enforced productivity drive and complete industrialisation of the German economy – "Hitler spoke of blood, for sure, but he built the machine".18 (6) Crucially, National Socialism is a movement which, in terms of its own self-understanding, represents a revolt.
All these disparate elements of the National Socialist project must be explained adequately, and their apparent contradictions demonstrated to emerge from a prior coherent logic. How can the Jew be responsible for capitalism, its crisis, socialism, gay and trans "degeneracy", and later, all the emancipatory social movements of the post- war period? How can Hitler figure himself as a revolutionary against modernity but enforce a thorough modernisation of the German economy? Postone's explanatory power is rooted in his own marxism, and particularly his critique of "traditional Marxism" via a focus on the value-form.
One of the key arguments to emerge from Value-Form Theory argues was that "when Marxists [of the Workers' Movement] insisted on the 'labour theory of value', they did so in terms of the quantitative issue of the substance and magnitude of value rather than the qualitative issue of the form of value."19 This focus on substance rather than form led to what Postone calls a "foreshortened critique of capital". Endnotes provides a clear explanation:
>>For Marx, the value-form is an expression of the dual character of labour in capitalism — its character as concrete labour appearing in the use-value of the commodity, and its character as abstract labour appearing in the value- form. Though abstract labour is historically specific to capitalism, the failure to properly distinguish these two aspects of labour means that the value- form [and thus concrete labour and use-value] is taken as an expression of simple natural human labour as such.20
What appears in this foreshortened critique of capital is the positing of concrete labour and its production of use-values as a natural and ahistorical substratum upon which different social forms of value are built. This in turn leads to a fetishisation of the concrete, of labour, of value, reducing the critique of capital is to a battle between the purity of the concrete against the pernicious abstractions of exchange- value, money, and finance capital. This precludes any critique of the form of concrete labour, and so the miseries of concrete industrial production are absolved and even venerated against the vampiric abstractions of money and finance (which come to represent capitalism in its entirety).
Postone diagnoses that it is this form of foreshortened anti-capitalism that is taken up into National Socialism and enables its appearance and self-conception as revolt. The National Socialist project is "socialist" only insofar as it aims at liberating the concrete community of the nation from pernicious influences of (merely oneelement) of capitalism: "Industrial capital then can appear as the linear descendent of 'natural' artisanal labour, as 'organically rooted,' in opposition to 'rootless,' 'parasitic' finance capital. This form of 'anti-capitalism,' then, is based on a one-sided attack on the abstract... A one-sided attack on abstract reason, abstract law, or, at another level, money and finance capital."21
From this standpoint, it is only a small jump from the fetishisation of concrete labour and use-value, to a thoroughgoing politics of the fetishisation of the concrete. This becomes manifest in vulgar materialist politics where the categories of the social are reduced to categories of the biological. This form of the fetishisation of the concrete takes hold in the 19th century, when "organic process begins to supplant mechanical stasis as the form of the fetish... The manifest form of the concrete is now [the] organic." 22 Postone continues: "the proliferation of racial theories and the rise of Social Darwinism in the late nineteenth century are cases in point. Society and historical process become increasingly understood in biological terms."23 We have seen this demonstrated in Nazi thought analysed above, where the biological is understood as the fundamental terrain of politics and history.
Where the true weight of this analysis emerges is in the insight that it is not only the concrete "side of the antinomy which can be naturalised and biologised... the manifest abstract dimension was also biologised—as the Jews. The fetishised opposition of the concrete material and the abstract, of the "natural" and the "artificial," became translated as the world-historically significant racial opposition of the Aryans and the Jews."24 The "natural rootedness" of the Aryan Volk is contrasted to "rootless cosmopolitanism" of the wandering Jews, who in their diasporic state, abstracted from territory or nation, become a perfect candidate to represent the transnational abstraction of the capitalist world-system. The essential content of National Socialism then is "a biologization of capitalism—which itself is only understood in terms of its manifest abstract dimension—as International Jewry". The National Socialist project is therefore a fetishised "overcoming of capitalism and its negative social effects" through the total eradication of the Jews.25
3.2 Transphobia as Foreshortened Critique of Gender – The Trans Woman as Abstraction
Now that we have reconstructed this marxist understanding of the antisemitism of the National Socialist project, we can mobilise its explanatory power to focus on Nazi transmisogyny and, crucially, how they relate to each other in a coherent whole. For this step I want to bring into play the insights of Maya Andrea Gonzalez and Jeanne Neton in their essay "The Logic of Gender", first published as part of Endnotes. In this essay, the authors mobilise Postone's notion of the foreshortened critique but in application to a Value-Form Theory approach to the gender. They argue that the dual character of the value-form is homologous to the dual character of Sex/Gender. "Value, like gender, necessitates its other, "natural" pole (i.e. its concrete manifestation). Indeed, the dual relation between sex and gender as two sides of the same coin is analogous to the dual aspects of the commodity and the fetishism therein."26 In this sense, "sex is the flip side of gender", just as use-value is the flipside of exchange value. Following this analogy: "sex is the material body, which, as use-value to (exchange) value, attaches itself to gender."27
Just as there is the commodity fetish, there is the gender fetish. Gender is the real abstraction that acts upon material "bodies so that it appears as a natural characteristic of the bodies themselves."28 However, we cannot think this fetish as appearing in the same form throughout the history of capitalism. Indeed, the efforts of feminism and queer and trans liberation movements have made vast achievements in the denaturalisation gender. Sadly, these achievements have been somewhat appropriated by late capitalism, which has commodified the denaturalisation of gender as a form of "subversive" consumption.
However, the process of denaturalisation has often tended to "simultaneously de- naturalise gender while naturalising sex."29 This results in an understanding of gender/sex wherein gender is understood as a social construction (an abstraction), but the naturalisation of sex is redoubled. Gender is therefore historical and mutable whilst sex forms the natural and transhistorical substratum upon which it is written. Following Postone, Gonzales and Neton argue that "the transhistoricisation of sex is homologous to a foreshortened critique of capital, which contends that use-value is transhistorical rather than historically specific to capitalism."30 If we take the structure of Postone's argument about antisemitism and apply it here, we can begin to see where the foreshortened critique of gender posits sex as the concrete reality which must be protected from the pernicious abstractions of gender. In the National Socialist framework of the "fetishism of the concrete", the concrete biological reality of sex is figured as primary and pure; accompanying a thorough renaturalisation of gender as a reaction against the mainstreaming of denaturalised nature under late capitalism. For National Socialism, the primacy of sex is reinforced in opposition to the "Talmudic abstractions" of multiple and fluid genders, then cast as the pernicious force which seeks to dominate and even erase the sensuous, simple and concrete sexual dimorphism and the natural binary gender roles which flow from it.
Just as the Jew becomes the concrete manifestation of the abstraction of capitalism and the law of value, the trans woman becomes the concrete manifestation of the abstraction and denaturalisation of gender. The trans woman is a woman thought to be without the concrete biological content of womanhood. She is woman in the abstract, separated from her biological foundation, and therefore her use as the conduit for the reproduction of the Aryan race in this grand Darwinian struggle. She is everything that is detestable about womankind, for Nazism, without any of the redeeming biological expediencies. Further, she represents the worst excess of the cultural degeneration of modernity and contemporary capitalism. Just as the "rootless cosmopolitan" Jew represents abstraction by being rooted in no Nation, trans people demonstrate a rootless cosmopolitanism of gender/sex, with disregard for rootedness of sex and the allegiances of gender. She is a product of a culture so abstracted and so sick, in their eyes, that it actively encourages the corruption of the purity of biological sex and the destruction of gender roles so essential in the battle for racial primary. For Nazism, the idea that Aryan men of good stock would be actively disavowing masculinity, virility and fertility—and doing so with hormonal and surgical intervention into biological sex—is too much to bear. As such, trans women, and indeed trans people in general, though the majority of the bile is directed at those assigned male at birth, are added to the list of abstractions to be eradicated in the actualisation of the National Socialist project.
Conclusion: The Jewish Conspiracy of "Transgenderism"
There are, of course, questions that this theory throws up regarding the relationship between Nazi antisemitism and transmisogyny. Is one of the modalities of this abstraction-eradication project primary, or do they operate simultaneously? Are trans women afforded the same total and abstract agency as the Jew? How essential is the transmisogyny of National Socialism to its governing logic? Does fetishised concretism necessarily lead to the atrocities of the Shoah?
I want to tentatively answer, though my guess is that this question will be answered in the course of reactionary events, that both antisemitism and transmisogyny emerge simultaneously from logic of the fetishisation of the concrete. They are not identical, but they flow from the same foundational logic. The fetishism of the concrete does not lead inexorably to the actualised project of National Socialist extermination. This is lucky, since this logic can be found to govern a variety of other political positions historically and in the present. It only becomes actively National Socialist when Jews (or indeed trans women) are identified as the personification of abstraction. As long as the fetishised hatred of abstraction remains in the abstract it is merely the condition of possibility of antisemitism and transmisogyny.
I do, however, believe that in the conscious cogitation of Nazi thinkers, it is the Jew which holds primacy over pernicious effects of abstraction. Indeed, it is the Jew who invents "transgenderism" as a weapon in their vast arsenal mobilised to undermine the purity and supremacy of the Aryan race (as we have seen above). For National Socialism, the Jew is the abstraction par excellence, and therefore responsible for the engineering and dissemination of all other abstractions. This underpins the understanding of gender ideology as one of the projects of the Jewish conspiracy. It is not simply that Jews represent abstraction, it is that abstraction itself is Jewish in nature: it is Talmudic. The Trans woman is the crowning achievement of the project of Talmudic abstraction – a being so distorted from all that is concrete, natural, pure and good. She is Frankenstein's—or maybe more appropriately—Goldstein's monster. She is Rabbi Loeb's Golem formed against nature by the numerical abstractions of Kabbalah. She is the Jew's most abhorrent creation and must be eradicated with him.
A note on terminology: I use "transmisogyny" to denote any form of hatred, prejudice, discrimination or oppression perpetrated against trans women and other transfeminine people i.e. those assigned male at birth. I sometimes use the term "transphobia" to denote a broader form of hatred which encompasses all transgender and transsexual people. Although I focus specifically on transmisogyny in the historical elements of this essay, much of the later theoretical elements will be applicable to transphobia more broadly.
I focus particularly on the phobic thought and practice concerning trans women, i.e. transmisogyny, not because there does not exist a broader fascist transphobia, but because it seems to me that much of the severely masculinist fascist discourse holds a particular biological fixation on and disgust for the feminisation of the "male", whereas "female" masculinity remains a matter of poorly socialised "women"; a matter which can be corrected (except in some severe cases) by disciplinary rather than eliminative means. For example, lesbians (and by extension those trans men), when deported to concentration camps, were classified with the black triangle symbol among those considered "anti-social" and "work-shy"; these included Roma, the long-term unemployed, alcoholics, and prostitutes.
[Laurie Marhoefer, "Queer Fascism and the End of Gay History," NOTCHES (blog), June 19, 2018.] (http://notchesblog.com/2018/06/19/queer-fascism-and-the-end-of-gay-history/)
Eleni Mancini, Magnus Hirschfeld and the Quest for Sexual Freedom: A History of the First International Sexual Freedom Movement (London: Macmillan, 2010) 101.
For a detailed account of the distinction between ordinary legal proceedings and extra- legal persecution in the National Socialist regime, see: Ernst Fraenkel, The Dual State: A Contribution to the Theory of Dictatorship (New York: Octagon Books, 1969).
"Remember Our History", Transgender Day of Remembrance (blog), 1 August 2011.
Richard Plant, The Pink Triangle: The Nazi War against Homosexuals (New York: HHolt, 1986), 151–82.
["Kevin MacDonald", Southern Poverty Law Center, accessed 5 March 2020.] (https://www.splcenter.org/fighting-hate/extremist-files/individual/kevin-macdonald)
Kevin B Macdonald, The Culture of Critique: An Evolutionary Analysis of Jewish Involvement in Twentieth-Century Intellectual and Political Movements (Bloomington, IN: 1stBooks, 2002).
Theodor W. Adorno et al., The Authoritarian Personality (New York, NY: Harper & Brothers, 1950).
[Brent Sanderson, "Jill Soloway and the 'Transgender' Agenda, Part One," The Occidental Observer (blog), October 9, 2015.] (https://www.theoccidentalobserver.net/2015/10/09/jill-soloway-and-the-transgender-agenda-part-1/)
Ibid.
[Andrew Anglin, "Satanic 'Genius Healer' of the Jews Peterson Appears with Turkish Necromancer for Dark Ritual", Daily Stormer (blog), accessed 5 March 2020.] (https://dailystormer.su/satanic-genius-healer-of-the-jews-peterson-appears-with-turkish-necromancer-for-ritual/)
[Andrew Joyce, "The Assault on Gender and the Family: Jewish Sexology and the Legacy of the Frankfurt School, Part One", The Occidental Observer (blog), accessed 5 March 2020.] (https://www.theoccidentalobserver.net/2015/12/26/the-assault-on-gender-and-the-family-jewish-sexology-and-the-legacy-of-the-frankfurt-school-part-one/)
[Alex Jones InfoWars Store, "Super Male Vitality," InfoWars, accessed 6 March 2020.] (http://www.infowarsshop.com/Super-Male-Vitality-_p_1227.html.)
Moishe Postone, "Anti-Semitism and National Socialism: Notes on the German Reaction to 'Holocaust'", New German Critique, no. 19 (1980), 107.
This is evident in the seemingly suicidal decision by the Nazi regime as it was losing the Second World War to prioritise resources for the continued extermination of the Jews, rather than to mobilise those resources in fighting the Red Army.
Postone, "Anti-Semitism and National Socialism", 110.
Endnotes, "Communisation and Value-Form Theory", in Endnotes 2: Misery and the Value Form, Endnotes (2010), 70.
Ibid., 70–71.
Postone, "Anti-Semitism and National Socialism", 112. 22. Ibid., 110.
Ibid.
Ibid.
Ibid., 112.
Endnotes, "The Logic of Gender: On the Separation of Spheres and the Process of Abjection", in Endnotes 3: Gender, Race, Class and Other Misfortunes, Endnotes (2013), 79. 27. Ibid.
Ibid.
Ibid. 30. Ibid.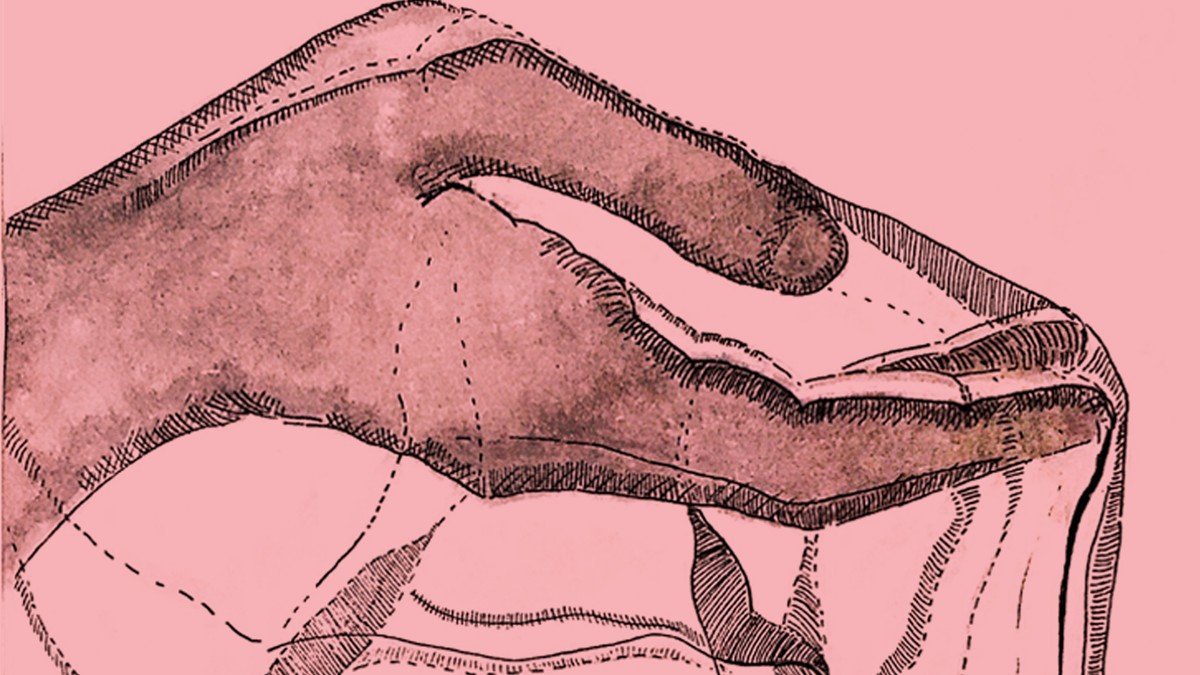 By
Sophie Monk, Joni Cohen, Lucy Freedman
The first cabinet that would yield whenever I wanted was the wardrobe. I had only to pull on the knob, and the door would click open and spring toward me. Inside was where my underclothes were kept. Among all the night-shirts, shorts, and undershirts which would have lain there, and which I no longer remember anything about, there was something that has not gotten lost and that always made the approach to this cabinet seem newly thrilling and intriguing. I had to clear a way for myself to the farthest corner. There I would come upon my socks, which lay piled in traditional fashion—that is to say, rolled up and turned inside out, so that every pair had the appearance of a little pocket. For me, nothing surpassed the pleasure of thrusting my hand as deeply as possible into the pocket's interior. I did not do this simply for the sake of its woolly warmth. It was "the little present" rolled up inside that I always held in my hand and that in this way drew me into the depths. When I had closed my fist around it and, so far as I was able, made certain that I possessed the stretchable woolen mass, there began the second phase of the game, which brought with it the momentous unveiling. For now I went on to unwrap "the present," to tease it out of its woolen pocket. I drew it ever nearer to me until something rather disconcerting was accomplished: "the present" was wholly wrested from its pocket, but the latter itself was no longer around. I could not put this enigmatic truth to the test often enough: the truth, namely, that form and content, veil and what is veiled, "the present" and the pocket, were one.
– Walter Benjamin, Berlin Childhood around 1900 1
For over a century, sexologists in the imperialist nations have attempted to uncover the secret of sexual and gender deviance by plumbing the human psyche, body, genetics, or some combination. As Benjamin's childhood stocking game indicates however – and as inverts know all too well – there are rarely clear-cut determinations hiding beneath the surface. Once opened out, the stocking reveals only more of itself. This is its "enigmatic truth" that so enchants the young Benjamin.
Before we were homos, dykes and transsexuals, we were inverts: those who, for whatever reason, fail to meet the social demands of the gender assigned them. Sexual inversion constituted the dominant sexological framework prior to and for some time after the turn of the twentieth century. Inversion often included but was not reducible to same-sex desire; it signalled the "deviant orientation of the invert's subjectivity,"2 manifested most obviously in sex-role reversal (male passivity, female activity), and the assumption of the styles, affects and behaviours proper to the "opposite sex." Karl Heinrich Ulrichs, founder of the nineteenth century cult of Uranism in Germany exemplified the phenomenon when he described his own condition as having "a woman's soul enclosed in a man's body."3 Under the rubric of inversion, both emancipatory and fascistic possibilities were mobilised. In a similar vein to Ulrichs, progressive sexologist Magnus Hirschfeld developed the Institut für Sexualwissenschaft (Institute for Sexual Science) in Berlin, a research centre that doubled as a proto-liberationist movement for all those of the "intermediate sex" (sexuelle Zwischenstu).4 It makes little sense, however, to characterise the inversion model as – in and of itself – either better or worse than any other ultimately pathologising medical rubric. Coeval with the rise of social Darwinism, it was deployed in various repressive operations, resulting in the institutionalisation of and experimentation on inverts across Europe and the Americas,5 one of the most extreme forms being the eugenicist sexology of the Nazi Party, with genocidal results.
The early twentieth century nevertheless saw the invert give way to a new category: the homosexual. The study of inversion became a condition of possibility for the development of new taxonomies, including, crucially, the homo/hetero binary that structured Western sexual knowledges for the most part of the twentieth century. Gradually, homosexuality overtook inversion, disentangling sexual object-choice from gender. It referred primarily to a glitch in the sexual instinct, a case of genitals being in the wrong place at the wrong time. Though the purpose of this exercise is not to propose inversion as a subject position into which we should or can retreat, it is important to note that something was lost in this shift. "Invert" signifies a whole, a unity-in-opposition of sexuality and gender deviance, fostering solidarity between homosexuals, transsexuals, transvestites and anyone immiserated6 by the sexual and gender order. Insofar as it is defined in a negative relation to sexual and gender conformity, inversion helps us think through the real antagonisms in which we find ourselves, since it is only through negativity that antagonism can be thought. Where there is a tendency within some contemporary queer critique towards the affirmation of liminality and porousness, we seek to struggle for liberation through addressing the whys and hows of our continued immiseration head-on. It is through grasping hold of our negative relation to the world of compulsory heterosexuality and coercive gender assignment that we might approach liberation.
But Benjamin's stocking also teaches him a lesson in dialectics. "It taught me that form and content, veil and what is veiled, are the same." When the form of the sock is inverted, rolled up, it contains in itself a "present", a "mitgebrachte", a secret content, hidden from sight. But on further inspection the unravelling reveals the "hidden" content to be nothing other than the form in which the matter of the stocking has been. Form and content/matter interpenetrate and disappear into one another.
The marxian dialectical method of form analysis "pierce[s] the problem of form and content - the problem of fetishism."7 It seeks to unravel the abstract economic forms which present themselves as immutable laws of nature, to expose their substance as historically specific social relations of exploitation and dispossession. But at the same time, it demonstrates why and under what conditions this content necessarily takes this "inverted", "perverted" verrückte Form. More than revealing a hidden essence of capital which stands behind its appearances, it reveals that which constitutes capital is nothing other than the definite social relations in which we perform our daily immiserated lives, and that these relations, and the immiseration within them can be abolished.
The antagonistic gender and sexual relations which constitute the world we inhabit appear to us "as natural characteristics of bodies themselves."8 While in our current liberal queer culture, denaturalisation of bodily presence is praised as a process of individual agency over the self, the real social relations often remain untouched. While intervention remains at the pseudo-concrete level of the body, the aesthetics of its denaturalisation becomes itself a fetishised form of antagonistic social relations. Gender is constituted in and through these relations of exploitation and dispossession, taking the form of sexualised, gendered and domestic violence, lower wages and worse labour conditions, the neglect and control administered by institutions of state welfare provision, and further forms of social abjection. That these relations are written upon the body does not mean our analysis should remain in the body's domain.
Various efforts have been made over the past decades to reconcile the insights of queer theory to a marxist framework, contributing to an emergent field of queer marxism in which we broadly but critically situate ourselves. One of the most promising undertakings of this trend has been to refute the charge of essentialism so often levelled against marxism by its queer critics. As the late Kevin Floyd was at pains to emphasise, the form of totality-thinking derived from Marx is "a rigorously negative practice" capable of opposing class society's "enforced social atomisation,"9 by piercing its fetishised forms. In fact, the dissolution of static forms into social relations is at the very core of marxian dialectics. For Marx, the rational form of the dialectic "regards every historically developed form as being in a fluid state, in motion, and therefore grasps its transient aspect as well."10 Marx's critique of fetishism – where social reality appears natural and fixed, its relations of exchange obscured – prefigured the critique of essentialism long before the institutionalisation of Queer Theory.
Some comrades may still wonder why, given the universalising character of the class relation, a marxism of the feminised is even needed. Echoing Floyd, we point to the imbrication of sexual and gender regimes with the accumulation of capital, and argue that specific and local social vantages can open up onto a critique of the totality. Though concerned with the particularities of queer, trans and feminised life, ours is not a marxism exclusively for queer, trans and feminised people (a gesture of inclusivity) but one whose questions implicate the whole: everyone is gendered, however unevenly the immiserating ramifications are distributed. As Fred Moten puts it: "The coalition emerges out of your recognition that it's fucked up for you in the same way that we've already recognised that it's fucked up for us… I just need you to recognize this shit is killing you too."11 Our inquiry need not be thought as supplementary or marginal to a properly universal, class-concerned marxism.
In his assertion that race is "the modality in which class is lived" rather than a discrete category of experience, Stuart Hall expresses the perennial moving contradiction between capital and labour, and how it encompasses, (re)produces and relies upon racialisation. Within capitalist social relations, no 'category' is discrete. Robust queer and feminist marxisms set out to examine how these moving contradictions are extended by categories of gender and sexuality, and how they interconnect with and complicate categories of race and class. We write in the register of the universal because we understand the social forms of race, gender and sexuality as mediations of that class relation into which we are all compelled.
Like most marriages, the marriage of feminist, queer and marxian methods has not always been a happy one. Existing unitary theories, including Floyd's and the notable entries of Rosemary Hennessy and Cinzia Arruzza, have often dwelt on the historical unfolding of the relationship between gender, sexuality and capital, but as FTC Manning has stressed, less so on its logical necessity.12 Though their valuable contributions have dealt extensively with the regulatory function of gender and sexuality and their reproduction in commodity exchange, they have skirted more tentatively around the question of their relationship to the value-form and the problem of fetishism. If the relations of gender, sexuality and race have long appeared (to some marxists) exterior to the more fundamental concerns of class, this may well be because they have formed an exterior to value-production. They are, as Zoe Sutherland and Marina Vishmidt contend, "the lived negativity of value relations," overlapping in practice with "mass un- and under-employment and highly monitored, often abandoned surplus populations."13 The critique of capitalism is impoverished if this lived negativity is merely replaced by the integration of feminised life into an affirmative ontology of labour, or occluded altogether. According to Manning,
>If we are truly committed to a rigorous and unifying theory of capital, we must consider the possibility that race and gender are as logically necessary as class is to this mode of production. We must follow this hypothesis as far as it takes us. There has not yet been any good reason established as to why we should turn back from it.14
Though diverse in subject matter, register and form, the essays collected in this volume all begin to feel out this very possibility. The themes of solidarity, abolition and feminisation are touched upon by each of them in various ways. Not every piece mirrors the perspectives expressed in this editorial completely, but together, they represent a broad range of conversations occuring within contemporary queer marxist thinking, sometimes in direct discussion with each other.
The volume opens with a piece of historical inquiry, tracing the emergence of gay and Black liberation movements in the 1960s alongside cycles of capitalist accumulation, and recentring the communist principle in the horizon of contemporary queer struggle. Thereafter, the first half of the issue gets to grips with some of the theoretical promises—and impasses—of contemporary queer, trans, marxist-feminist debates. Each of these mark crucial interventions: one insists on bodily autonomy and pleasure as critical dimensions of an emergent transsexual marxism; one proposes a "zigzagged" counter-history to the Eurocentric periodisations of sexual and gender regimes; another unpacks the imaginaries of contemporary and historical fascisms to get at the strucutral relationship between transmisogyny and antisemitism. The latter half of the volume is where such contested concepts as feminisation, labour, (re)productivity and transsexuality are brought to bear meaningfully on the more localised terrains of the UK sex industry, education sector, and trans liberation strategy. As a collection, then, this issue weaves between abstract marxian categories and concrete situations, forming a constellation of perspectives on the capitalist totality.
This journal came into being as a way of thinking through and elaborating on our shared commitment to the abolition of gender and the liberation of feminised subjects. Certainly in the UK context in which this editorial is written, the demand for gender abolition has largely become the conceptual terrain of the transphobic right wing of feminism. Here, the critique of gender—however foreshortened—put forward in the radical feminist movement of the 1970s, has devolved into its opposite: the affirmation of gender through the affirmation of its concrete and naturalised pole—the category of sex. This school of feminism has launched an organised and well-resourced anti-trans lobby in the UK, dedicated to the re-essentialisation of sex versus what they see as the perverse abstraction of gender. In real terms, their calls for the abolition of gender equate to little more than the abolition of trans people. By contrast, we conceive of gender as a social form comprising both abstract processes and concrete manifestations, thought through the categories of gender and sex respectively. Following Endnotes, "for us [too], sex is the naturalisation of gender's dual projection upon bodies, aggregating biological differences into discrete naturalised semblances."15 As such, we understand any project which aims at the abolition of gender without also bringing the category of sex into its movement of negation, as constituting a foreshortened critique of gender, doomed to not only failure but reactionary corruption.
Undoubtedly, gender is a means of immiseration, but it cannot be abolished as an autonomous system. Moten and Harney define abolitionism as "not so much the abolition of prisons but the abolition of a society that could have prisons, that could have slavery, that could have the wage."16 Following this formulation, the true abolition of gender's violent manifestations necessitates an abolition of the conditions that necessitate them. Not so much the abolition of gender markers on passports, then, but the abolition of a world in which national borders and passports could exist. Not so much the abolition of domestic violence as a discrete phenomenon, but of a society which requires the family structure and domestic sphere. Not so much the abolition of homophobic violence, transfemicide and intersex genital mutilation, but of the gender system that makes such miseries possible. Just as gender is mediated by all the other social forms which comprise the totality of the capitalist mode of production, its abolition cannot simply be by itself; it is an essential part of "the real movement which abolishes the present state of things."17
Secondly, in our commitment to the liberation of feminised subjects, we explicitly resist the temptation to affirm forms of feminised social activity - and by extension womanhood - as the foundation for a non-capitalist society. Nor do we propose the reclamation or collectivisation of feminised spheres. Feminisation is, first and foremost, a process enacted by capital for the creation of "differentials across which value can flow,"18 and the assignment of people to certain social spheres. It must therefore be understood as a fundamentally negative process, referring to the dissociation of certain subjects and their labour from value. Chris Chen's conception of racialisation as "a set of ascriptive processes"19 may shed some light on this dynamic. Feminisation is a process, but not a fluid one, as the radical queer approach to gender-ing or queer-ing has often thought. It has definite results that can be traced; it refers to a moving fixedness, changing according to historical conditions, limited always by the vicissitudes of capital. Understood as a process of immiseration, feminisation can therefore be treated as an expansive category, "defined by but not confined to the category of 'women'".20 Our demand, then, is not one which isolates a core of individuals we wish to see liberated, but liberates society from the process of feminisation.
As feminised subjects we find much of our social and working lives unfolding in capitalism's hidden abodes. But, as with Benjamin's stockings piled up in the recesses of his family home, there lies no secret to liberation hiding somewhere within. As such, the project of gender abolition must seek to destroy, not reify, the distinctions between within and without, public and private. The substance of liberation, then, is one and the same with the fabric of everyday struggle; it is not some utopian outside (or inside), but is instead comprised of the solidarities we knit together. In these times of mounting crisis, we impress the urgent need for solidarity, in the hopes of abolishing forever the conditions of our immiseration – the conditions that make this journal necessary.
Walter Benjamin, "Cabinets," in Berlin Childhood around 1900, trans. Howard Eiland (London: Harvard University Press, 2006), 152-153.
David M. Halperin, How to Be Gay (Cambridge: Harvard University Press, 2012), 43.
Ibid.
George Chauncey, "From Sexual Inversion To Homosexuality: Medicine And The Changing Conceptualization Of Female Deviance," Salmagundi 58/59 (FALL 1982-WINTER 1983), 133.
Peter Drucker, Warped: Gay Normality and Queer Anti-Capitalism (Leiden: Brill, 2015), 119.
We use the marxian term "immiserated" advisedly, to evoke the tendency within capitalism to expel workers from the production process, increasing their superfluity to the needs of capital.
Elena Louisa Lange, "Form Analysis and Critique: Marx's Social Labour Theory of Value," in Capitalism: Concept, Idea, Image: Aspects of Marx's Capital Today, ed. Peter Osborne, Éric Alliez, and Eric-John Russell (London: CRMEP Books, 2019), 22.
Endnotes, "The Logic of Gender: On the Separation of Spheres and the Process of Abjection," Endnotes, Gender, Race, Class and Other Misfortunes, 3 (2013), 79.
Kevin Floyd, The Reification of Desire: Toward a Queer Marxism (London: University of Minnesota Press, 2009), 6.
Karl Marx, Capital: A Critique of Political Economy, trans. Ben Fowkes, vol. 1 (London: Penguin, 1976), 103.
As cited in Jack Halberstam's introduction to Fred Moten and Stefano Harney, The Undercommons: Fugitive Planning and Black Study (New York: Minor Compositions, 2013), 10.
FTC Manning, "Closing the Conceptual Gap: A Response to Cinzia Arruzza's 'Remarks on Gender,'" Viewpoint Magazine, May 2015, https://www.viewpointmag.com/2015/05/04/closing-the-conceptual-gap-a-response-to-cinzia-arruzzas-remarks-on-gender
Marina Vishmidt and Zoe Sutherland, "Totality and Universality in Marxist Feminism," in Who's Afraid of Totality?, ed. Kevin Floyd and Jen Hedler Phillis, forthcoming.
Manning, "Closing the Conceptual Gap."
Endnotes, "The Logic of Gender," 79.
Moten and Harney, Undercommons, 42.
Marx and Engels, "The German Ideology", Marxist Internet Archive (2000 [1845]). https://www.marxists.org/archive/marx/works/1845/german-ideology/ch01a.htm
Joshua Clover and Juliana Spahr, "Gender Abolition and Ecotone War," South Atlantic Quarterly 115, no. 2 (2016), 292.
Chris Chen, "The Limit Point of Capitalist Equality: Notes Towards an Abolitionist Anti-Racism," Endnotes, Gender, Race, Class and Other Misfortunes, 3 (2013), 205.
Amy De'Ath, "Unsociable Poetry: Antagonism and Abstraction in Contemporary Feminized Poetics" (Unpublished Doctoral Thesis, Canada, Simon Fraser University, 2017), 45.